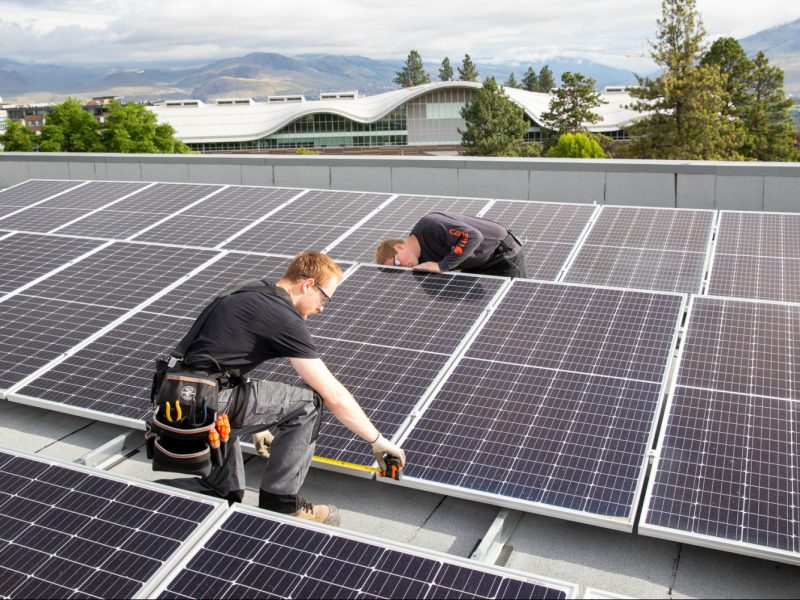 KAMLOOPS — Thompson Rivers University (TRU) has been recognized as a top performer in the 2023 Sustainable Campus Index, securing the highest position in the areas of Energy and Master's Institutions, and landing in the top 10 in the Buildings, Waste and Public Engagement categories.
The Sustainable Campus Index is a publication from the Association for the Advancement of Sustainability in Higher Education (AASHE) that recognizes top-performing sustainable colleges and universities overall and in 17 impact areas, as measured through the Sustainability Tracking, Assessment and Rating System (STARS). The top performer recognition follows TRU's STARS Platinum rating, which the university achieved for the second time in 2022.
"I'm proud that our commitment to sustainability has propelled TRU to the forefront of sustainability," says James Gordon, Manager of Sustainability Programs. "Being recognized as a top performer in higher education is a testament to TRU's dedication and hard work in creating a greener, more sustainable future for everyone. True sustainability needs each of us to get involved and really try to help out."
TRU has earned its top performer status by focusing ongoing efforts toward global challenges — one example is using energy wisely with how the university heats its buildings and uses electricity. These initiatives support TRU's commitment to achieve carbon neutrality by 2030 by reducing more than 90 per cent of emissions on campus.
"All of us at AASHE extend our warmest congratulations to TRU for their achievement," applauded AASHE's Executive Director Meghan Fay Zahniser. "By fostering sustainable practices and initiatives, you set an inspiring example for your peers and future generations. Your efforts are a testament to the positive impact that institutions can make when they prioritize sustainability and take meaningful action. Keep up the outstanding work in creating a brighter, more sustainable future for all!"
TRU's STARS report is available on the STARS website: https://www.aashe.org/sustainable-campus-index/.
For more information about AASHE, visit www.aashe.org
–30–
Contact:
James Gordon, Manager of Sustainability Programs
Sustainability Office, Thompson Rivers University
250-572-2740 (cell) | [email protected]
Candi Reddick, Director of Marketing and Communications
Association for the Advancement of Sustainability in Higher Education
888-347-9997 | [email protected]