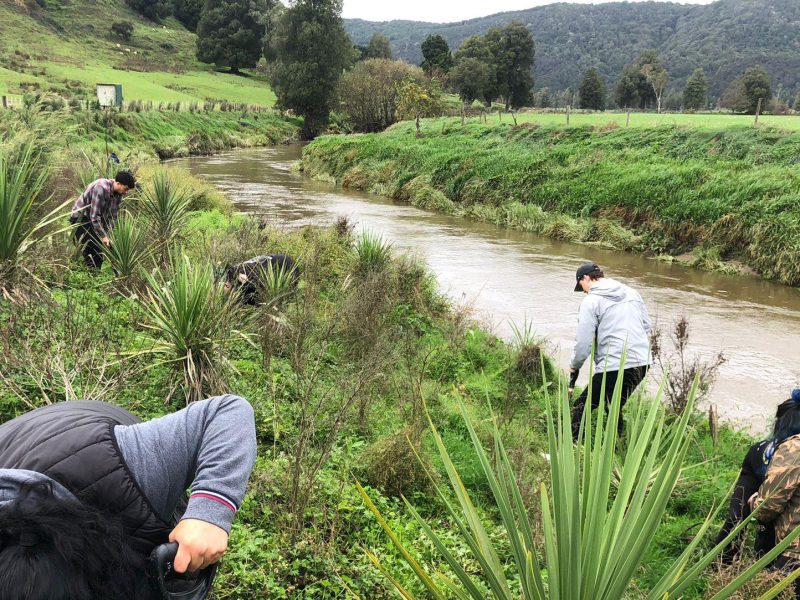 The Knowledge Makers program has expanded its reach from Kamloops to around the globe, since it first inspired Indigenous students to participate in and publish research. Based at Thompson Rivers University (TRU), the program, launched in 2016, brings together Indigenous researchers, beginning at the undergraduate level. It's a collaborative teaching initiative where Indigenous students learn how to research and publish research as Indigenous researchers. 
"Our goal is to make research accessible for everybody," says Jeneen Herns-Jensen, who is of Algonquin, Shoshone and Norwegian settler descent. She is also the associate director of the All My Relations Research Centre and leader of the Knowledge Makers program.
"A lot of previous Knowledge Makers are faculty at TRU," says Herns-Jensen. "Some have expanded their knowledge, pursued their masters and won awards. We have many students who moved on to bigger and better things. So, we're hoping to intentionally guide students toward the goal of expanding their knowledge."
Partnering with the UN
Focused on engaging Indigenous students across borders, TRU partnered with the Food and Agriculture Organization of the United Nations in 2022, inviting Indigenous women from seven socio-cultural regions — with countries such as Burkina Faso, Tanzania, Bangladesh, Russia, Hawaii and New Zealand represented — to apply for a special edition of the Knowledge Makers program. The new partnership provided an opportunity for Indigenous women from around the world to advance their research and have it published in the Knowledge Makers Journal (volume 9).
"We had 74 applications globally, which was really incredible," says Herns-Jensen. "In the end we have 19 Indigenous women contributing to the journal, which will be beautiful. They are writing about research they want to do around food sovereignty and climate change and other important topics."
Chuying Jiao, Knowledge Makers learning strategist, met with students one-on-one to discuss their research topics and edit their papers.
"I helped support them as best I could, especially when they encountered challenges with their home countries," says Jiao.

"This partnership has allowed us to get some representation that we normally wouldn't have," says Herns-Jensen. "Looking ahead, we hope to have another iteration in another country."

Expanding the model
Dr. Rod McCormick, a member of the Mohawk (Kanien'kéha) First Nation and the BC Innovation Chair in Indigenous Health at TRU, looks forward to welcoming other community members to the program.
"We're expanding the Knowledge Makers program in two directions," says McCormick. "We want to focus on the knowledge mentors — Elders, and also the knowledge seekers — Indigenous youth from kindergarten to Grade 12, and integrate those components.
"It's a good model to get students involved and interested in research. A lot of Indigenous students who go to university feel like they need to give back to their community through service. So, the idea is to let kids in elementary and high school know they can solve community problems by going to university and learning how to do research. It seems to be a good strategy for retention at the post-secondary level and recruitment of students in Grades K to 12."
Going forward, Herns-Jensen also hopes to include students from other post-secondary institutions.
"We're potentially looking at recruiting students from the Williams Lake campus, the University of Saskatchewan and the Nicola Valley Institute of Technology, as well as partner universities," she says.
Forging international connections
For TRU Bachelor of Social Work student Ellis Rondquist, who is of Métis, Cree (Nêhiyawak) and settler descent and who joined Knowledge Makers earlier this year, the opportunity to consider Indigenous research was impactful.
"Knowledge Makers allowed me to connect to and understand my culture and other peoples' as well," they say. "I started the program having a pretty set idea on what my area of research would be but quickly realized, with support from my mentor, that it wasn't what I was looking to do. Knowledge Makers provided the clarity I needed to move forward."
After attending a two-day workshop, 14 participants, including Rondquist, travelled to New Zealand to participate in a cultural immersion exchange.
"Students worked alongside M?ori researchers and teachers," says Herns-Jensen, "so they were immersed in many activities, including learning M?ori traditional rowing techniques, planting trees along the Waikato River and learning about the revitalization of native plants. Students really got their hands dirty and they were learning with the people. They made some really strong connections."
Rondquist says it was wonderful being with people from different places and still feeling that level of community. "I won't soon forget everyone involved with the program and the positive impact they've had on me."
Did you know?
In 2019, Knowledge Makers won the Alan Blizzard Award, recognizing excellence in collaborative teaching in post-secondary education
Over 79 students, ranging from first-semester undergraduates to PhD candidates, have participated in the Knowledge Makers program
Fifteen students have moved on to become research assistants, seven have become faculty at TRU, 10 students attended graduate school and two have pursued their PhDs
Two students are Social Sciences and Humanities Research Council research grant recipients, 18 have presented at international conferences, six have won graduate research scholarships and two have won Canadian national scholarships for their research
Students from a variety of backgrounds and experiences write for the Knowledge Makers Journal. Fifteen articles have been written (up to volume 6) about food systems and agriculture