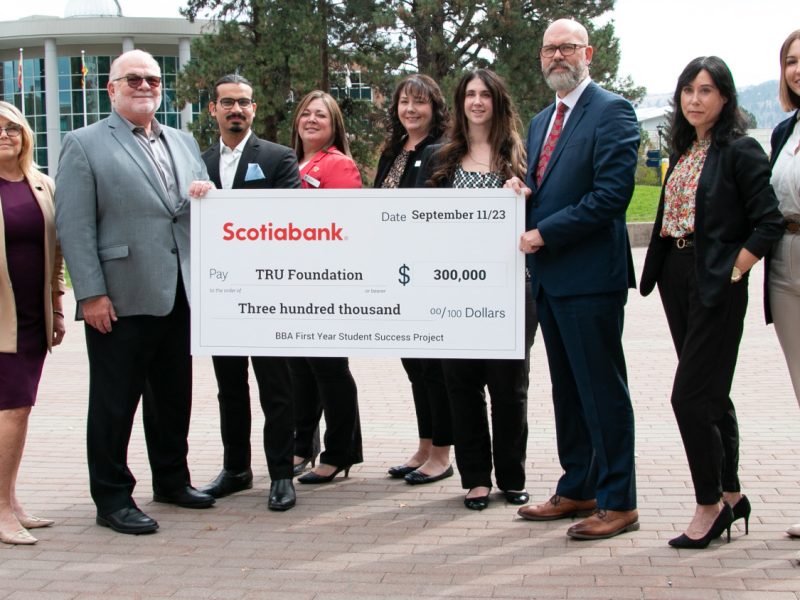 KAMLOOPS, B.C.—Scotiabank has committed $300,000 to support new university students by funding the BBA First Year Student Success Project at Thompson Rivers University (TRU) for the next three years.  
The project will increase academic support, peer mentoring, social engagement activities and financial awards for first-year students in the Bachelor of Business Administration (BBA) program in the Bob Gaglardi School of Business and Economics (TRU Gaglardi).
TRU Gaglardi alum and 2023 Scotiabank Entrepreneurship Challenge winner Vikrant Singh said individual support throughout business school can make or break the student experience, and knowing where to seek help when studies become overwhelming is crucial. 
"Business school isn't just about knowledge, it's also about personal and professional development," Singh said. "Individual support can make a difference by providing mentorship, personalized learning, career guidance and feedback." 
Creating opportunities for youth
Scotiabank has made the community investment as part of ScotiaRISE, Scotiabank's 10-year initiative to promote economic resilience among disadvantaged groups, including increasing high school graduation and post-secondary participation.
"Giving students the tools they need to help them transition to post-secondary education helps to create opportunities for youth to thrive," said Larry Clements, Scotiabank district vice-president for southeast BC. "Through ScotiaRISE, we are proud to support Thompson Rivers University to help remove barriers to full and successful post-secondary participation."
TRU Gaglardi has made a commitment to decrease the number of students who struggle academically in their first year and choose not to continue their degree. Dean Mike Henry says the Student Success Project's goal is to increase post-secondary participation for students, particularly those who face barriers during their education.
Research on post?secondary retention across the U.S. and Canada has shown that at?risk student populations, including first?generation and low?income students, are prone to lower retention rates as they may lack other resources for dealing with the challenges of completing a post?secondary degree program.
"Dedicated academic advising is particularly important for student retention and we are grateful to Scotiabank for funding that will make earlier intervention possible in cases where students need academic support. But it's also helping us create other engagement opportunities that will decrease the need for such interventions in the future," Henry said.
Eliminating achievement gaps is one of TRU's four 10-year change goals.
–30–
 Contact:
Jessica Klymchuk, Senior Communications Consultant, University Relations
Thompson Rivers University
250-371-5697 | 250-819-8540 (cell) | [email protected]
About Scotiabank
Scotiabank is a leading bank in the Americas. Guided by our purpose: "for every future," we help our customers, their families and their communities achieve success through a broad range of advice, products and services, including personal and commercial banking, wealth management and private banking, corporate and investment banking, and capital markets. With a team of over 90,000 employees and assets of approximately $1.4 trillion (as of July 31, 2023), Scotiabank trades on the Toronto Stock Exchange (TSX: BNS) and New York Stock Exchange (NYSE: BNS). For more information, please visit scotiabank.com and follow us on X @Scotiabank.
About Thompson Rivers University
Thompson Rivers University offers open admission to 140 programs, with everything from trades and technical courses to undergraduate degrees and master's programs. TRU is also home to Open Learning, which gives students a choice of 60 online programs they can study wherever they live. TRU's Bob Gaglardi School of Business and Economics aspires to connect the British Columbia Interior to the world through experiential education and high-quality research. The school offers the most flexible MBA program in Canada and two unique environment and economics management master's degrees that address sustainability challenges and opportunities.