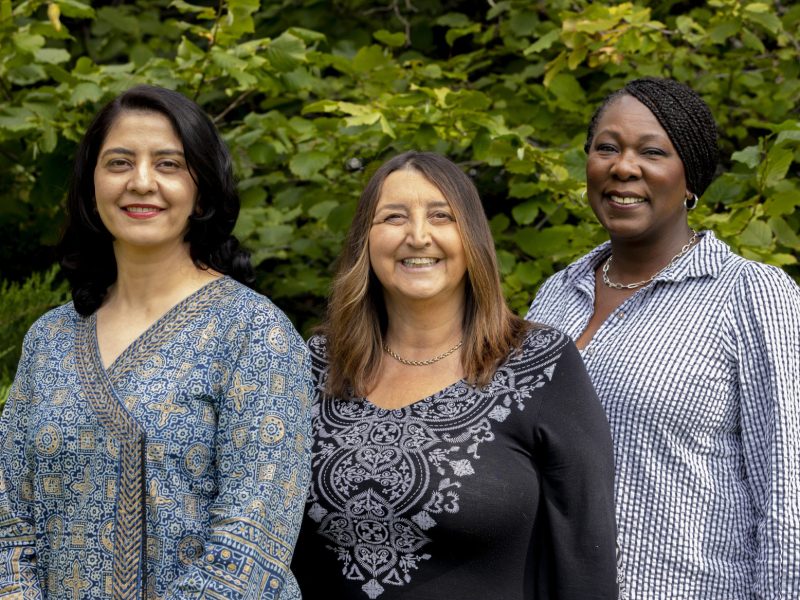 Pauline Streete has a relaxed laugh, a warm smile and a way of making everyone feel immediately welcome — great qualities for TRU's first executive director of the Office of Equity, Diversity, Inclusion and Anti-Racism.
She is joined in the office's space on the fourth floor of the Clock Tower Building by Dr. Tehmina Khwaja, Equity, Diversity and Inclusion (EDI) specialist and Connie Georget, EDI assistant. The team is small, but their goals are substantial as they do the groundwork to get established at TRU.
"The role and the work is going to be big. There are foundational elements that need to be put in place," says Streete.
That foundation begins with data — who are the staff, faculty and students at TRU? And what resources do they need?
Streete is introducing herself and the rest of the team to campus with an open house on Sept. 22. Beyond that, she wants people to feel they can seek her out any time —as faculty, staff and students did when she was at the University of Regina, where she worked before coming to TRU in July.
"We are open. We welcome people. We want to be available to any group that has a want or need," she says.
While Streete's first-year goals are to compile data, build understanding about what equity, diversity, inclusion and anti-racism are, and develop a strategy to address the most pressing needs first, she is also creating a space with her team, where anyone can be comfortable as they seek information about EDI and AR.
"There is no such thing as a stupid question. If you don't know, just ask," she says. "We take whatever phrasing they need to express their thoughts and we will not judge."
The door will always be open at the EDI and AR office, and Streete plans to engage the TRU community when she is out and about on campus.
"Everybody is welcome, and we will do our best to include everyone in EDI and AR activities and events. We are excited for all the work we are doing."