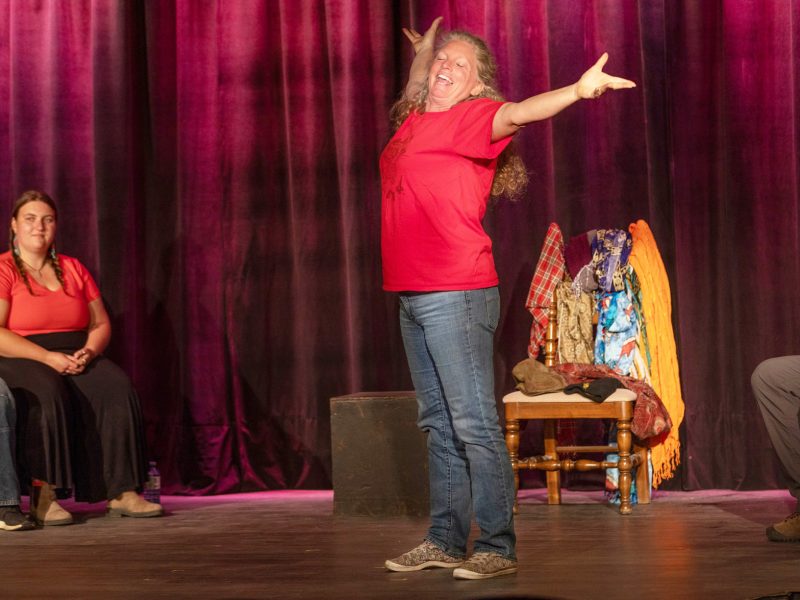 Theatre meets caring professions in Playback Theatre, a new workshop this fall.
A group of first responders on the 10-year anniversary of 9-11. People in addiction recovery. University students learning about mental health or just people wanting to share memories through story.
All can be found engaging in Playback Theatre, an improvised performance for which an audience member will volunteer a story or memory, and a troupe of actors will re-enact it on the spot.
While Playback is not a form of formal therapy, it does invite people to share all kinds of personal stories — including difficult, even traumatic ones. The act of listening and responding to them can be deeply valuable to actors and audiences alike, says Jay Goddard, who teaches humans services in the Faculty of Education and Social Work, School of Social Work and Human Service.
"Actors have to pull the emotion out of that shared memory and reflect it back–it requires empathy, connection and active listening, which is all really important in the caring professions. And in my experience, the people who volunteer their story say that seeing their story played back is really cathartic and meaningful," says Goddard.
Thanks to a Centre for Excellence in Learning and Teaching (CELT) innovation grant, Goddard is bringing Playback workshop to TRU this September, when Playback trainer Dede Edden will conduct a four-day workshop for students, staff, faculty and community members. A portion of the grant will pay student actors who have completed the training for five performances, which will be incorporated into courses at TRU.
"The instructors of the course will determine the best way to incorporate it into the course," Goddard says. "Once we've had the opportunity to do a performance and debrief, we may look at where the research and pedagogical opportunities are and how Playback may be further integrated into courses."
Playback can deepen understanding
Goddard, who also works as an actor, took his first workshop in Playback during the pandemic and recently travelled to New York for further training. Participants included Broadway and film actors, but also teachers, counsellors and people from other professions.
Debe Edden, who is based in Olympia, Washington, has been practising Playback for over 30 years. She became interested in the approach when the school district asked her to expand her work teaching elementary children about personal safety through plays to bullying, and she felt the topic needed a new approach.
"I didn't want to do a didactic informational piece," Edden says. "I wanted it to be more nuanced and relational. So rather than telling stories of bullying, we told stories about people when they were kind and compassionate. . . and stories about if harming and hurting happens, how do we then care for each other?"
She has continued her work in schools, where she uses Playback to explore mental health with students at Seattle University and to share diversity and inclusion messages with elementary students through performances with the Thunders, a troupe of actors who are on the ability-disability and autism spectrum.
For those people who aren't sure about performing, Edden offers this reassurance: "A workshop is a way to experience the possibility of creating, of learning deep listening and being in community with others," Edden says. "We all discover together. We learn from each other. And we have an opportunity to share our stories and create a community."
The cost for the workshop is $75 for students and $200 for faculty or community members. Find more information and register online.