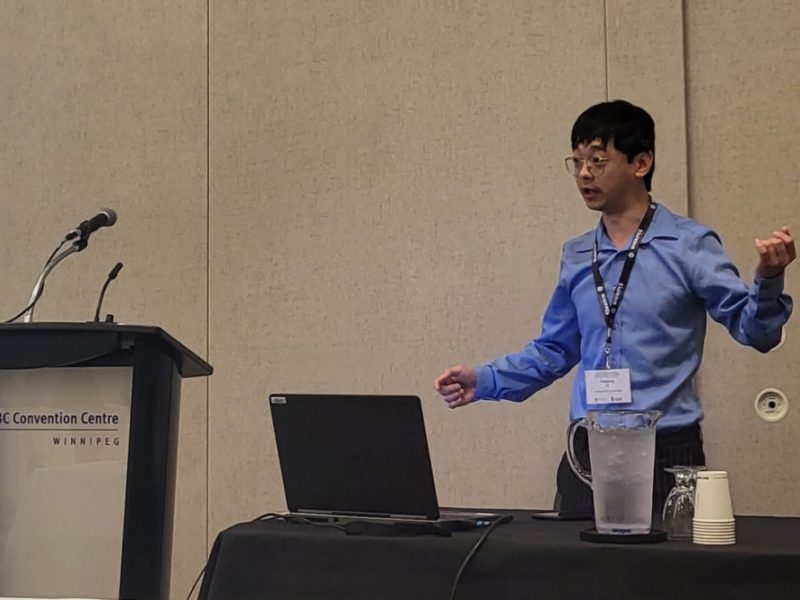 MScEEM student Xingming Li's research into the impact of rental prices and homelessness took his ideas to the 2023 Canadian Economic Association Conference.
When looking at the cause of homelessness, it's easy to point a finger at any number of contributing factors: income, rental cost and supply, employment and vacancy rates. Then there are individual factors: mental health, addiction, a history of trauma.
Xingming Li, a student in TRU Gaglardi's Master of Science in Environmental Economics and Management (MScEEM) program, saw his rent jump seven per cent in one year. He had lived in Kamloops while completing his Bachelor in Tourism Management degree, and then as a master's student. Over time, he began to see more people living on the street and news reports about city shelters being over capacity.
Li thought it likely that if his rent had increased, others' rent had increased as well, and he wondered how that might be connected to the increase in people he saw without housing. With guidance from his supervisors, Dr. Meng Sun and Dr. Peter Tsigaris, Li undertook a research project to address some of the holes in existing research on the connection between rent prices and homelessness.
"Many studies have looked at the factors of homelessness, but they tend to use the same data sources," Li says. "Most studies have found a correlation between rental prices and homelessness, while the rest of the variables are inconclusive. So I found an instrumental variable — in this case, I used air pollution levels — to isolate the effect of rental price on homelessness."
Li chose air pollution as an instrumental variable because financial hardship makes it very difficult for most sheltered homeless people­ to move (one study found up to 90 per cent). So air pollution shouldn't increase homelessness or cause people to migrate, and should be correlated with property values, not the number of homeless people in each city. He then used geospatial software to collect data on homelessness at the county level across the United States, which has more data available than in Canada, and overlay it with air pollution data from the Nasa Giovanni satellite.
Presenting takes practice
The research covered the span of 10 years, and Li estimates that he spent more than 100 hours collecting the data. Ultimately, he determined that in a hypothetical scenario, a $100 increase in rent leads to an additional 370 people experiencing homelessness.
As previous literature has mainly focused on correlation, Sun says the instrumental variable method can help identify the causal effects of homelessness.
"Correlation doesn't tell us the order or the relationship between variables; without knowing this relationship, it's hard to develop specific policy," he says. "I was pleased that Xingming was willing and able to take this on, as it's a challenging method, and this area of research is very timely and relevant to Kamloops as well as other cities in Canada."
With his results in hand, Li built a presentation, Effect of Rental Price on Homelessness: An Instrumental Variable Approach, and presented locally at the Gaglardi Environment and Sustainability Research Cluster's workshop in May. He then submitted a proposal to present his research at the Canadian Economic Association (CEA) Conference in Winnipeg, which is held annually and co-sponsored by the CEA and the host university. He was accepted and presented in the research stream in June.
The process of presenting research is very different from doing research," says Sun. "When you present, you have to be able to explain your research in a linear fashion," Sun says. "Xingming put in a lot of practice and presented many times. . . . I hope this example encourages more students to engage in research like this, as whether you want to stay in academia, own your own business or go into industry, these skills will always be very useful."
Li says his next step is to go back to his research and use the feedback he received at the conference, such as applying a time lag to reflect that an increase in rental prices won't immediately cause a rise in homelessness.
"I received a lot of good advice at the conference, so I've returned with a lot to work on before I embark on writing a paper," Li says. "I also plan to continue to a PhD, so this experience has been great practise not only for research and writing, but also at public speaking and understanding how to perform and speak about my research."