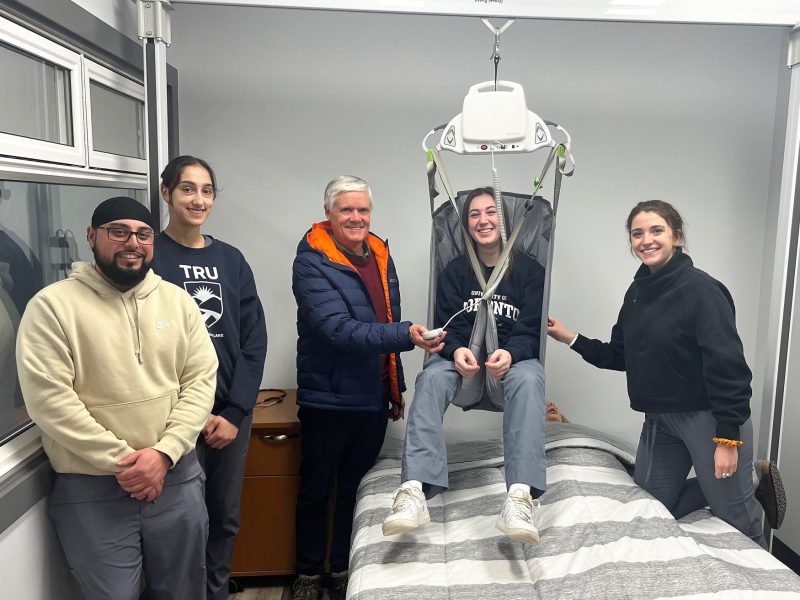 The freshly finished TRU Care Apartment on Thompson Rivers University's Williams Lake campus is now providing crucial hands-on learning for health-care students. While a grand opening date hasn't been set, the unit is already being well-used, according to faculty members.
"The thing that's really exciting about this is that it's an actual working apartment," says School of Nursing faculty member Lisa Dyck, adding that the space can be configured in multiple ways, including as a patient's home, an assisted-living room, a community living setting or even an emergency trauma room. "Because we have such a small campus, we need the space to be very versatile."
Plans for the fully functional and easily transformable apartment originally included a patient lift, but budget constraints forced planners to take it off the list. Thanks to a generous donation from the Fawcett Family of Williams Lake, the apartment now includes the much-needed lift, a wish-list item faculty are delighted to have received.
"We are so thankful," says Jenni Grinstead, School of Nursing faculty member. "We can use the apartment and the tools within the apartment to bridge the gap and allow students to practise in a safe space so that then when they go into clinical, they have already experienced what situations should be like."
Capable, compassionate care is a key part of any health-care role, but is especially needed in long-term care settings and when working with older adult patients and their families. TRU's Williams Lake campus offers three health-care programs: Health Care Assistant, Practical Nursing and the first two years of a Bachelor of Science in Nursing. Students in all these programs benefit from the TRU Care Apartment as they will undoubtedly spend time working in long-term or home-care settings.
From student to caregiver
TRU alum Ravi Boyal received her Practical Nursing diploma in 2014 and her Bachelor of Science in Nursing in 2020. She is now working in emergency care on the Lower Mainland but fondly recalls her time as a student and, following that, her experiences working in Williams Lake.
"Working in long-term care, the family members and patients, they touch your heart at times," says Boyal, adding she made a special connection with one patient and his family in particular.
As a student, Boyal twice received the Williams Lake Student Support Bursary, funded by long-time TRU supporter Charlie Fawcett. Following graduation, Boyal was working at Seniors Village in Williams Lake when a new resident was admitted who seemed familiar to her. When she met his family, she put it together that he was the founder of the bursary she had received.
"It's kind of neat — he helped me, and then I was able to help him in return," she said.
Boyal introduced herself to his children, including Fawcett's daughter, Anita, and over time they became close. Fawcett passed away in 2017, but his connection to TRU continues, both through the endowment he founded in 1994 and through the lift purchased by his children, Anita, Bill, Fred and Lorraine.
"It seems more meaningful to give somewhere that meant something to my dad," says Anita, adding that her dad grew up in Vancouver but was grateful he made Williams Lake home. He encouraged his children and grandchildren to seek post-secondary education and was committed to making education more accessible to those who might have difficulty accessing it.
"He wanted everyone to have the opportunity to receive a post-secondary education."
Information on a grand opening of the TRU Care Apartment will be released later this spring.