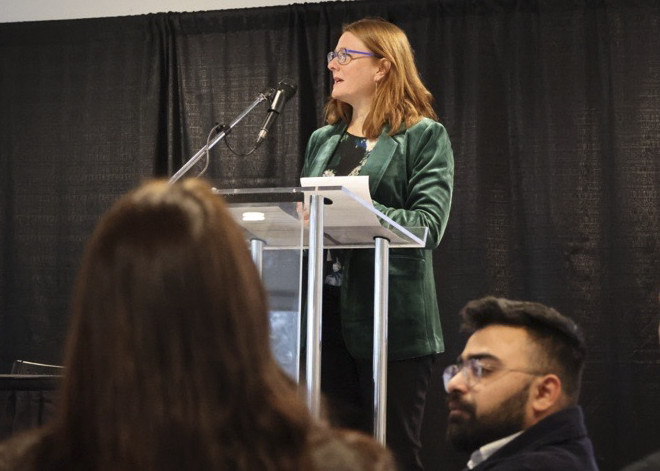 The Bob Gaglardi School of Business and Economics (Gaglardi) and Supply Chain Canada have signed an accreditation agreement that enables students who graduate with a BBA degree majoring in supply chain management or a post baccalaureate diploma in supply chain management to earn advanced standing toward the Supply Chain Management Professional (SCMP) designation, Canada's principal designation in supply chain. Graduates who achieve a grade of 70 per cent or higher in specific courses and have completed their program in the last five years are assured of advanced standing toward the SCMP designation.
There are three components required to earn the SCMP designation: education, a program exam and practical work experience. This agreement helps students meet the education component by reducing the number of courses they need to take after their program at TRU.
"For our students, this agreement is a big deal," said Dr. Nancy Southin, associate professor and chair of the Management, Information and Supply Chain department within TRU Gaglardi. "It saves them time and money, but also gives them a head start on earning an in-demand designation in an in-demand profession. Employers are increasingly asking for designations when hiring and people with designations earn more money."
According to Supply Chain Canada, employees with the SCMP designation earn an average of 22 per cent more annually than those without. That's an enticing prospect to anyone starting a career in the fast-growing field of supply chain. To meet demand, the TRU Gaglardi supply chain program recently hired three additional supply chain faculty members.
"I tell my students, supply chain is everything," said Southin. "We're not just talking about trucking, we're talking about many career opportunities — director of operations, procurement manager, director of logistics and more. Supply chain can take you anywhere. The future is bright for our students."
For more information on supply chain management and the SCMP designation, please visit tru.ca/gaglardi or supplychaincanada.com.