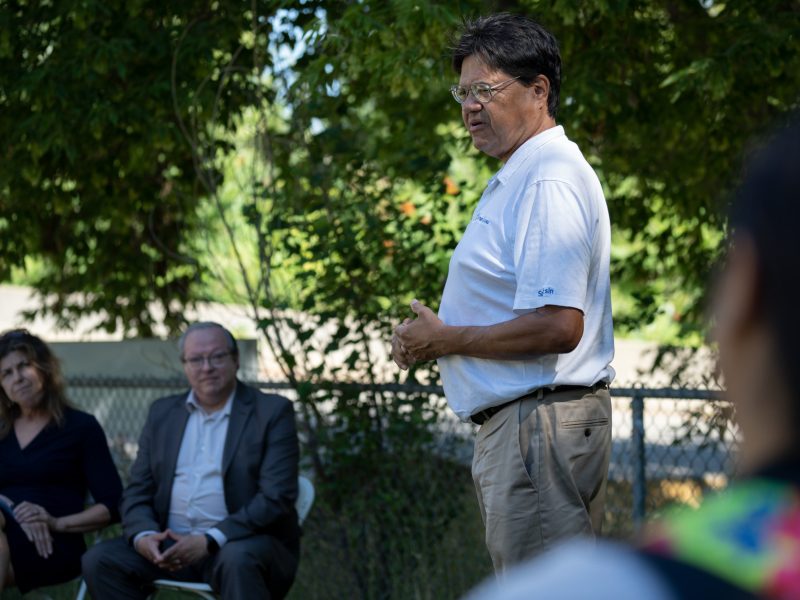 After years of effort, a centralized hub for Indigenous learning and support is on the horizon at Thompson Rivers University (TRU).
The first step towards a planned Indigenous Education Centre at TRU took place Wednesday, August 17, with a traditional Tk'emlúps te Secwépemc land blessing of the centre's future home, located at the site of TRU's Cariboo Child Care Society, which will soon relocate to the new Early Childhood Education Centre on campus.  The Indigenous Education Centre will provide an inclusive space where students, faculty and staff can access support and services at TRU and in the community.
The ceremony included Tk'emlúps te Secwépemc Elder Diena Jules, who guided the blessing, TRU President Brett Fairbairn, TRU Provost and Vice-President Academic Gillian Balfour, Secwépemc Cultural Advisor Garry Gottfriedson, TRU Special Advisor to the President on Indigenous Matters Paul Michel and Nisga'a architect Patrick Stewart.
"Today we're forging a better path," says Michel of the celebration. "And when we do wonderful things, we need our Elders to bless the grounds."
Significant step forward
For Michel, who joined the university as executive director of Aboriginal education in 2014, the land blessing is an important first step of a long-awaited journey.
"When I started at TRU, that was one of the key things we wanted — to build a legacy, to have a space that would attract Indigenous and non-Indigenous students and allow them to grow," he says. "Our Elders say that we forge the footsteps. The young coming behind us can't wear our shoes, but they can follow our footsteps."
"Over the years, I've visited over 25 universities and talked about our programs. Everyone was so impressed with TRU, how we were leading in a lot of matters in indigenization. But there's one thing that wasn't impressive – it was our lack of an Indigenous building, an Indigenous hub. Now, we're finally going to be what we said we were going to be — a place for Indigenous learners. This new centre will solidify and finalize our new future."
Secwépemc Cultural Advisor Garry Gottfriedson recognizes the significance of the Indigenous Education Centre at TRU.
"This is a very important moment in Secwépemc history, in Indigenous history," he says. "We're smashing the shackles of colonization. It's a huge step to understanding what indigenization is, and what decolonization means. We're also honouring those yet to be born, those who are coming to this building." 
Indigenous space
For those involved in the creation of the new centre, fostering an inclusive and safe learning environment is key.
"The Indigenous Education Centre will really be a place of belonging," says Tina Matthew, executive director of TRU's Office of Indigenous Education.
"It will be an Indigenous space on campus that centralizes all Indigenous services on campus. It will be a place for Indigenous students, faculty and staff to come together and meet, in a safe, respectful learning environment that celebrates the diversity of Indigenous people on campus and honours our first house Tk'emlúps te Secwépemc."
Matthew adds how important it is to have Nisga'a architect Patrick Stewart involved with the project.
"Patrick has designed a number of other Indigenous buildings, and he works really closely with the communities," she says. "He understands the importance of protocols of site blessings and to start this work in a good way. It's important having an Indigenous person like Patrick involved at the forefront."
"The planned Indigenous Education Centre is another important step for TRU on the path towards reconciliation," says TRU President Brett Fairbairn. "Bringing together students, faculty and support services in this way will provide a more meaningful and enriching educational and university experience, not only for our First Nations, Métis and Inuit learners, but for all in the TRU community. Dedicating resources to an Indigenous Education Centre align naturally with commitments TRU has made to honour truth and reconciliation. I look forward to a day when we can gather again to celebrate its opening."
The project's planning phase is currently underway and will be followed by design and funding.