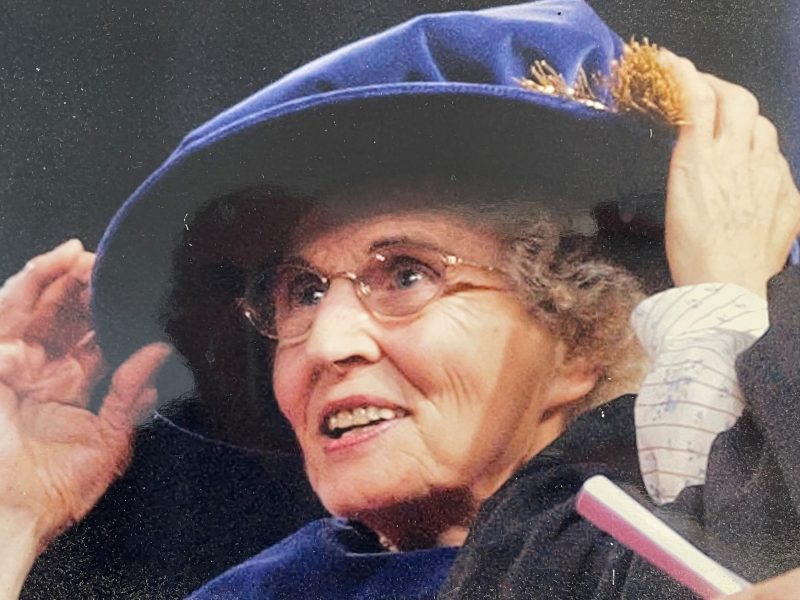 Distinguished author and long-time Kamloops resident Joan Sherman Weir lived her life with energy and passion. She passed away in 2019 after a lengthy struggle with dementia, but her legacy lives on through her many published books and, now, through a new scholarship at Thompson Rivers University (TRU) that her family has created.
Sherman Weir always encouraged her four sons to follow their dreams. With the announcement of the Dr. Joan Sherman Weir Memorial Scholarship for Excellence in Writing, her youngest son Richard Weir is helping to realize one of her dreams.
"I know how much this school meant to her. I know how much this community meant to her and I know how passionate she was about writing," says Weir. "I think the opportunity to make a life-changing award for a local student who has a passion for writing is something that would be a dream of hers."
Sherman Weir taught creative writing at the University College of the Cariboo (now TRU) beginning in 1977, the year her first and second novels were published. For over two decades, she nurtured the university's creative writing program, inspiring her colleagues as well as her students. Sherman Weir published 16 young adult novels and six books of Canadian history. She was conferred with an honorary Doctor of Letters degree by TRU in 2004 and her longevity at the school is commemorated on the university's Pioneer Wall.
Award will change students' lives
Weir established the scholarship in April 2022 with a $50,000 donation to honour his mother's passion for writing and esteemed career as a novelist and teacher. Intended for a third year Bachelor of Arts student majoring in English with a minor in creative writing, the scholarship is set at $10,000 per award over the next five years. Each award will undoubtedly prove life-altering for its recipient, easing the financial burden of their post-secondary studies and giving them more freedom to pursue their writing.
"She had a conversation with me years ago. Before she moved away from Kamloops, she talked about wanting to do something at the school, so it's something that I've had in mind for a number of years," says Weir. "I think she'd be thrilled. I told my oldest brother who is also a writer (playwright Ian Weir) and he said, 'she'll be beaming.'"
Sherman Weir's contributions to the larger community are also considerable. In addition to leading workshops for the public library system and speaking to classes throughout the Cariboo region, she served the local school district for several years by leading workshops for the annual Young Authors' Conference. TRU alum Andrea Rhodes did not have Sherman Weir as an instructor during her time at the university, but she did cross paths with her as an elementary school student, both as winner of a writing competition and while attending the School District No. 73 Young Authors' Conference.
"When I was in Grade 5 or 6, I entered a mystery writing competition and my story was chosen to be part of one of Joan's books. I got to meet Joan and work with her to develop my story so that it aligned with the rest of her book, which was a pretty cool experience," says Rhodes. "It was like meeting a celebrity."
Everything Sherman Weir did, from raising her sons to scheduling time for writing each day, she did with enthusiasm and heart. While generations of students were inspired by her work and mentorship, today's students will be inspired by her legacy and the generosity of her family. The first Dr. Joan Sherman Weir Memorial Scholarship for Excellence in Writing will be presented early in 2023.