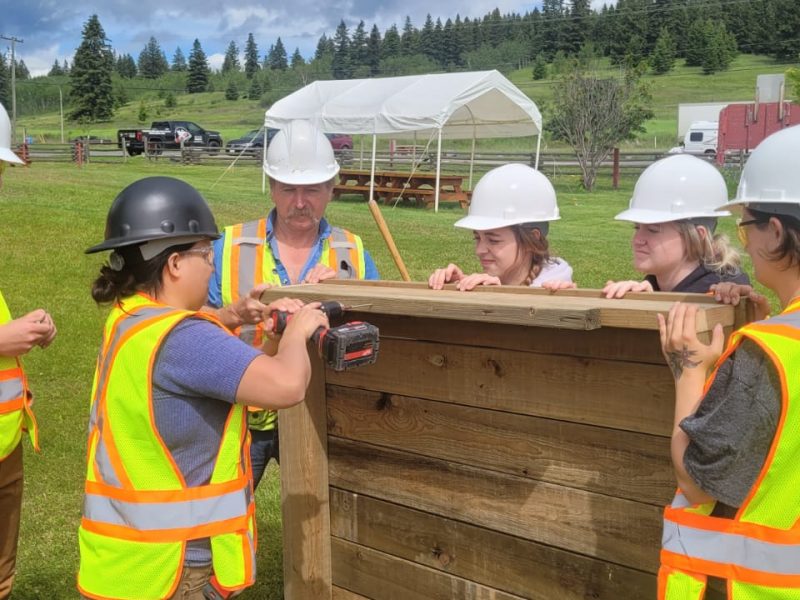 A group of 11 students are the first participants in a Women in Trades (WIT) Exploratory Program from Thompson Rivers University (TRU) to be held in 100 Mile House.
And for the first two weeks of that two-month program, students are doing carpentry work on the 108 Mile House Heritage Site, a historical site and museum that nods back to the agricultural history of the region.
One of the program participants, Kayla Nasby, said she was interested initially because she had done some renovation projects. But it has quickly grown to be more than that.
"From this program I am hoping to get some experience in the carpentry trade and also to make more connections with people in the trade so I can have more opportunities at a better career," she said.
"I love working for a non-profit organization and giving back to the community, but also being able to show my kids the project we have built and to leave something behind that I was a part of."
The program is supported by the BC Government's Economic Relief Funding and the Industry Training Authority and delivered by TRU to develop more skilled tradespeople in communities. Currently, 4.5 per cent of BC trades workers are women.
The WIT exploratory program for 100 Mile House quickly filled up, indicating the interest and need in that community. It is delivered through TRU and School District 27, being taught at the local high school, the 100 Mile House Regional Centre and in the community.
School of Trades and Technology Dean Baldev Pooni said the program is changing the lives of students through skills development and a chance for a meaningful, rewarding careers.
"I am thrilled with the opportunity the students have who have committed to the program. I hope they find passion in a trades career while strengthening the local workforce and economic development prospects," he said.
Demand for skilled trades is growing
With a shortage of skilled trades workers expected to reach 15,000 in BC within the next three years, it's a great time to explore trades careers.
Marie Weisbeck, community co-ordinator for TRU Community Education and Workforce Training, said the program is a gateway for changing the lives of the participants, while contributing to the community through the local procurement of program supplies.
This program builds community partnerships, from working on local not-for-profit projects as a part of learning carpentry skills, joining with SD 27 to support the program resource needed for the welding and mechanical portions, and meeting with local industry representatives to introduce women potential job opportunities.
"Programs like this are very important for a community like 100 Mile House, as they are a primary industry community and the more exposure and experience provided for young people, especially young women, is empowering for them in potentially pursuing a career in trades.," said SD 27 Co-ordinator of School Programs David Corbett.
"When the program was announced in Peter Skene Ogden secondary school, a number of students became excited and signed up right away. It seemed that they couldn't take advantage of trades opportunities during school but facing graduating, they jumped at the opportunity to get involved in such a program. With TRU 's organization, personnel and ability to keeps costs to a minimum it was the ideal opportunity for these young ladies."
TRU's School of Trades and Technology has a long history of offering previously delivered Women in Trades in Kamloops, Merritt and Barriere. More than 90 per cent of participants continue their trades education and careers.
Donna Barnett is president of the South Cariboo Chamber of Commerce and director of the 100 Mile House and District Historical Society. She was grateful for TRU's investment in the community.
"As a director of the 100 Mile and District Historical Society, the work of the students and TRU will be a legacy to enhance the 108 Heritage Site," she said.
Nasby said after only one week in the program, she is already looking ahead for a career in trades.
"From this program, I am hoping to get some experience in the carpentry trade and also to make more connections with people in the trade so I can have more opportunities at a better career," she said.
"So far, I have loved every moment of it, from the information I'm learning, to the people that I have had the opportunity to work with, to the hands-on approach of learning.
For me, this is an opportunity of a lifetime and I'm so honored to be a part of it."