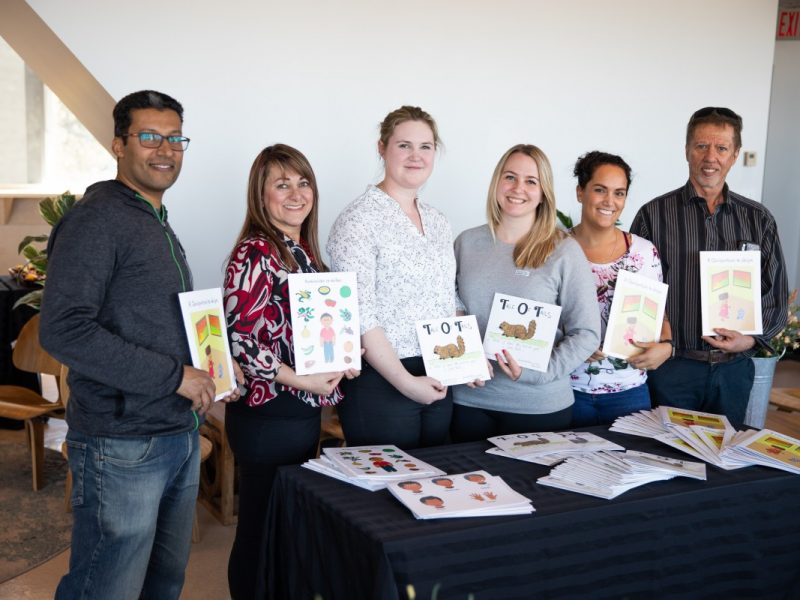 Language makes it possible to share knowledge, culture and identity across generations and diverse peoples. After millennia of Secwepemctsín being a powerful language of the spoken word, it has been transferred into writing in the past few decades.
Now, technology is creating new ways for Secwepemctsín to be shared, taught and revitalized.
In TRU's Faculty of Education and Social Work, Dr. Gloria Ramirez is leading her students in language learning and responding to the Truth and Reconciliation Commission's call to action to support Indigenous languages. She and her students have brought together Secwepemctsín and literacy technologies in a unique combination of print and digital resources.
"It's part of reconciliation. Language and culture revitalization are important," she said.
A few years ago, the then-principal of Sk'elep School of Excellence, Garry Gottfriedson, invited Ramirez and Dr. Patrick Walton to collaborate with his Secwepemctsín and Secwépemc culture team. That team included Elder Flora Sampson, Dr. Janice Dick-Billy, Christine Billy, Jackie Jules, Roxanne Letterlough, Leah LaRue and Ada Jules.
Together they created digital learning resources that future generations could access to learn Secwepemctsín through reading, listening and speaking. With computer science faculty Dr. Haytham El Miligi and students Marco Lussetti and Gabriel Archie, they developed several apps. The materials were available through Creative Commons, so no one 'owned' them and anyone who wanted them could use them without cost.
"They belong to the Secwépemc people," said Ramirez.
"It plants the seeds of change."
Last week, they unveiled five picture books and two apps, funded in part by a Social Sciences and Humanities Research Council Aid to Small Universities grant and other internal and external grants. The apps are available at any app store (search Secwépemc), but are only for android. The picture books will be available soon through Truspace.
Letterlough, who worked on two of the books, said the publications are for children as well as adults who are starting to learn Secwepemctsín.
"There are very few Secwepemctsín resources," she said.
"Kids need to see themselves in the books."
Three of the books include QR codes that can be scanned so the reader can supplement the book with word pronunciations, traditional songs or images of traditional clothing and other elements relating to each story.
Another book, Tale of Tails, was written and illustrated by two non-Indigenous teacher candidate students, Laura Howard and Mariah Wilson. They consulted and collaborated with Indigenous educators, including June Kelly, and language teachers before going to print. Ramirez said involving teacher candidates extends the learning and understanding of Secwepemctsín and Secwépemc culture to the next generation.
These collaboratively created resources, being made available in 2019—the United Nations International Year of Indigenous Languages—are a reminder that everyone can play a role in saving and revitalizing Indigenous languages.
At the launch, Elder Mike Arnouse talked about the importance of understanding ancestral culture. Indigenous stories often involve nature—birds, fish, other creatures and mother earth.
"When they're written like this, the little ones will understand," he said.