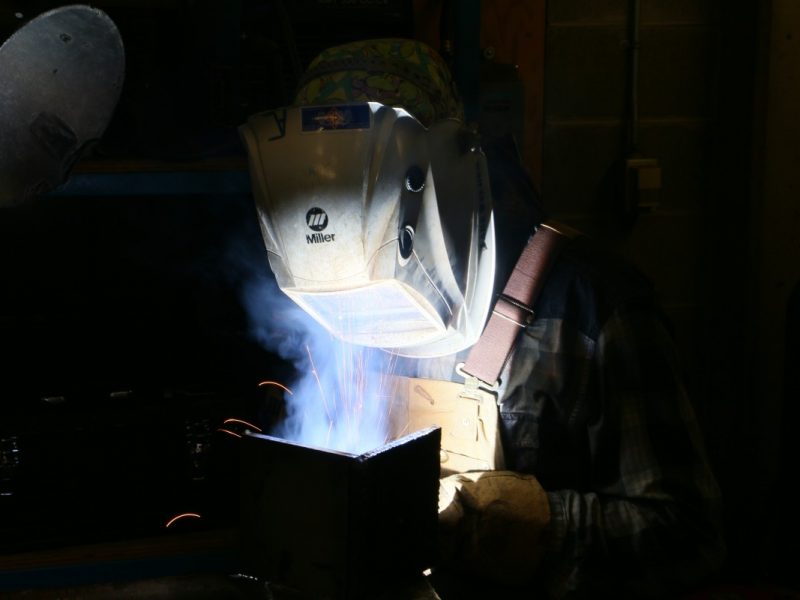 Just like an athlete training for the Olympics, competing on a world stage at any level requires a relentless dedication to one's craft, countless hours of practice and of course, financial support. Skills Canada national welding champion Andrew Christensen is no exception to the rule as he prepares to represent TRU, Kamloops, and Canada at the WorldSkills competition in Abu Dhabi, United Arab Emirates, this fall.
TRU has launched a GoFundMe campaign to support the Sahali Secondary School grad, and current welding student on his journey to compete against the best in the world. The university has already kicked in facilities and will help cover up to $15,000 of his cost of training but he still requires an additional $15,000 to help off-set the cost of travel.
It has been a challenge to garner financial sponsorships from industry, so TRU is appealing to individuals and other organizations for support. Christensen will be the first TRU student to compete on the world stage and the university is now looking to the community to help make this a reality.
"Andrew is representing our university, our community and our country. Through this competition the world will know TRU's name, and the nation will celebrate his success. We must do all we can to give him the best chance at holding our flag on the winner's podium this fall," said VP Advancement, Christopher Seguin.
The Dean of the School of Trades and Technology, Baldev Pooni, has agreed to match any donation supporting Christensen's campaign, which essentially doubles community contributions.
Since qualifying in Moncton, NB in the spring, Christensen has ramped up his training and is now spending 40-50 hours a week perfecting everything he will be called on to perform on game day. Carving out training time has meant major sacrifices like putting school on hold and postponing looking for welding work—but he is confident that what he does now will pay off later.
"I'll have a skill set very few people have," said Christensen, who is three-quarters through his apprenticeship. "I'll also have work contacts that will allow me to pick and choose what I want to do after this."
Additional support has been coming from the Skills Canada program, including being paired with a Skills Canada welding expert, financial help to attend pre-WorldSkills competitions, meeting with a mental trainer, specialized clothing and more. But, Christensen is still in need of some financial assistance to help with cost of living and supplies.
To help support Christensen on his journey, visit the GoFundMe page.
To bring everyone up to speed on the extend of his training, the options ahead of him, welding in general and other matters, Christensen was a guest on Talk on the Experts on Kamloops station Radio NL, check this out for all the details.
For more information contact:
Dušan Magdolen, MBA, BBA, BA
Director of Development
778-471-8379
250-320-4628
[email protected]