Photo: Mike Howell
Two temporary work-camp style housing complexes totalling 89 units that Premier David Eby promised would open in Vancouver in March are still unoccupied and the province has pushed back move-in dates for a second time.
Meanwhile, the City of Vancouver has yet to open 10 "tiny shelters" to accommodate up to 18 homeless people; at least two of the shelters were anticipated to open in February, but are still under construction in a parking lot on Terminal Avenue.
Combined, all three projects total 107 spaces.
In mid-April, BC Housing told Glacier Media via email that "development processes" caused unanticipated delays for the 60-unit project at Main Street and Terminal Avenue, and the other 29-unit complex at 2142 Ash St.
"The modular units have been installed at Main/Terminal and are now being readied for occupancy, with residents expected to move in May," BC Housing said at the time. "The second site on Ash Street is well underway, with occupancy expected in June."
A visit to both sites Wednesday showed the work-camp style housing — which is how Eby described it at a news conference in December 2022 — were vacant of tenants and behind tall metal fencing.
A visit also on Wednesday to the location of the tiny shelters, which are being built in a parking lot attached to the existing Lu'ma Native Housing Society-run shelter at 875 Terminal Ave., showed at least six of the units appeared to be either finished or near completion.
Glacier Media could not confirm whether the inside of the units were complete, or fitted with the planned heating and air-conditioning. The city's communications department said in an email that "we are currently facing some construction scheduling challenges" that have set back moving people into the small buildings.
"The construction delays can be attributed to these tiny shelter structures being the first of their kind in Vancouver," the city said of the buildings budgeted at a total cost of $1.5 million.
"We continue to work with project partners to ensure each structure is safe and adequately meets the needs of future shelter guests."
'Massive backlogs, delays'
Housing Minister Ravi Kahlon told Glacier Media Wednesday that he anticipated people would move in to the 60 homes at Main and Terminal before the end of the month. But it won't be until July for the 29 homes on Ash Street to open, he said.
"If I could go with a hammer and nail and go and build them myself, I would," said Kahlon, citing supply chain constraints and "issues" with soil at the sites.
"It's not because of not wanting them — I wanted them yesterday. But the reality of everything — construction and getting supplies — there's just massive backlogs and delays, which we just cannot control."
BC Housing elaborated on the delays in an email, citing minor updates to project design that affected building permit timeline, below-grade work that required relocation or upgrade of municipal water services, "construction mobilization" and connection of utilities.
When Eby announced the 89 homes in December 2022, he said they would not go directly to people living in tents on East Hastings Street or in CRAB park, but to people currently living in shelters.
The expectation, he said, was the two housing sites — which were budgeted for a total of $6.9 million — would free up space in existing shelters for people currently living outside.
When the two sites open, staff will be on site 24 hours a day and tenants will have access to mental health and primary care services, along with cultural programming. Harm reduction supplies will also be available at both complexes.
Each tenant will have a room, but share a bathroom.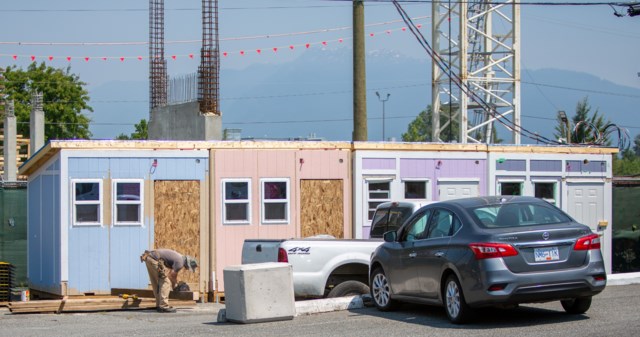 Homeless counts
At the tiny shelter site, tenants will have access to the existing services in the large indoor shelter, including 24-hour staff support, meals, washrooms and laundry. The shelter, which is known as Klahowya Tillicum Lalum, opened in May 2021 and has 60 spaces.
Vancouver and other cities in the region and across the province conducted homeless counts earlier this year, but results will not be made public until the fall. The anticipation from staff working in homelessness services is that more people will be counted as homeless than in previous counts.
In Vancouver's last publicized count, 1,548 people were recorded in March 2020 as living in some form of shelter and 547 others on the street. The pandemic, the overdose crisis, inflation, expensive housing and rising food costs have been cited as factors in why people are homeless in 2023.
In October 2022, preliminary reporting from the BC Coroners Service showed 247 deaths of individuals experiencing homelessness were reported to the agency in 2021, which was a 75 per cent increase in the number of lives lost in 2020.
In January 2022, Glacier Media reported that the number of people who died in Vancouver over the past five years with "no fixed address" totalled 225, according to data from the Vancouver Police Department.
The deaths that occurred between 2017 and 2021 were recorded by police when they attended "sudden death" calls in the city.