Photo: Photo Mike Howell.
Melody Watts, with her son Seth at her side, spoke at a news conference Tuesday about living in a makeshift shelter on an East Hastings Street sidewalk.
It's now been more than three weeks since Vancouver Fire Chief Karen Fry issued an order for the sidewalks along a stretch of East Hastings Street to be cleared of tents and makeshift shelters.
A walk through the area Tuesday found there has been little progress in dismantling the encampment that is predominantly concentrated between Main and Columbia Streets, where dozens of people continue to reside.
The unhoused, like 43-year-old Melody Watts, who lives in a tarp-heavy structure with her son outside the vacant Regent Hotel, had the same question Tuesday as she did when the fire chief's order was issued July 25: Where are we supposed to go?
"Housing, more care for people down here — that's what we need," said Watts, whose last residence was a suite at a downtown Holiday Inn, where she and many others from the now defunct Strathcona Park encampment were offered rooms.
Watts said she was kicked out of the hotel last summer after allowing a homeless brother and sister to live with her in the suite. She said she had a broken hip, a broken pelvic bone and a broken wrist at the time, requiring a wheelchair to get around.
"Now I'm here," said Watts, who was one of several speakers at a news conference Tuesday called by Pivot Legal Society to condemn the fire chief's order. The non-profit organization has alleged the order has led to "violent, forced evictions" of people living on the street.
'We just want to be a family'
At the lectern, Watts told reporters she could stay in a shelter, but that would leave her son, Seth, who is 20 years old, to live by himself on the streets. She said they can't find a place to accommodate both of them.
"We just want to be a family and have our own place together," she said.
"Everyone deserves that. They took our tent away multiple times. We got tired of them taking our tent away. A couple of times, we walked away from it because we couldn't pack up every day. Another time I was being pulled away in my tent while I was still sleeping. That was wrong; that was crazy. I was pretty shocked."
BC Housing and Mayor Kennedy Stewart have both said at a recent news conference and via emailed statements that there is not enough housing available for people living on the sidewalks.
Some have found homes, though.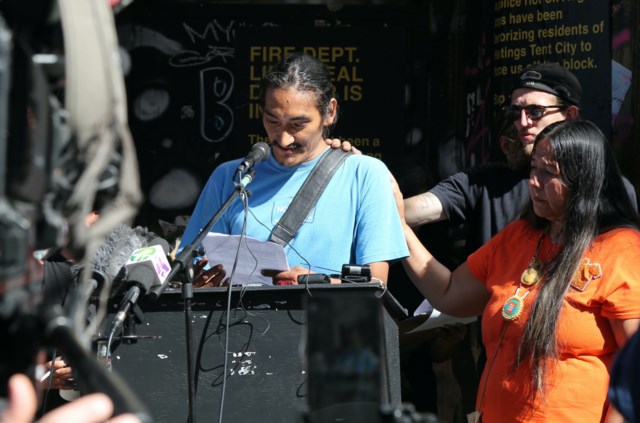 'We weren't trying to instigate anything'
A man at the news conference who identified himself as Aero told Vancouver Is Awesome that he lived in an alley but recently learned he will soon move into a building operated by housing provider, Atira.
The 32-year-old member of the Vancouver Area Network of Drug Users (VANDU) said having a place to live will allow him to be "more part of the community — because I love this community, and I want to fight for it."
Aero's turn at the lectern focused on the Aug. 9 melee outside the Carnegie Centre, which ignited after police arrested a man they said was acting erratically and throwing computers at the centre.
At the time, several police officers were in the Main and Hastings area as city crews, firefighters and social service workers were present to observe and assist with the delivery of totes to encampment residents as part of an effort to clear the sidewalks.
Aero said he was charged with assaulting a police officer after he went to the aid of a friend trying to help a walker-dependent man who was on the ground and surrounded by police officers.
"We weren't trying to instigate anything," he said. "It was just they pushed down one of our [VANDU] members, and my colleague saw that happen, and he was trying to help him to get up. And then he got intercepted by cops and got beaten down. And then I saw that happen, so I tried to go and help him, and then I got thrown down, and I started getting beaten up."
He said the charge was related to him allegedly biting an officer. Aero smiled to show he had no front teeth.
"With what teeth? I have no teeth," he said.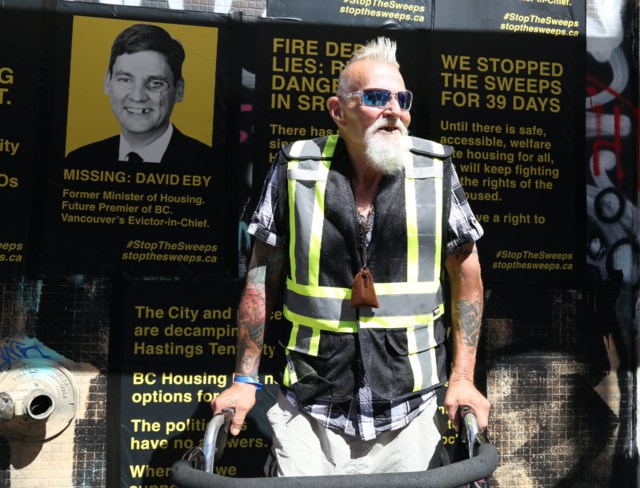 The walker-dependent man on the ground was 63-year-old Randy Crossan, who was with his small dog, River, at Main and Hastings when the melee broke out.
"A cop threw my walker with my dog tied to it and then shoved me so hard I flew about 20 feet," he said, adding that he has since contacted a lawyer and plans to sue the City of Vancouver and the Vancouver Police Department. "Somebody's going to pay, and they're going to pay me. I wasn't doing anything."
CBC photojournalist Ben Nelms captured a striking image of Crossan on the ground that was featured widely via social media.
Crossan said he was once homeless and lived in the most recent Oppenheimer Park encampment, which was dismantled two years ago. From there, he was offered a place to live in a temporary modular housing building in the city.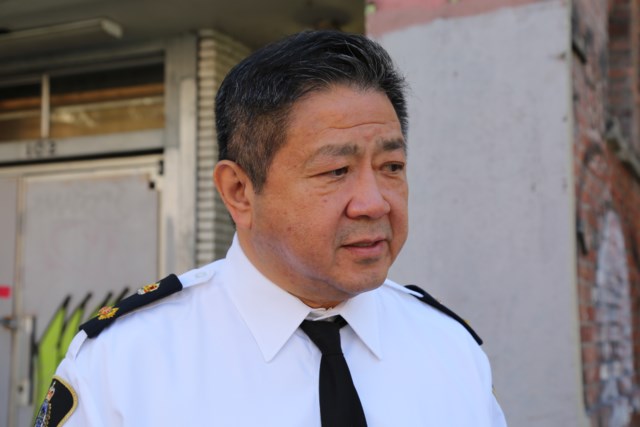 'Just doing their jobs'
In a statement last week, the Vancouver Police Department said that officers involved in the melee were "just doing their jobs — fulfilling their duty to protect the public and apprehend a violent offender."
Officers were surrounded by people who threw objects at them, bit them, punched them in the face and tried to prevent them from making an arrest, according to a statement from Sgt. Steve Addison, a media relations officer.
Const. Tania Visintin, also a media relations officer, reiterated in an email Tuesday the department's role regarding the encampment last week, saying it "was to maintain public safety and our officers had no role in removing tents, structures, debris or belongings."
Deputy Police Chief Howard Chow told reporters after Tuesday's news conference that officers stopped escorting city clean-up crews July 1. Since then, the encampment and garbage have grown along East Hastings.
"It's become untenable now with some of the concerns that are going on," he said from a sidewalk in Chinatown.
"Of course, we should try to find more suitable housing for those that are in need down there and look after our vulnerable. But there are also the other complexities of those who live in those buildings —that is their community, and they want more support, more help, more policing to make it safer for everybody down there."