Campus Life - Kamloops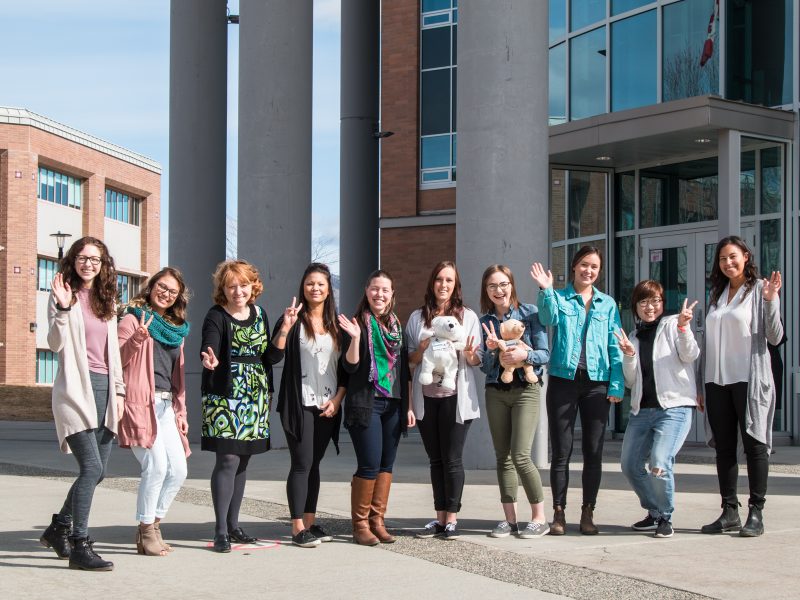 How this remote gold rush gateway community is helping train the next generation of Canadian health care professionals.
Founded a year before Canada's confederation, the now-remote outpost of Hazelton is one of British Columbia's oldest settlements and was once an important site for its access to the Omineca region's goldfields and proximity to the Grand Trunk Pacific Railway route. It was also home to the only telegraph office, newspaper, bank and hospital between Prince Rupert and Prince George. Once driven into obscurity by the wheels of progress in the south, Hazelton's hospital is poised to make history once again with the arrival of the first cohort of TRU nursing students this May.  
The Village of Hazelton and its surrounding communities are located on the traditional lands of the Gitxsan and Wet'suwet'en First Nations, and TRU School of Nursing's Sheila Blackstock is a proud Gitxsan nursing faculty member. Blackstock was invited by hereditary chiefs in Hazelton to develop a nursing practice course a couple years ago—in partnership with the Gitxsan Territories and Gitxsan Health Society—to have student nurses practice in Gitxsan First Nations Territory.  
"My grandfather worked on the telegraph line way back in the 1930's and many of my family members live in the Hazelton area, so it's always been a special place to me," says Blackstock. "I was honoured to be asked by the hereditary chiefs in Hazelton to develop this course, that gives TRU's nursing students an opportunity for a unique practice and cultural experience."
Course development is a result of Blackstock's student-centered teaching philosophy, incorporating input provided by the Indigenous Health Nursing Committee student membership. It was designed to provide student nurses with opportunities to build on the skills and knowledge acquired in their first three years of studying, through an Indigenous lens, and community evaluation is embedded throughout to ensure community voices and partnerships are sustained. Support will be provided throughout the practice period to ensure students achieve the learning outcomes for CPE 3 and an immersion experience, a prerequisite for all Bachelor of Science in Nursing students.
Blackstock's course employs a Two-Eyed Seeing approach to nursing, which strives to recognize and integrate the respective epistemologies and ontologies of both western and Indigenous ways of knowing and being. Students learn to see from one eye with the strengths of Indigenous knowledge and ways of knowing, while learning to see from the other eye with the strengths of western knowledge and ways of knowing. Integrating the strengths from each perspective, or seeing through both eyes, will benefit everyone.
Student nurses will spend three weeks working in acute care in Hazelton's Wrinch Memorial Hospital and three weeks in various Indigenous community health clinics, where they'll work under the guidance of Registered Nurses. They'll also spend time participating in cultural events, land-based experiences and workshops while in Hazelton.
K'San Village will be offering cultural events and workshops including moose hide tanning, moccasin crafting, drum making and interpretive tours. The Gitxsan Health Indian Residential School Resolution Health Program will also be offering students opportunities to participate in various programs including language classes, leadership training, reconnection to the land, the importance of protocols, traditional healing; potlach, ceremonies and dance; ceremonies and community events; and elders, traditional healers and knowledge keepers.   
Students will learn how individual worldviews impact holistic health, which can facilitate relevant nursing practice and inquiry with diverse individuals, families and communities. They'll also learn the importance of modelling reflexivity in nursing practice by considering the historical generational impacts of residential schools and settler society on Indigenous peoples, reflecting on how the nursing role should be shaped by an Indigenous community's culture, language, ceremonies and land-based experiences. 
Enriched by Indigenous ways of knowing and being, students will be better prepared to facilitate engagement and partnerships with Indigenous peoples in nursing practice, community development and research. They'll learn how nursing practice supported by a Decolonizing Approach—and co-creating nursing priorities and goals with individuals, families and communities—can foster positive health outcomes for Indigenous peoples.  
To participate in the CPE 3 Hazelton Immersion, students submitted applications with rationales for wanting to participate, the learning outcomes they hope to achieve and an indication of why they would make suitable candidates. Once accepted into the program, they must complete both pre-departure seminars, cultural workshop(s) and an online cultural safety training course provided by the Northern Health Authority.
After finishing this six-week practice course, participating students will be evaluated based on reflective journaling, instructor feedback in acute care and health clinics, team sessions with faculty members and a Complex Decision-Making assignment. Back in Kamloops they'll continue into their fourth and final Bachelor of Science in Nursing academic year, where they'll soon graduate and help shape nursing practice in Canada to positively impact holistic health outcomes in partnership with Indigenous communities.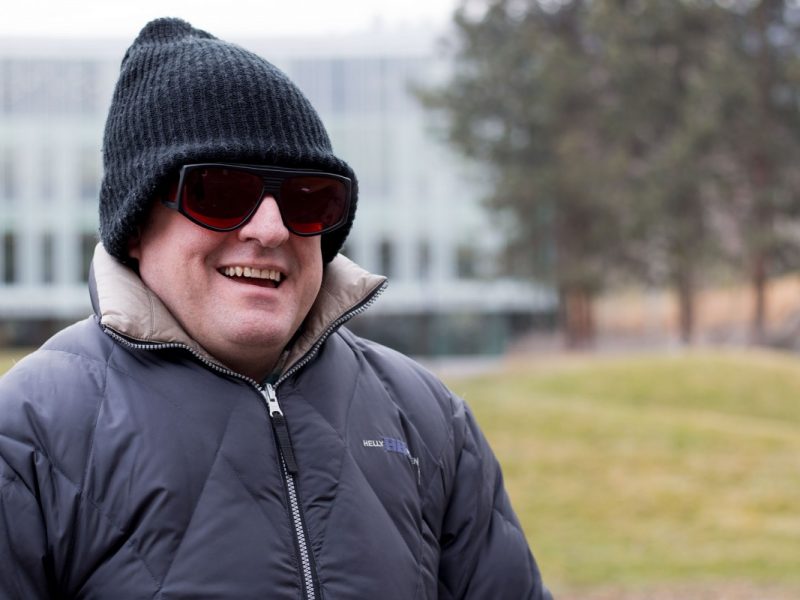 What do you get when you take a legally-blind writer, a tourist from the UK and someone with a keen interest in getting to know their classmates?
Paul Millross, has been having a lovely time at TRU this year.
Coming to Canada, for the first time in his life—Millross is a mature student who also happens to be visually impaired—and he's ready to try everything.
Millross decided to look into the agreement his university had with TRU when a tutor at his home institution, The University of Chichester, was singing the praises of TRU in Kamloops, BC.
He chose to take a leap of faith and venture to another school for his second year of a three-year degree when the exchange was made easy.
As soon as the process of applying and registering began, he was able to have open-dialogue with disability services here at TRU.
"They had a 'yes first' and figure it out later attitude," said Millross.
"TRU is a very accessible place, I'm so thankful because this whole experience has been about 'us', not just 'me' or just 'you.' "
Beyond campus life, challenges with blindness have been eased by his homestay and new friends.
The Canadian National Institute For the Blind gave his hosts tips for living with a visually impaired person. They went so far as to rearrange furniture in their house.
"My homestay host gave me a tour of my bus route and BC Transit has been great for getting around the city."
Simple things like going to a Kamloops Blazers hockey game and being given headphones to listen to the commentators while sitting in the rink, have been thoughtful additions to his experiences, and have made all the difference.
In class, he's also been able to give back. On many occasions he has shared his typed notes with students who were absent.
"Faculty and staff ask me, what can be done to improve my experience, but honestly, everything is perfect."
Faculty have been accommodating with sending their PowerPoint slides ahead of time and allowing the class to be recorded.
"Paul brought to my creative writing classes a mature, considered international perspective, along with a dry sense of humour," said, George Johnson, arts faculty member. "Students were enlightened by his play about the Brexit decision."  
Millross loves writing in almost any style, unsurprisingly, his work is filled with the senses.
One of the causes he advocates for is that audiobooks be released at the same time as the hard cover version.
Often it's not until well after the soft cover version is released that an audio version is available.
"People associate audio with those who don't want to read, but there is a whole group of people who want the audio version because they simply cannot read for lack of sight," he explained.
He'll be returning to the University of Chichester for his final year, but plans to visit Canada again soon.
Before Millross jumped back into post-secondary, he was a ceremonies registrar, marrying people. He's no stranger to adventure and changing direction.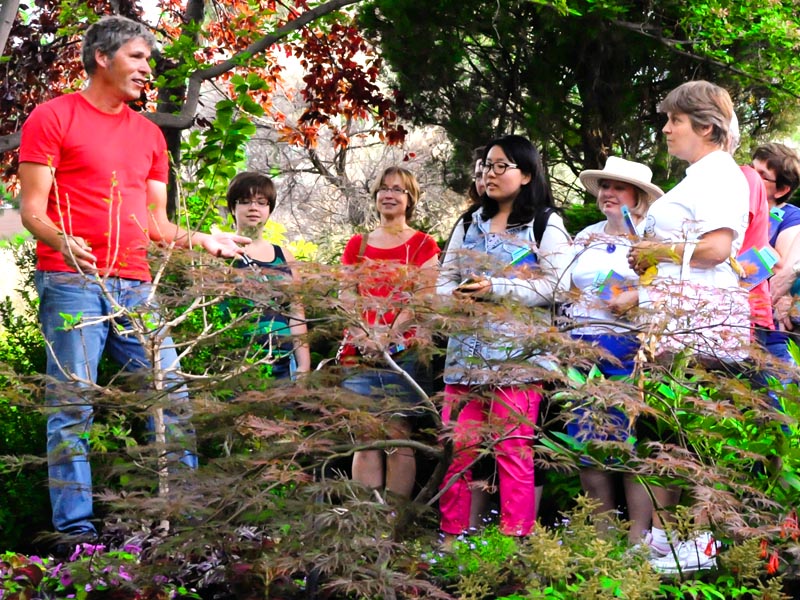 Plants scrub the air we breathe, boost our well-being with colours and smells and meet our daily food needs.
As the spring growing season begins to blossom, we thought it was timely to turn this month's TRU Talk to the Experts episode over to a discussion of plants and their importance in our lives.
In the audio clips below, TRU floriculturist Ian Robertson—who in a previous life was a heavy duty mechanic—shares tips and insights during his chat with show host Paul Graham on Kamloops station Radio NL.
As a member of TRU's grounds crew, you'll see Robertson helping with enhancements, maintenance and cleanup of the plant life from tiny to tall. He is a graduate of TRU's horticulture program and is president of TRU Friends of the Gardens (FOG)—a community group for gardeners who have thumbs with any shade of green. TRU FOG also organizes a range of events, from Horticulture Horizons and the annual plant sale in May to the free weekly tours running May through August.
A friendly challenge to listeners
During the episode, Robertson offers up a friendly challenge to listeners: re-imagine an everyday object as a planter.
"Instead of recycling it, we're going to take it and up-cycle it in another way, like an old chair, or a dresser, or an old pair of gumboots," said Robertson. "Plant them. Go ahead and put some holes in there so there's some drainage. Put some soil in there—it will really make you feel good, it really will. The crazier it is, the better it will be, honestly. And if it's weird, it will be even better. There's something about creating something that takes you to another level as well."
What follows is their conversation and for your convenience, the audio is split into two clips.
Clip 1—16 minutes, 50 seconds

https://inside.tru.ca/wp-content/uploads/2018/04/Talk-to-the-Experts-Ian-Robertson-horticulture-use-1.mp3

Discussion items: Definition of a floriculturist, general plant health, growing zones explained, how winter impacts spring and summer growing seasons, Ian's path from heavy duty mechanics to horticulture, Ian digs up his grandmother's roses, the grounds at TRU, beautifying the world using plants, TRU has one of the largest gardens in BC outside the Lower Mainland, the changing TRU grounds, tips for keeping deer away from plants.
---
Clip 2—15:09

https://inside.tru.ca/wp-content/uploads/2018/04/Talk-to-the-Experts-Ian-Robertson-horticulture-use-2.mp3

Discussion items: Tips for keeping deer away from plants continued, future horticulture projects at TRU, pros and cons of water features, TRU Friends of the Gardens, annuals vs perennials, weekly gardens tours, the title master gardener explained, types of questions asked during tours, one way to get around having to weed, what is in Ian's garden, landscapes and well-being, friendly challenge to listeners, secrets to a healthy lawn, plants have high and low seasons, FOG plant sale on Saturday, May 5, 2018.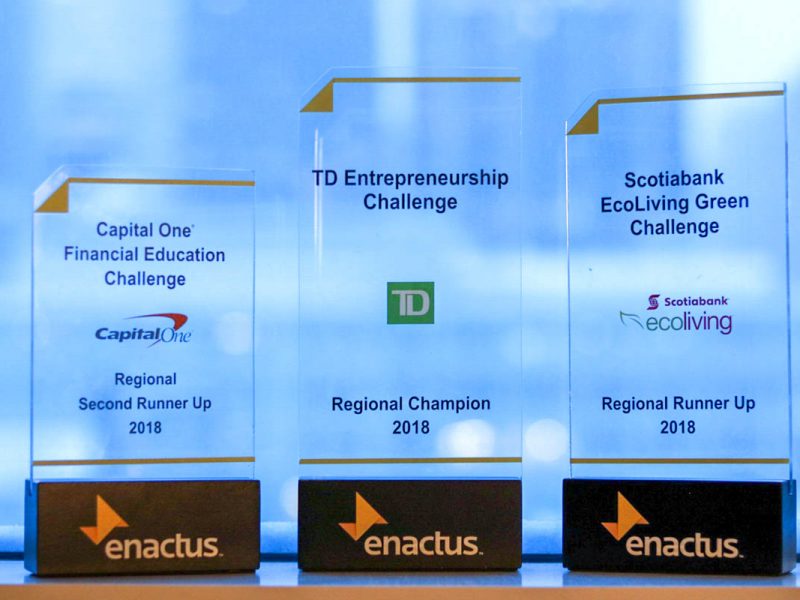 Don't throw out that used drink coaster, it could be your next greeting card!
Enactus TRU's turning of cardboard drink coasters into greeting cards while providing work for at-risk youth, has earned some of its members the right to present at the Enactus Canada National Exposition in Toronto, May 14–16, in the Entrepreneurship category.
Enactus TRU qualified for the national presentation after co-winning the category with Okanagan College at the Western Canada regional championships in Calgary this March.
The venture is called Coast Cards and has been in operation for nearly a year. During that time, hundreds of coasters have been diverted from the landfill, more than $1,000 has been generated in sales and three at-risk youth in the United Way Away Home program have earned some money by making the cards.
In Toronto, Devin Montagliani and Joey Tasker will present the Coast Card story to a panel of business leaders and, during that time, hopefully earn Canada's one qualifying spot in that category at the Enactus World Cup in San Jose, California, Oct. 9–11. Caroline Schmidt and George Gavriel will provide technical support for the two.
Two Enactus TRU teams headed to Toronto
Joining the entrepreneurship team will be Joel Mercer, Danika Schmietenknop and Eric Wichmann, who will present in the Enactus National Competition category and provide an overview of the year's activities as they relate to social impact, economic impact and environmental impact. They too will receive technical support from Schmidt and Gavriel.
Also in Calgary
Also competing for Enactus TRU in Calgary, but not advancing to Toronto, were teams in the categories of EcoLiving Green, Financial Education and Youth Empowerment. The EcoLiving Green team finished second, Financial Education was third and Youth Empowerment was outside the top three.
In all, 34 Enactus TRU members attended, with 30 of them having never attended a regional competition before.
More Campus Life - Kamloops articles
The views expressed are strictly those of the author and not necessarily those of Castanet. Castanet presents its columns "as is" and does not warrant the contents.
Previous Stories