Campus Life - Kamloops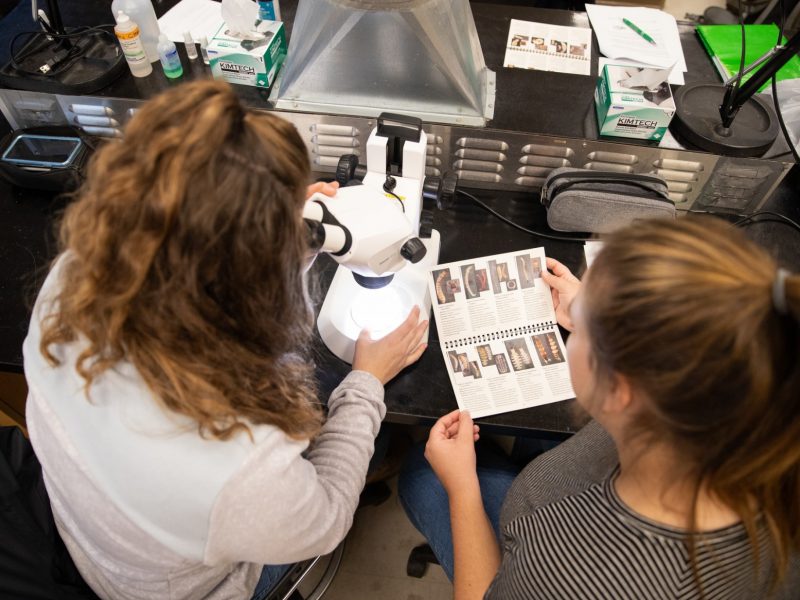 Thompson Rivers University (TRU) will soon welcome high-school students to its Kamloops campus thanks to a new partnership with Shad Canada.
Shad is an educational opportunity for Grades 10 and 11 students offered at university campuses across Canada that has been running STEAM (science, technology, engineering, arts and mathematics) programs since 1981. It has partnerships with 22 campuses and a network of 20,000 program graduates.
As a Shad campus, TRU is running Shad's STEAM and entrepreneurship program over a 27-day period in July 2023. The agreement with TRU is for five years, with the possibility of extending it further.
Opportunities for students
Focused on teaching community-minded leaders who want to shape a better world, Shad's annual summer enrichment program attracts some of the brightest students from around the country.
"This partnership between TRU and Shad Canada will create amazing opportunities for more than 40 exceptional students from across Canada to experience our part of the world and to learn more about the place that we call home," says Dr. Tom Dickinson, retired TRU science dean who is working with Shad as the program's first director at the university.
A central element of the Shad experience is for participants to work in small groups and design a solution for a real-world problem such as food security, water management and improving population well-being. Students are given the problem at the start of the program.
"Our activities will focus on the different components of livability in today's world, but we also want to get (students) hands-on experience with the history of this area, which has such a profound influence on our current community," adds Dickinson.
"Every summer, more than a thousand students come to Shad to discover new areas of study, access university level academics, business and community leaders, and reach new heights of personal development," says Tim Jackson, Shad chief executive officer.
"We are thrilled TRU has joined the Shad community to deliver a cutting-edge program that will help students make important decisions about their post-secondary pathway."
During the month-long program, students live on campus and have access to TRU mentors, including graduate students and faculty. 
"TRU is excited to join Shad Canada in the delivery of a collaborative hands-on learning opportunity for students from other provinces that will help youth take on social and economic challenges through the lens of STEAM," says Dean of Science Greg Anderson.
"This is a fabulous opportunity for both the student participants to learn and grow, and our university to enhance its reputation as a world class educational institution delivering impactful learning opportunities."
At the end of the program in late July, TRU is hosting a public open house so students can share the results of their innovative thinking with a broader audience.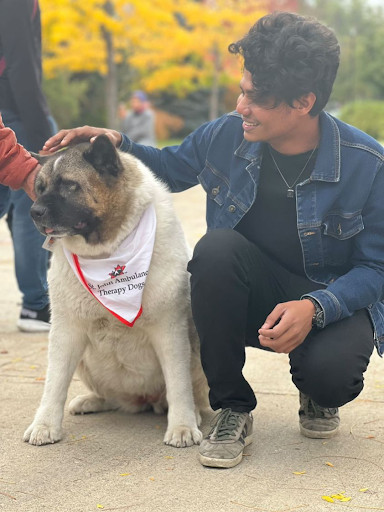 Student Wellness Ambassador and Storyteller Samiul Khan was curious but nervous about Therapy Dog Thursdays and wanted to learn how to connect in a way that felt safe for him, so he reached out to St. John Ambulance representatives Trudie BonBernard and Bridget Jensen to get some tips. 
Therapy Dogs Thursdays is a collaboration between the TRU Wellness Centre and St. John Ambulance. Even though this is a popular event with many health and wellness benefits, not everyone feels comfortable around dogs.
If you'd like to make a canine connection, therapy dogs are perfect for interacting with because they have all been evaluated for temperament. Therapy dogs are well-trained pets who live and travel with a family. Some even sleep on their owner's bed! Here are some tips from the St John's Ambulance reps to approach dogs safely. 
Love them from a distance. If you are nervous around dogs, don't feel you should touch or hug them. Instead, standing back and watching how others interact will warm your heart. You can also talk to St John's Ambulance reps to learn about the dogs and their training.
Be wise and sanitize. If you are allergic, sanitize your hands before and after you pet the dogs. The most common allergy symptom is itchy skin in one area or all over the body. In addition, some symptoms involve the respiratory system, coughing, sneezing and/or wheezing.
Take baby steps. If you feel brave enough to interact, let the owners know about your fear. Slowly move your hand in front of the dog so it can smell you. Don't be surprised if they back away. They have fantastic noses and can smell 400 per cent better than we can. They can react to the smell of hand lotion, hand sanitizer, perfume, aftershave, soap, sunscreen or insect repellent. After an initial sniff, the dog usually moves forward for a second sniff. If you want to pet the dogs, give them a gentle pet on their foreheads. Dogs usually like pets on their ears, shoulders and back area.
Don't poke the bear. Keep your hands away from their eyes and muzzle until the dog gets to know you. Then you can ask the owner what their dog prefers. For example, some dogs turn around to get their sides and rumps rubbed. Other dogs might put their head in a lap to get their ears scratched. Be mindful of the dog's behaviour to ensure they are comfortable — consent matters to dogs too!
Don't skip a beat, feed a treat. If you want to offer the dog an owner-supplied snack, open your hand flat like a dish and put the treat in your palm. Doing will help avoid dogs nibbling on your fingers. Some dogs are very gentle nibblers and won't bite at your fingers intentionally.
Control your excitement. Loud voices can startle a dog, which could then scare you! Instead, speak in a conversational tone as you would with the owner. Yelling at the dog, even with a happy, excited tone, can startle a dog, and so can clapping your hands. Remember to approach a dog from the front — swooping in on a dog from behind can startle and scare them.  If you are ever scared of a dog you see on the street, try to stand very still (like a tree) with your hands at your sides. Step aside and let the dog pass. 
Follow these tips to get comfortable with these cuddly little ambassadors the next time you see them, and don't forget to tell them that they are super cute!
Meet the therapy dogs every Thursday on Student Street from 10 a.m. to noon. Learn more about resources and opportunities at tru.ca/wellness.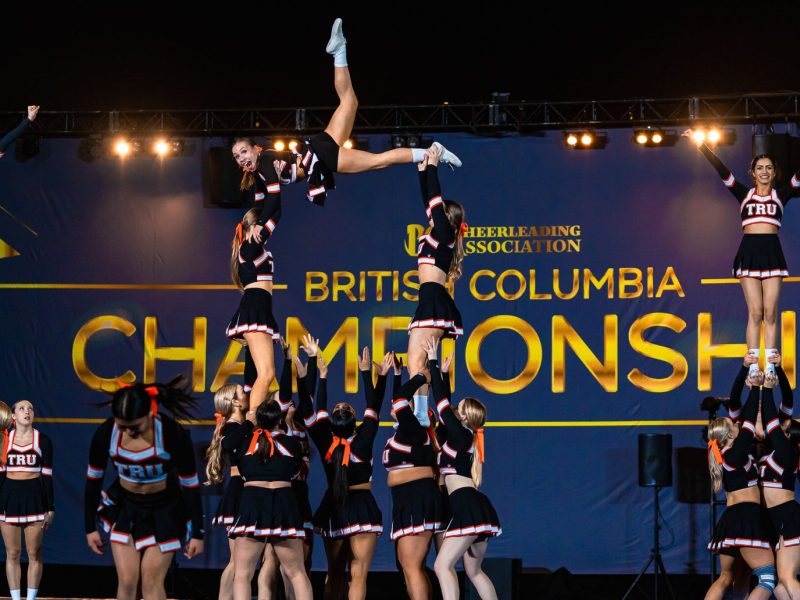 Update: The WolfPack Cheer team placed third in the world for Game Day competition and fourth in the world for University Premier All Girl.
The Thompson Rivers University (TRU) WolfPack Cheer team heads to the International Cheer Union University World Cup Cheerleading Championships in Orlando, Florida Jan. 13-15, hoping to spring British Columbia's fledgling cheerleading program to new heights.
The WolfPack soared to first- and second-place finishes in two divisions at the 2022 BC Sport Cheer Provincial Championships last March. Those strong performances won the team an invitation to the 2023 World Cup, which welcomes competitors from around the globe.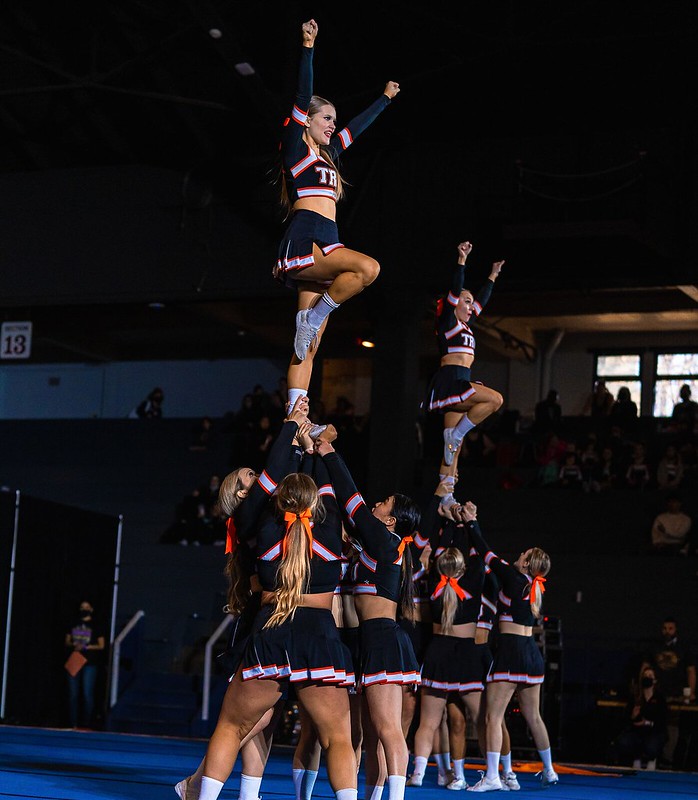 Cheer coach Meaghan Blakely says the invitation, known as an at-large bid, is a huge accomplishment for a new team in its third season competing at this division.
"We are still a very young program, going up against teams who have competed at this level for years," says Blakely.
The 28-member team from TRU represents BC Sport Cheer in the traditional Game Day division, and 20 members are also competing in the modern University Premier division — the highest level of difficulty in this Olympic-recognized sport. Most of the team members have not competed at this level before, never mind on the world stage, and to ensure they are up to par, the WolfPack team increased the difficulty level in both their routines.
"We are relying on our pyramids this season," says Blakely. "We have put a lot of focus on increasing our transition and difficulty. These skills are a large part of the score sheet, and something we lacked. The team has spent countless practices — a lot of sacrifice, sweat and dedication — to get the skills they will be showcasing."
Returning captain Kayla Zimka leads the high-flying group stunts, while teammates Brooke Topolovec and Madison Wilcott are a strong duo showcasing high-level tumbling. The greater the difficulty, the higher the points, and every second counts. The team also needs to perform with high energy, engage the crowd and execute the gymnastics and use of props — like the ubiquitous pompoms — flawlessly.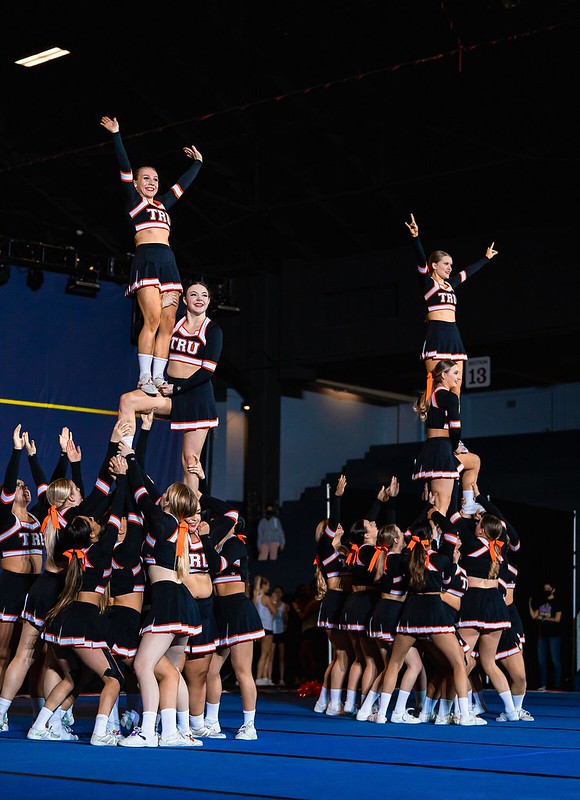 "Our goal is to compete with a routine that we can be proud of, and give a good fight. Regardless of our placement, we want to be proud of what we put out on the floor and prove that we are a contender to watch out for. We are the underdogs and are looking to do our province and university proud."
The WolfPack Cheer team competed at the University World Cheerleading championships in January of 2020 and was eligible for 2021, but it was cancelled due to the pandemic. This is the first year the competition is back.
The team's fund-raising since March has garnered about $20,000 of the $80,000 trip costs, and the rest is paid by the athletes in addition to their regular season expenses. When they take the mat at the World Cup, they may be rewarded with more attention and growth for cheerleading in BC, which has yet to achieve the popularity the sport sees in Eastern Canada and the US. These student-athletes are laying the groundwork for even bigger dreams next season at TRU.
Check out the TRU WolfPack Cheer Team's 2022 routines:
Premier division 2022 BC routine https://www.youtube.com/watch?v=HLQDTGRrQO8&t=93s
Game Day division 2022 BC routine https://www.youtube.com/watch?v=LqhsTu_9r1Q&t=105s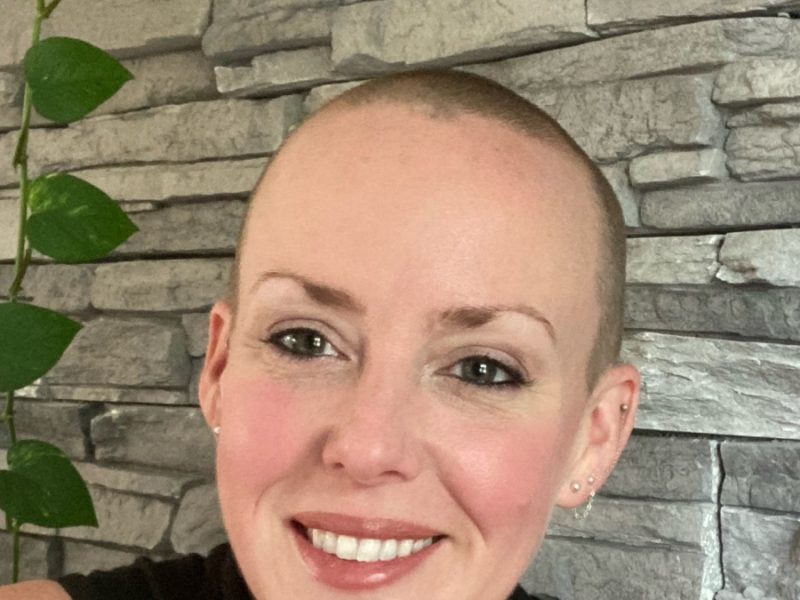 Long before she had the language to understand what she was witnessing, Amie McLean (UCC '02) was deeply affected by the oppression and violence that surrounded her. Through education, privilege and perseverance, McLean pulled herself out of the poverty she was born into. However, her experiences and ongoing connections to impoverished and marginalized family members and communities shaped her future.
"From a really young age, I was bearing witness to a lot of gender and class inequality, and racism — specifically anti-Indigenous racism and violence — integrated within our society," McLean says of growing up as a white child in a small BC community within St'át'imc territory. "I began to find the language to talk about things that I had already witnessed and seen throughout my life in terms of harm and power and systems of oppression. . . . (At University College of the Cariboo, now TRU) there were these really brilliant people who were also incredibly accessible."
McLean described the awe she felt as she crested the hill coming into Kamloops, driving a beat-up car filled with all her possessions, feeling like she had finally arrived in the big city. The first of her family to attend university, she faced adversity and financial hardship as she attempted to navigate post-secondary school on her own. She persevered and completed a double major at UCC, receiving a Bachelor of Arts in sociology and English. Following graduation, she headed to Seoul, Korea, to teach English to save money, pay down her student loans and further her education.
Grateful to earn an income while seeing a new part of the world, McLean says the experience also showed her how culture is tied to systems of repression, including English as an imperial language and language of power.
"It is a language that carries with it privileges but also oppressions," she says. "(Working in Seoul) was a really great experience, but an eye-opening one as well."
PhD and beyond
Following her stint in Seoul, McLean went on to obtain her Master of Sociology and then her PhD from Simon Fraser University (SFU). After receiving her doctorate in 2017, McLean accepted a contract position at TRU as a second intercultural co-ordinator, working alongside faculty member and Intercultural Co-ordinator Dr. Kyra Garson.
"It was a phenomenal experience to be able to work with Dr. Kyra Garson but really to work with a lot of students, faculty, staff, admin across the university in all kinds of different capacities. Folks who were working to advance social justice at the institution — but within the community as well," she says. "Some of my favourite work at TRU was having the chance to lead the redevelopment and reimplementation of the Intercultural Ambassadors program and to pilot it in its first year was incredibly rewarding."
Circumstances changed following the onset of the pandemic in 2020, and McLean accepted a position at SFU as the justice, equity and inclusion (JEI) project manager in Work Integrated Learning. SFU granted McLean a human rights exemption that allowed her to work remotely. She describes her work at SFU as exciting and inspiring, dealing with a range of initiatives that provided support to marginalized students involved in applied and experiential learning.
Recently, she took a leave from SFU and is again part of the team at TRU.
"Secwepemcúlucw has been a place of sanctuary to me and my family, and I have a responsibility to do social justice work here, where I live as a settler and uninvited guest. I'm at TRU on a two-year faculty appointment as intercultural co-ordinator in the CASA (Counselling, Academic Supports and Assessment) department within the Faculty of Student Development," says McLean. "In that role, I will be developing curriculum, doing research, teaching, taking a lead on the Intercultural Ambassadors Peer Mentorship program and supporting a range of projects and initiatives associated with EDI and intercultural engagement."
McLean will again be working alongside Garson, who says she, her colleagues and the student ambassadors are thrilled to have McLean back.
"She is a highly intelligent strategic thinker, trained as a sociologist and yet also trained in the school of life. Amie is empathetic and humble while at the same time being a fierce advocate for those who are underserved or underrepresented," says Garson. "We look forward to the future with Dr. McLean back at TRU."
More Campus Life - Kamloops articles
The views expressed are strictly those of the author and not necessarily those of Castanet. Castanet presents its columns "as is" and does not warrant the contents.
Previous Stories