Campus Life - Kamloops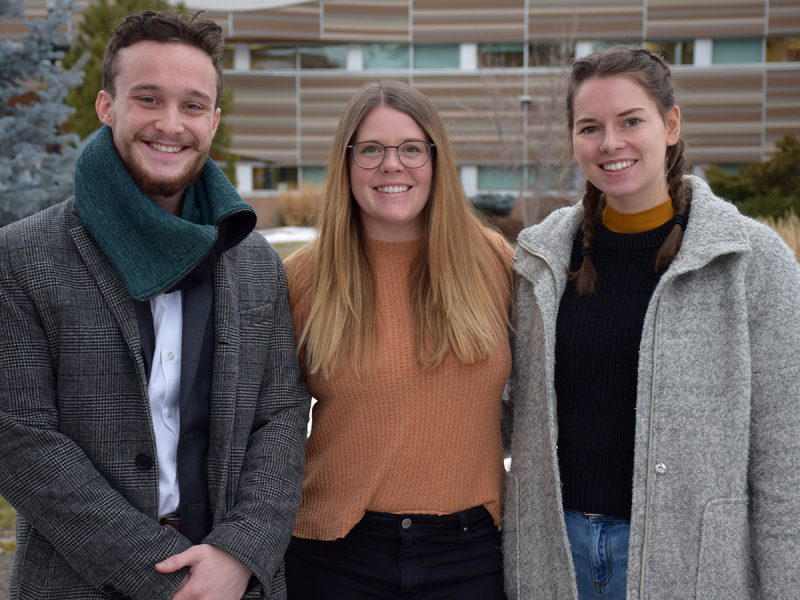 Three TRU graduate students whose research will have immediate and important impact on our natural environments have been awarded Environmental Science and Natural Resource Science Fellowships.
The fellowships, valued at $7,500 each, were awarded to Master of Science in Environmental Science students Dana Eye, Claudie Pageau, and Garret O'Connell. The trio were selected as a result of their commitment to research, and potential for future contributions to their respective fields.
Eye, who is studying pregnant female rattlesnakes in Osoyoos, BC, said this fellowship eases the pressure of a demanding research program, and allows her to dig even deeper into her research questions.
"This opens up so many other opportunities for us to ask new questions that are really important to the health of this threatened species," she said.
Pageau is studying the evolution of molting strategies of North American songbirds, and results from this research will have direct impact on conservation efforts. Pageau completed her undergraduate degree at the Université du Québec à Chicoutimi, but selected TRU for her graduate studies out of a desire to work alongside Dr. Matt Reudink, associate professor.
"This award shows me that people believe in me and in my research, and that is so motivating. I was so, so happy. Learning that I had received this award was a big push for me to continue," she said.
O'Connell is working with Dr. Jonathan VanHamme in TRUGen, an applied genomics lab , where he is studying the biodegradation of fluorinated chemicals by bacteria.
"It really feels nice to be recognized. Molecular biology is tough to explain, but it feels good knowing that people understand and appreciate the work that we're doing."
These fellowships were generously created by an anonymous donor. Students who receive these prestigious awards are selected based on their demonstrated potential for future contributions to our understanding of the environment.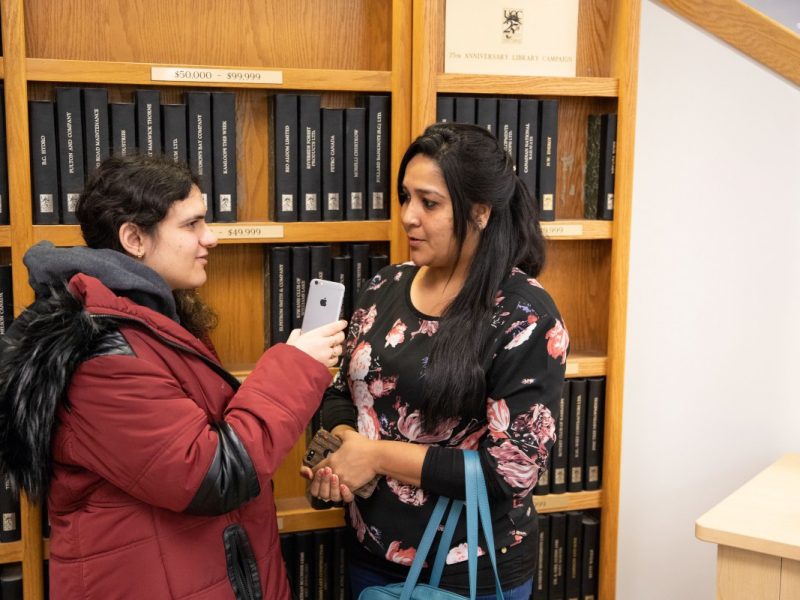 Time was tight last week as Canadian Prime Minister Justin Trudeau was speared with pointed questions from the public and journalists during his stop at TRU.
With only a small window of time, Trudeau could not answer everyone. Those he called on to ask their questions needed luck.
TRU journalism student Nada Abdelghaffar was among the fortunate. She asked Canada's 23rd prime minister her question about an issue she deals with every day. Raised in Cairo, Egypt, Abdelghaffar faces an additional challenge from most journalists: she was born blind.
Growing up, she relied on her family to get around in a city that severely lacked accessibility support for the visually disabled.
"They don't have the basic needs for walking, like canes or dogs. I always needed the help of someone else," said Abdelghaffar, who was born with congenital glaucoma.
She left her homeland after graduating high school and chose TRU because of its smaller size and accessibility. Language wasn't an issue as Abdelghaffar has studied English since kindergarten.
She arrived all on her own in January of 2017 for the winter semester. It was her first time travelling to North America and her second outside of Egypt.
After she landed, TRU connected Abdelghaffar with the Canadian National Institute for the Blind. They gave her tips for maneuvering around campus and gave her a collapsible white cane.
Her mother came out in July to provide more support, even though Abdelghaffar was becoming self-sufficient. Her mom returned to Egypt near the end of the fall semester.
Abdelghaffar's basics for life were taken care of, but she still needed some help.  TRU assisted by converting her textbooks into computer documents, which allowed her screen-reading software to convert text into audio clips. The program also reads out each key she types, so she can file articles on time.
She also puts her smart phone to work for her. The iPhone has a VoiceOver feature which, with a series of taps, indicates which app she is using and the action she is performing. It's allowed her to run her Facebook and Twitter accounts, which is where her interest in journalism began.
Abdelghaffar wanted to be heard, so she began tweeting in 2011 about the Arab Spring—a series of anti-government protests that spread to Egypt.
"I thought journalism was a good way to deliver messages and thoughtful ideas to everyone," said Abdelghaffar, who runs her own radio show Saturdays at CFBX 92.5FM from 1 to 2 p.m.
Even in 2019, accessibility for disabled reporters is an issue. Abdelghaffar discovered this while on assignment at a Kamloops City Council meeting. She took notes and recorded quotes, but had trouble distinguishing who was speaking.
"As a journalist, you need to be accurate. If you misquote someone, your credibility suffers," she said.
Which is why she raised accessibility with the prime minister last week at the Town Hall.
"I told him my situation and asked him how we could make government meetings accessible for visually impaired citizens," she recalled.
Trudeau paused and responded. He asked Abdelghaffar for her contact information so he could follow up with her.
Even with the odds stacked against her from day one, Abdelghaffar is trying to make a difference in her new country. She even has the prime minister working with her.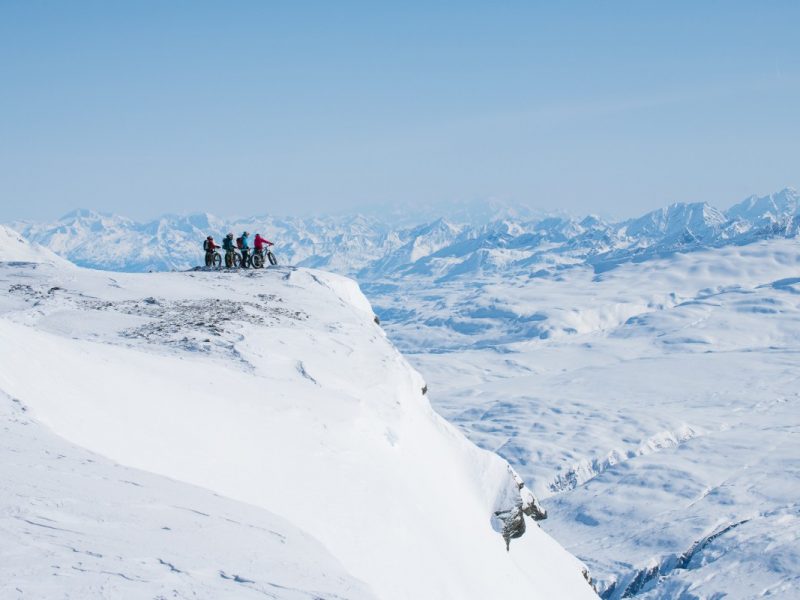 This time, it's the dudettes' turn to take centre stage on the big screen.
That's because one TRU Adventure Studies student put in the hard work to bring the No Man's Land Film Festival to the TRU Clock Tower on Jan. 24.
"I had this marketing opportunity through my work study program to bring something to the school and I thought that No Man's Land does a great job supporting women and girls in the adventure industry," said Riley Clark, a second-year student in the Adventure Studies program. "I wanted to build the community, have the opportunity to gain new experiences, inspire women and girls in the area and see where it takes me."
Initiated in 2014, the festival was designed to promote female participation in outdoor sport through filming some of the gender's gnarliest adventures. Although the film features women only, boys and men of all ages are more than welcome to attend and support the festival's mission.
Now, for the first time in Kamloops, the festival hopes to inspire women located around some of the epic outdoor settings in Canada.
"We at No Man's Land Film Festival are thrilled to be hosted at another university event," said the festival tour director and event co-ordinator Kathy Karlo. "We strongly believe in getting these films and our mission in front of a younger audience."
The Adventure Studies program isn't defined by students leading guides up and down mountains, or by smashing a group of thrill-seeking rafters through the Sabre Tooth Rapids; it has many different layers.  
"The program offers many streams within the guiding industry. From education, to therapy, law, rescue, photography, travel and marketing, Adventure Studies has it all," said Clark, a Kamloops local. "I think that outdoor adventures are a great way to enrich our lives. They expose us to new skills and can take us to the edge of our comfort zone, which promotes personal growth both physically and emotionally. I'm not sure which direction I'll take just yet, the opportunities offered are endless."
Wanting to bring some sort of film to campus, Clark got the ball rolling in August when she reached out to the Colorado-based group. Once class opened, her professors directed her to the necessary resources to pull off such an event.
Doors open at 6 p.m., with the show starting a half hour later. The movie combines 12 different films of chicks doing the raddest moves on the boldest terrain. Many of the women featured in the picture have careers and families outside of the sport, portraying the strength they have balancing everything in their life.
"At No Man's Land, we aim to redefine feminine in adventure, sport, culture and conservation through film," said Karlo. "No Man's Land is proud and excited to be at the forefront of this movement and we are looking forward to inspiring future generations to shift the paradigm in the outdoor industry."
Plenty of tickets are still available and can be purchased for $5 at the Cliffside Climbing Gym, the Adventure Studies office, by contacting Clark via email [email protected], on Eventbrite, at the TRU AdventureU Club website or at the front door of the event if there are any left. Clark is very thankful for the TRU Student's Union and the AdventureU Club their their support of this event.
We would like to invite you to our first Films for Change event of 2019. In partnership with Transition Kamloops we will showing the documentary film, A New Economy.
Where: TRU Clocktower Alumni Theatre
When: Wednesday, January, 30 from 7 to 9 p.m.
Admission and popcorn is by donation. Following the film there will be a panel discussion with local economic experts. Doors open at 6:30 p.m. and showtime is 7 p.m.
Learn more about the film and watch the trailer here.
If you are interested in attending this event you can join the conversation on our Facebook event page here.
Movie synopsis
The film follows seven interwoven stories of organizations moving towards a more co-operative,
revolutionary, people-friendly future.
A co-operative brewery started by a group of beer-drinking friends in London, ON; a laser physicist
developing open-source heart-saving technology in Montreal, QB; and a social enterprising farmer in Vancouver, BC, all demonstrate how businesses can blend economic and social needs of a
functioning new economy, with co-operative values and principles at its base.
A little bit about our sponsor: Transition Kamloops is a group focused on increasing local resilience and self-sufficiency in food, water, energy, culture and wellness. It emphasizes a local economy, healthy ecosystems and grassroots community building, while reducing dependence on fossil fuels. The group believes in a better way: a community that sustains life in all its diversity, strives for equality and justice and invests in the future.
More Campus Life - Kamloops articles
The views expressed are strictly those of the author and not necessarily those of Castanet. Castanet presents its columns "as is" and does not warrant the contents.
Previous Stories