Campus Life - Kamloops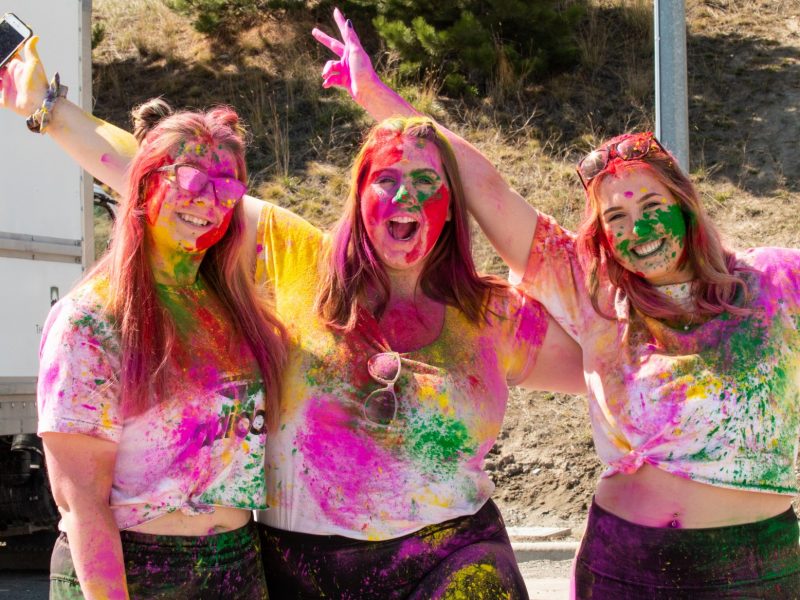 Dozens of celebrants gathered in lot N on Sunday to soak up the sunshine, toss around paint powder in vivid shades of marigold, leaf green, crimson and fuschia to mark the Hindu festival of Holi. Holi marks the end of winter, the arrival of spring and the renewal of relationships.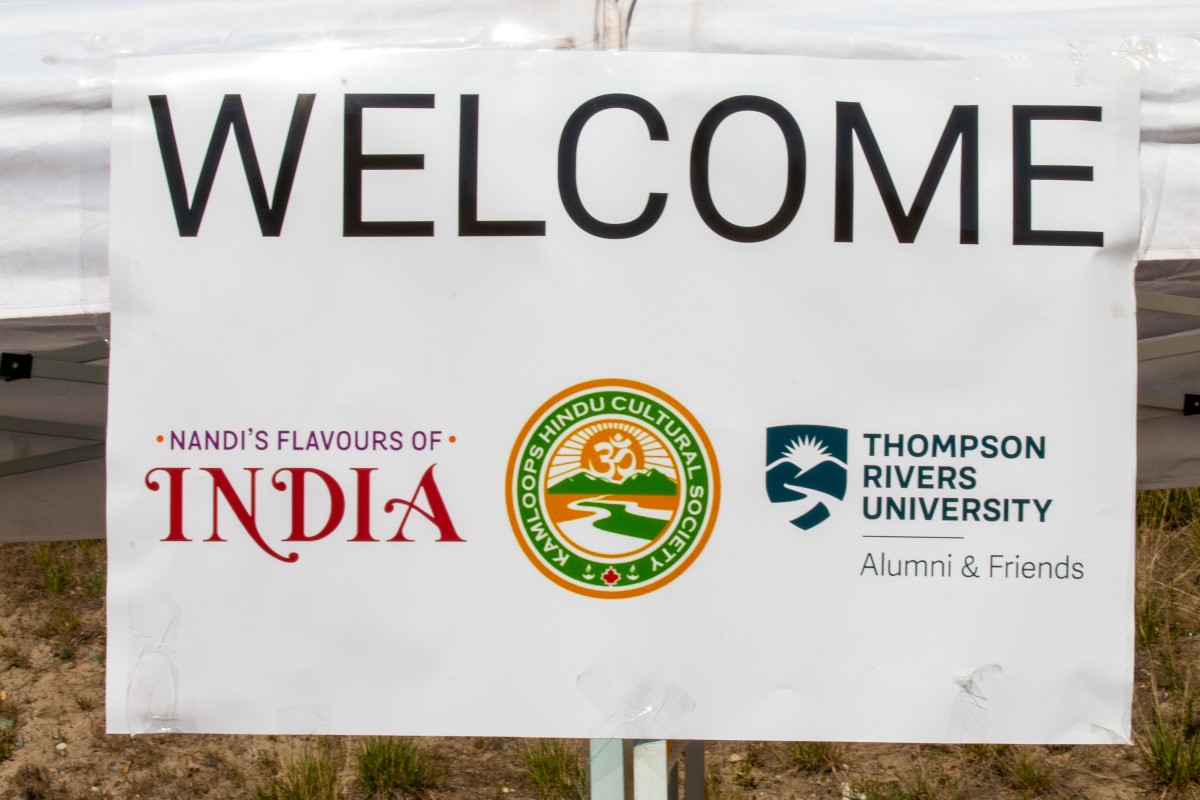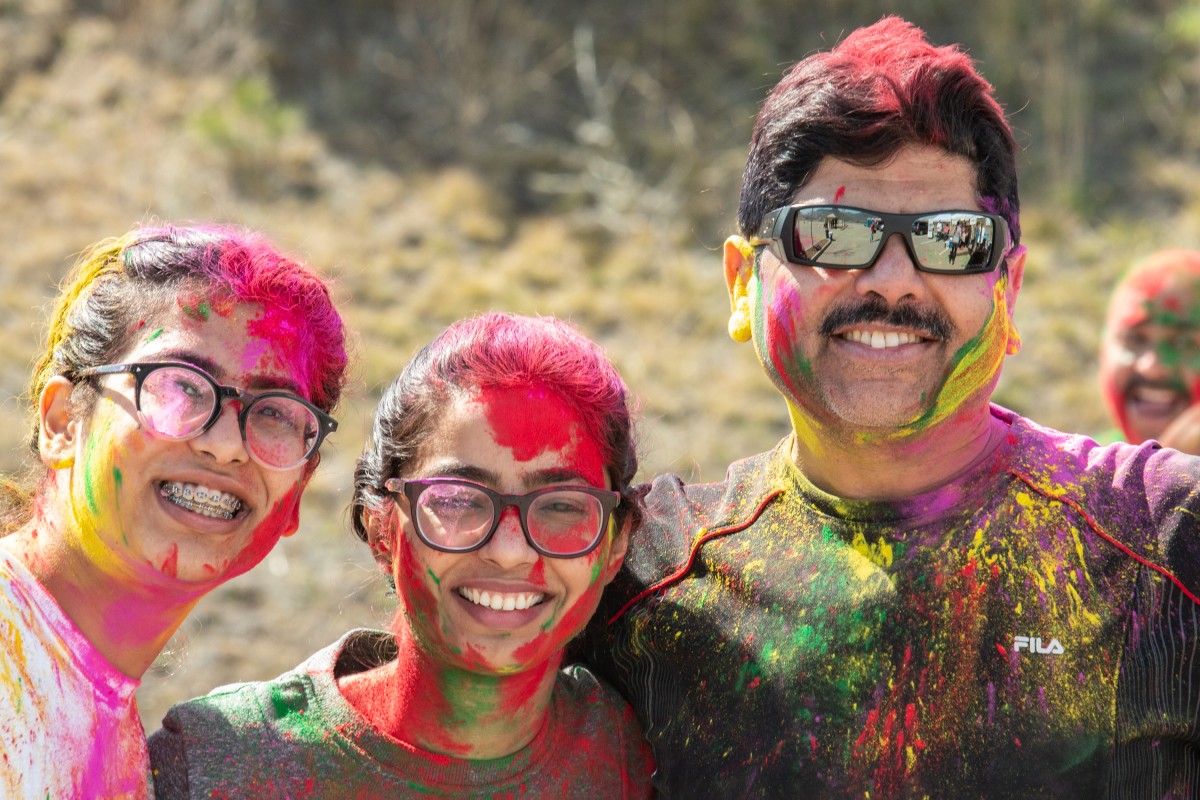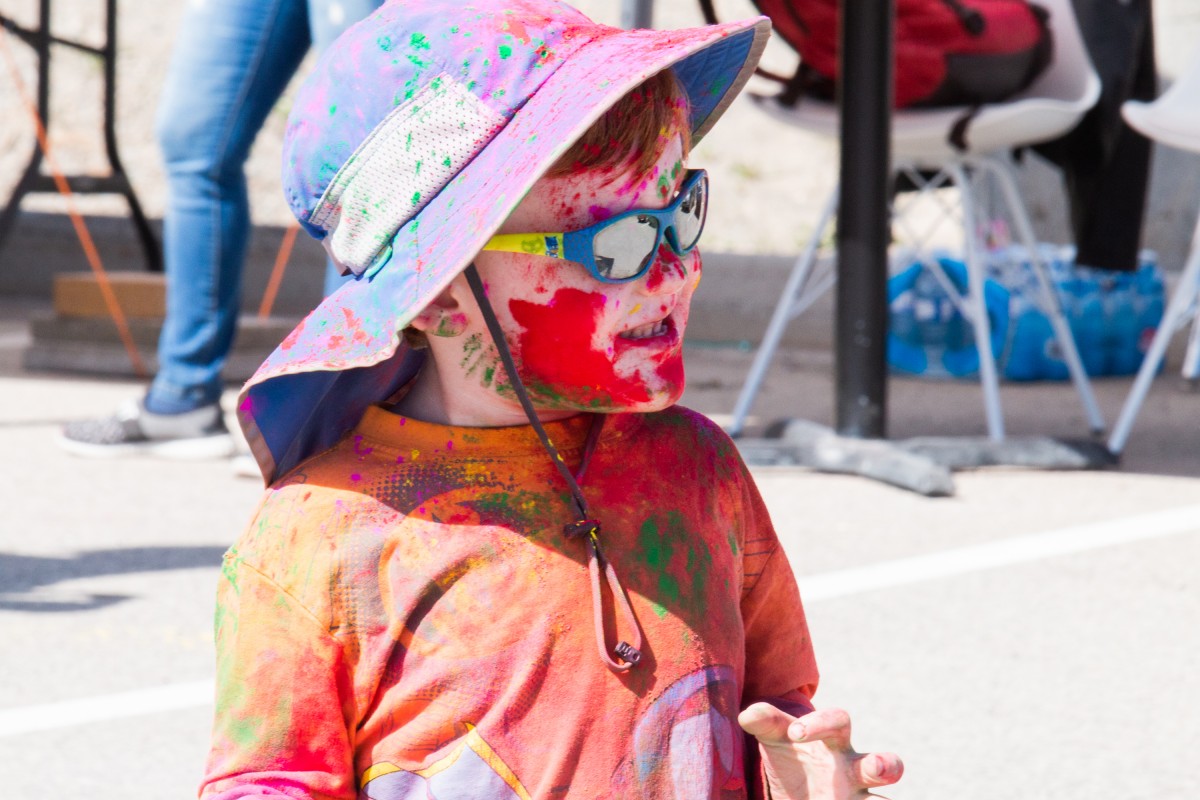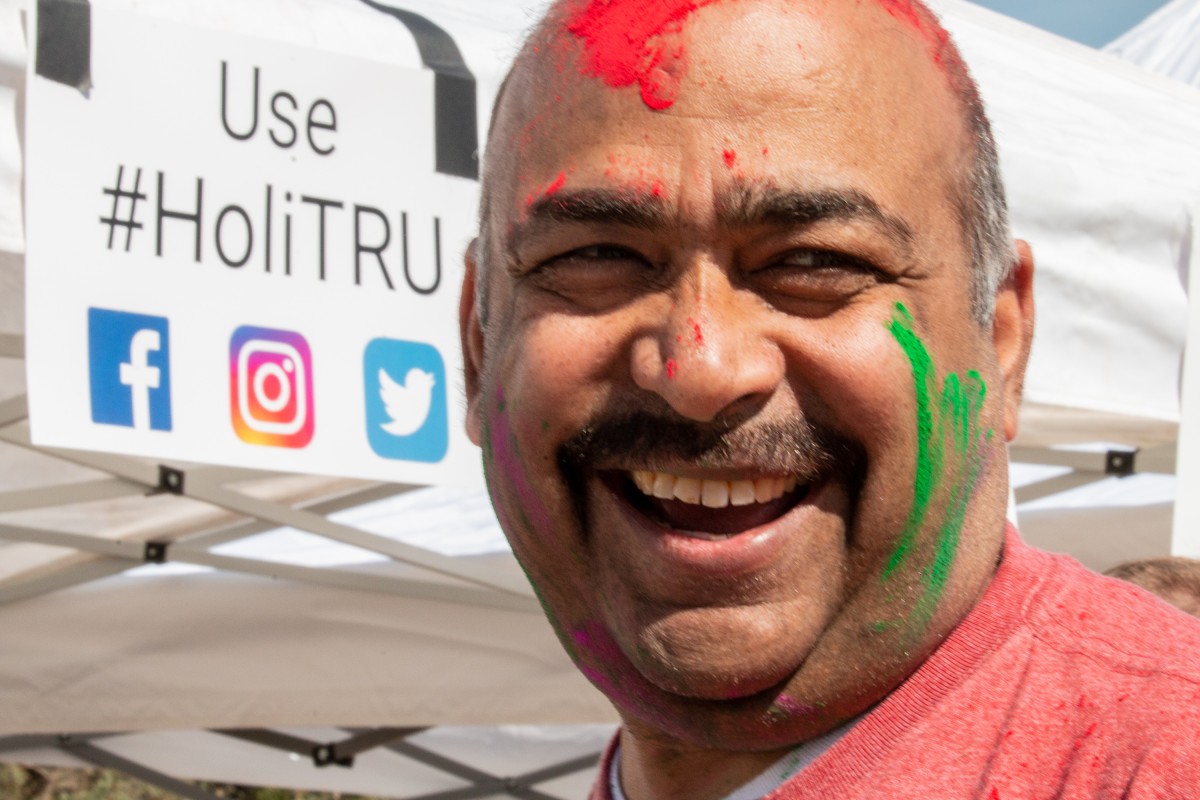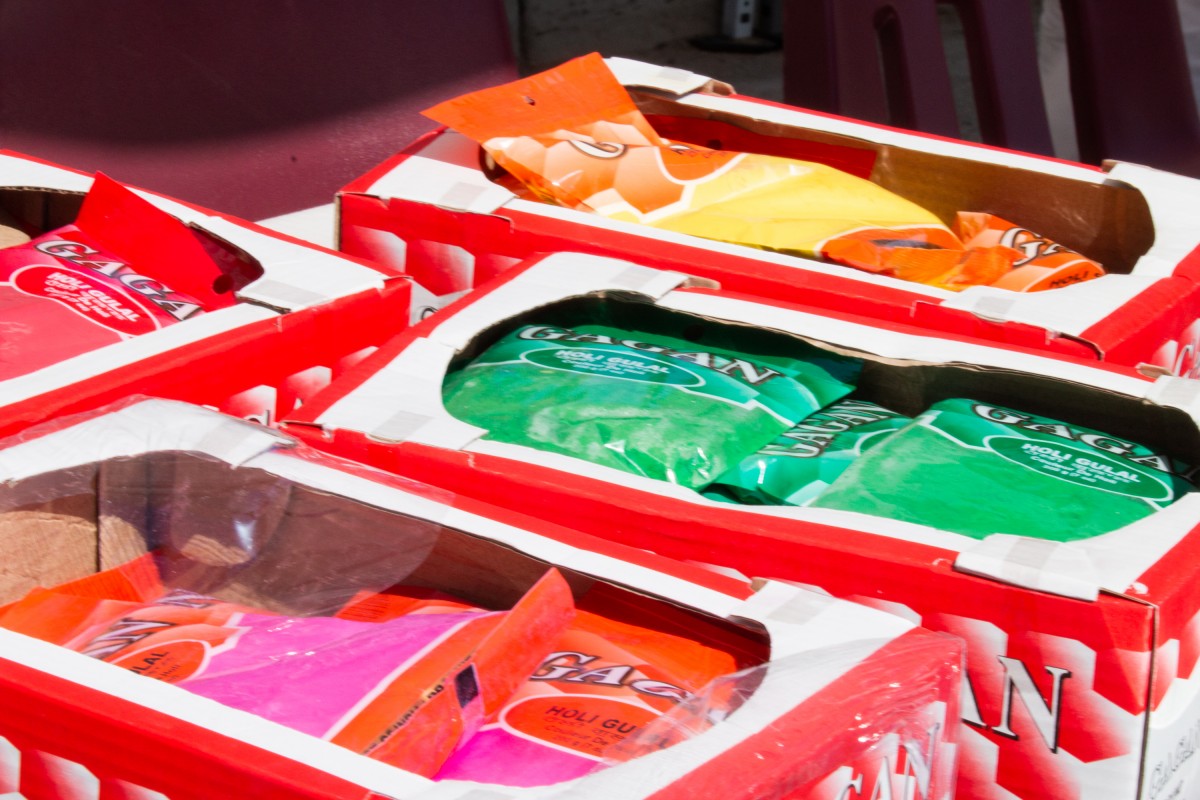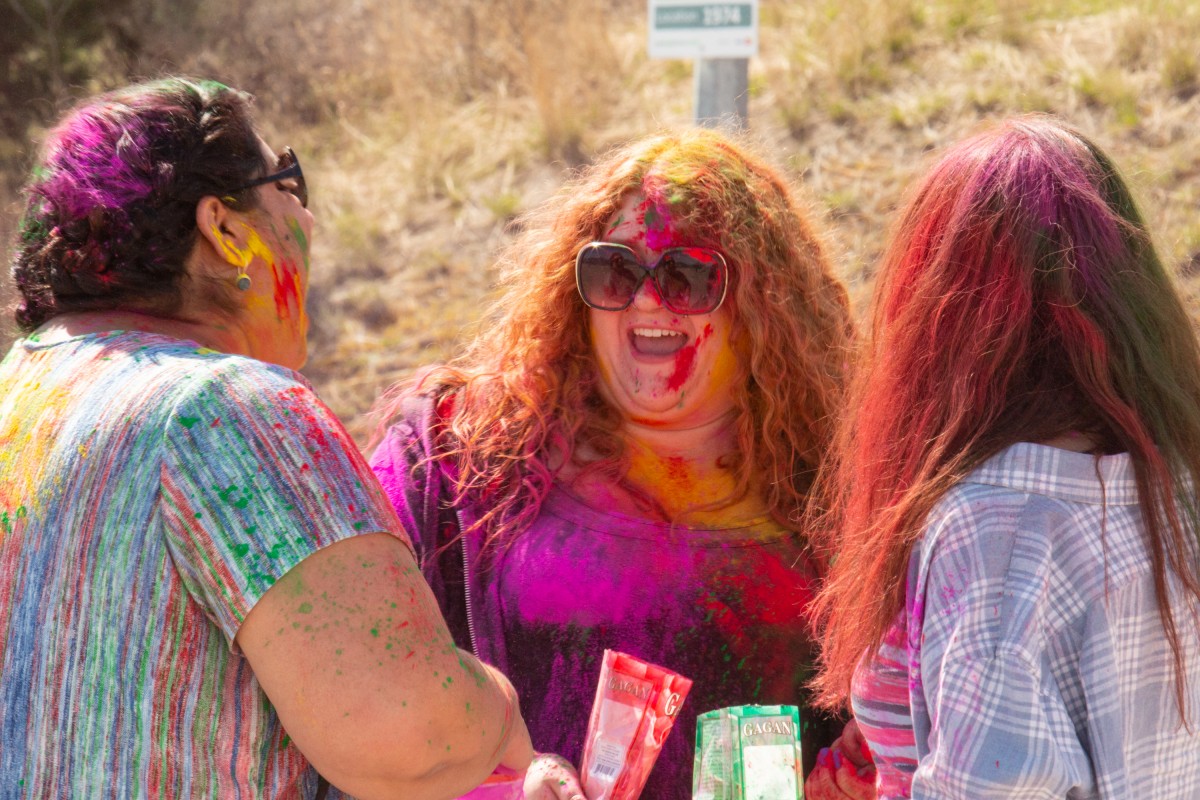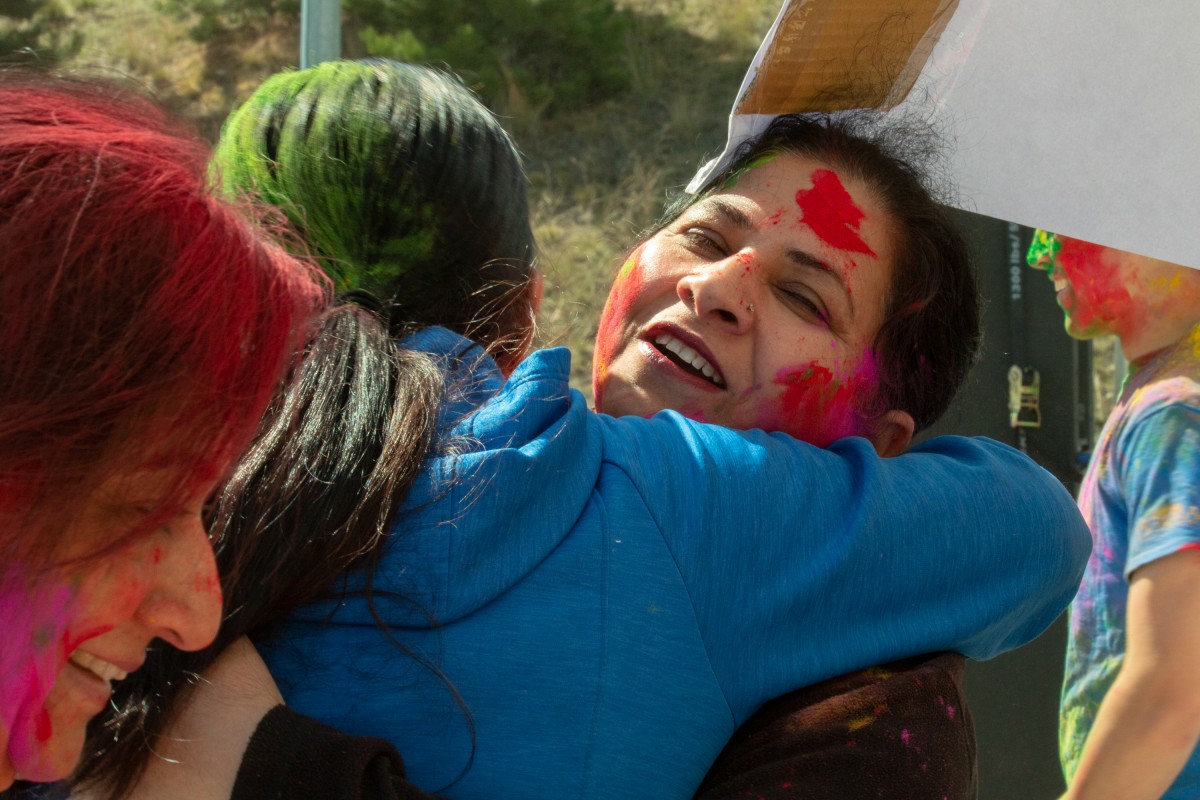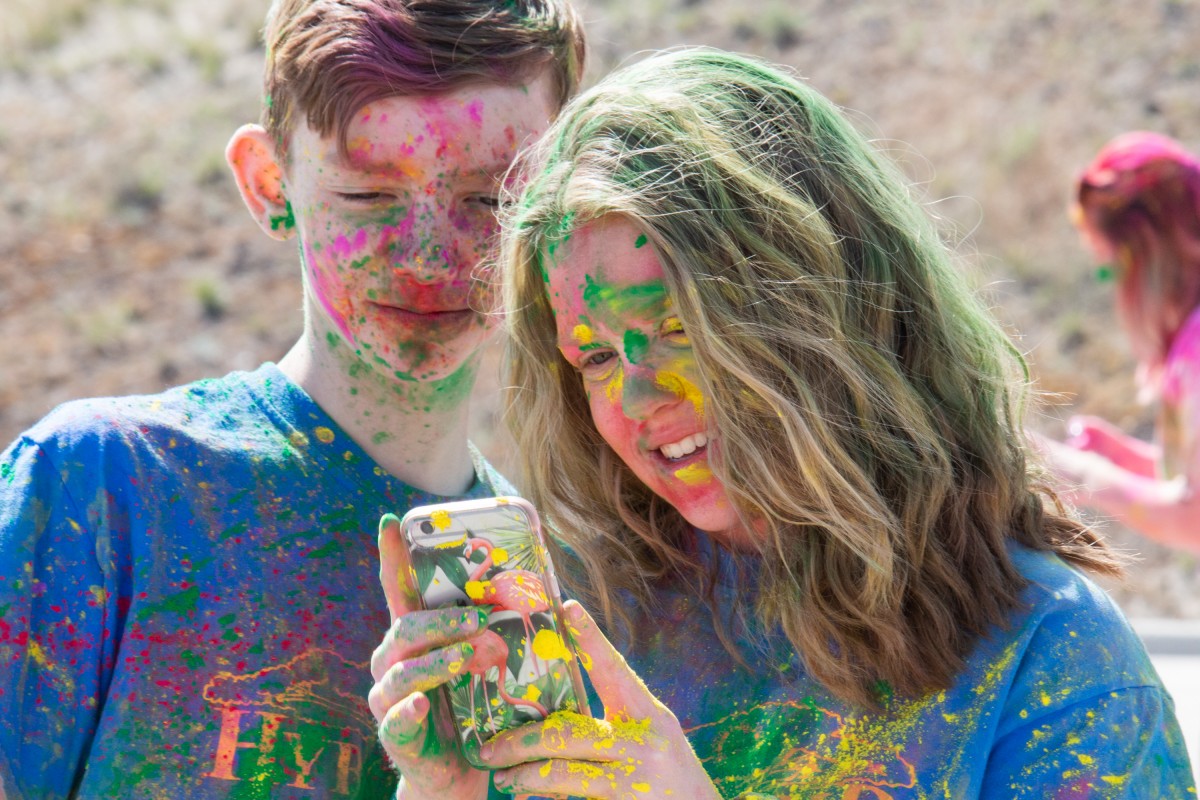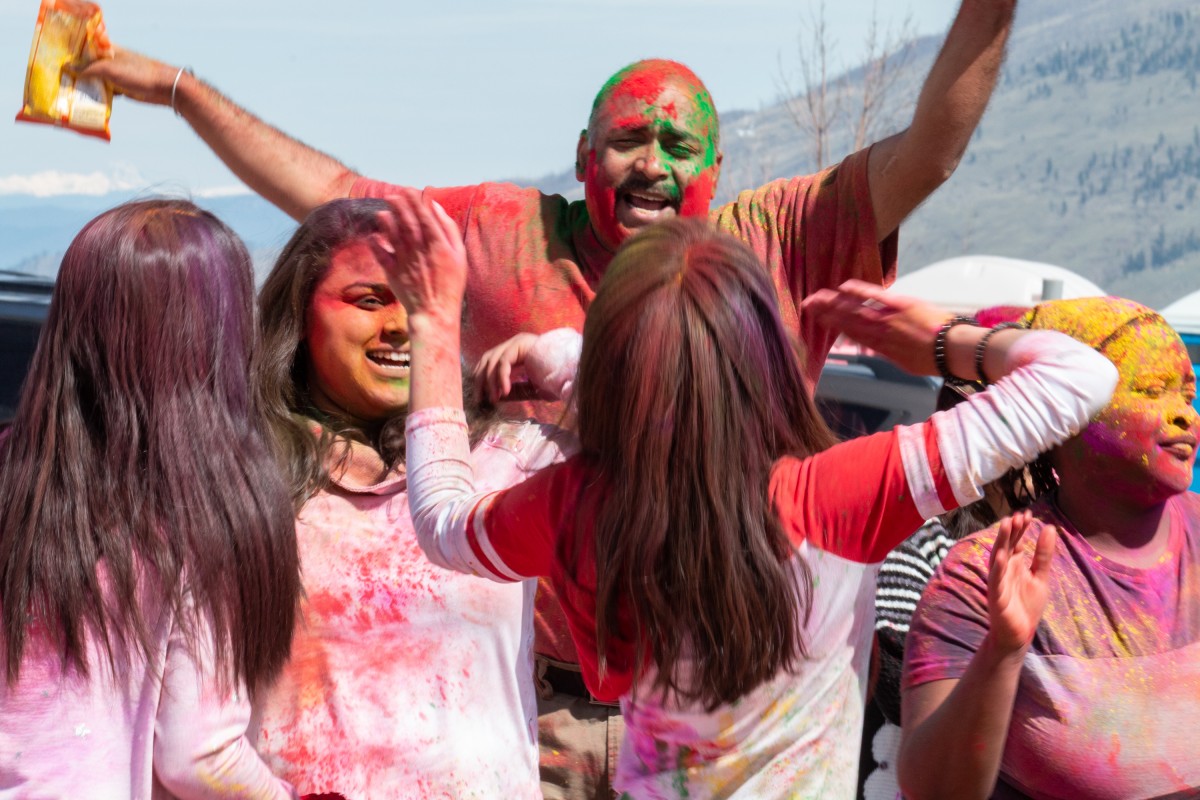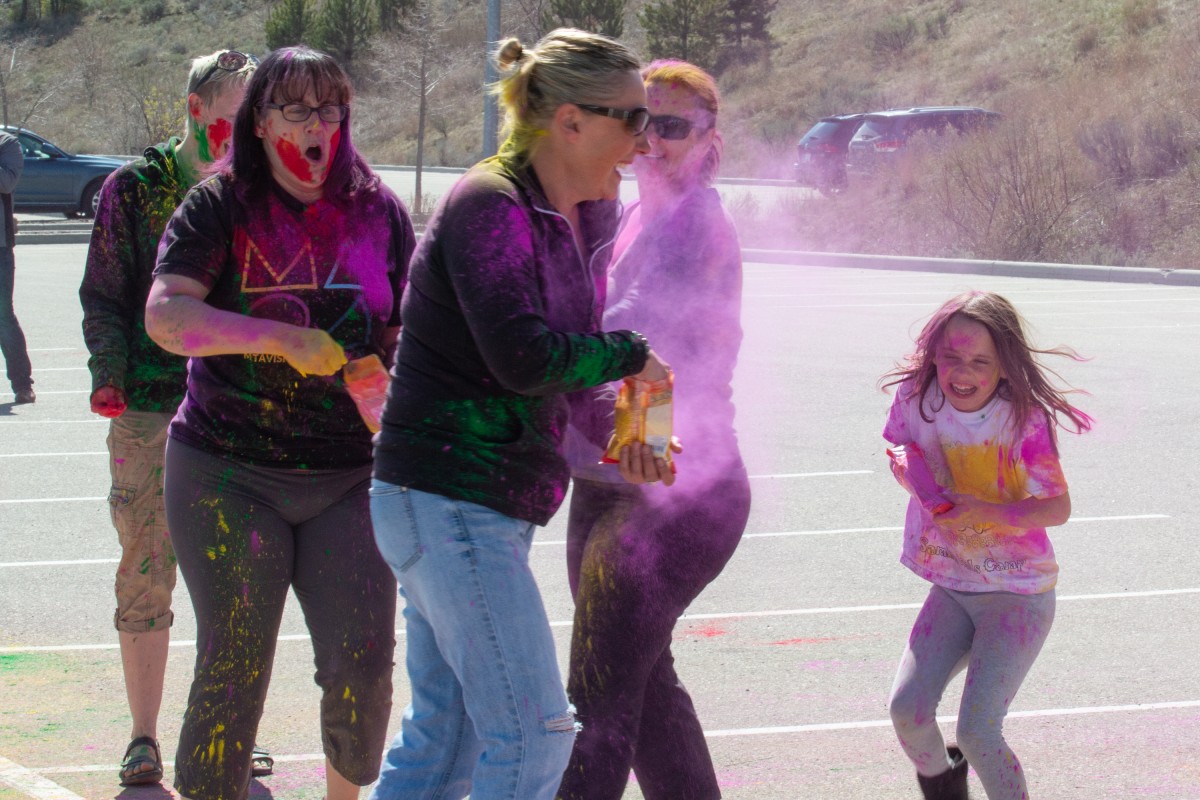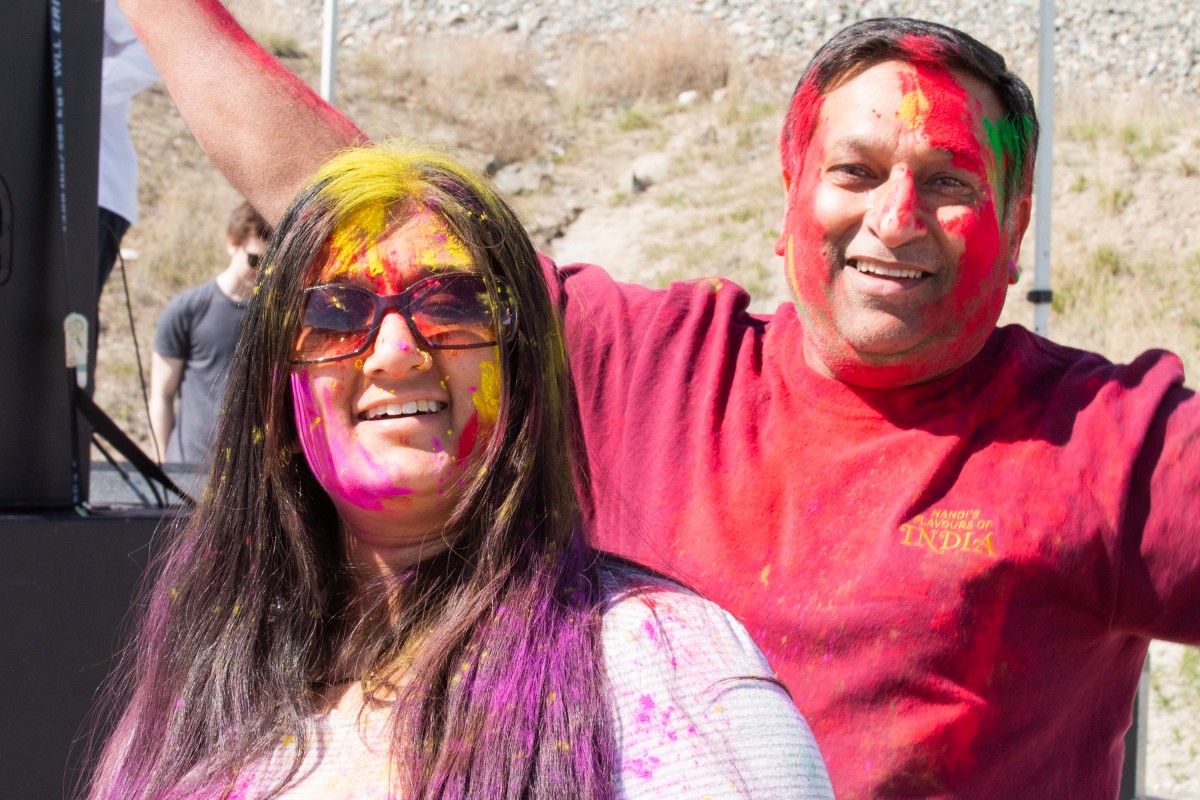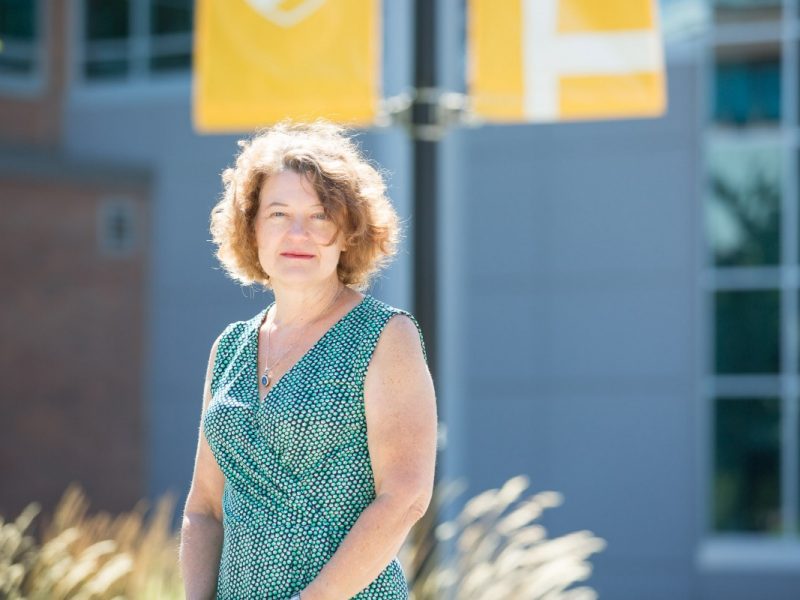 Like an album of songs that work together in harmony, Karen Hofmann's latest book, Echolocation, is a collection of stories that speak to the same human tendencies.
The title is a metaphor: Echolocation, in this case, is the process of locating things when one's perception is compromised, or inadequate. As humans, we send out signals, and through our complicated thought processes and emotions, try to interpret what we hear back.
And as is evidenced throughout the book — which published earlier this month by NeWest Press — our interpretations are not always successful.

"I'm trying to deeply explore relationships. The characters in Echolocation are all trying to find their way in relationships that are new or changing," she said, noting that the title story was written 20 years ago, while others were written more recently. The collection came together when Hofmann was convinced she had all the right pieces in place.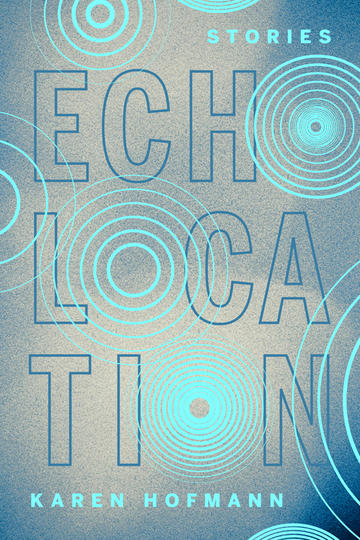 Hofmann's earlier works include the novel, What is Going to Happen Next?, which published in fall 2017, and her debut novel After Alice, which published in 2014. Her collection of poetry, Water Strider, published in 2008.
When it comes to writing novels versus short fiction, Hofmann said that when she begins a piece, she's never quite certain what she's going to end up with, or how far the characters will take her.
"I'm always writing — and most often writing a few things at the same time. Some of the stories I start and then they'll sit for a few years before I open my notebook back up to see if there's still something alive for me in those pages," she said.
"I'm always trying to find a language that expresses an emotion — not just to write about the emotion, but to represent it artistically."
Through her rich career as a novelist, storyteller and teacher, Hofmann said she's still learning, and growing, and through the process of compiling Echolocation, she learned a lot about herself.
"I learned that I enjoy writing about complexity and ambiguity, and about our ability to just live with something without having to know for sure. Life gets very painful if we try to understand everything."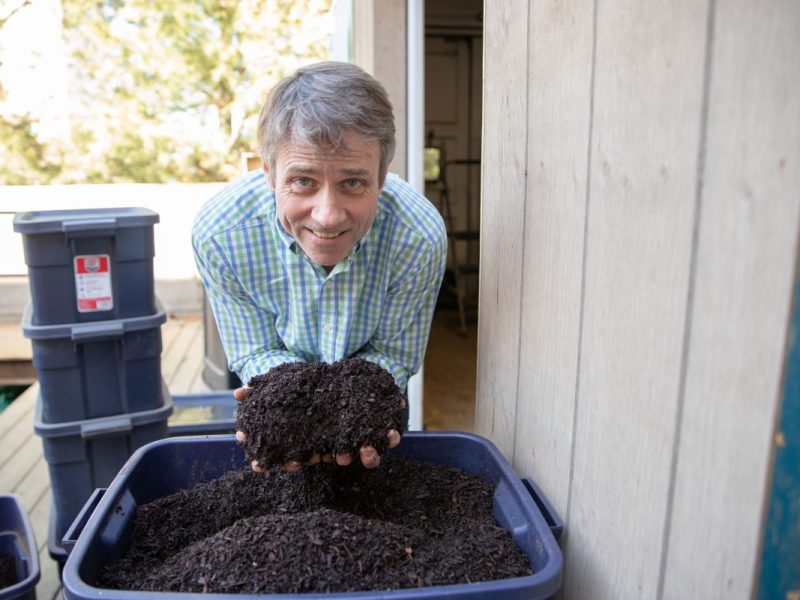 What do dried leaves, a banana peel, coffee grounds and James Gordon's old T-shirts have in common? Every one of those items can be diverted from the garbage bin, saved from the landfill and turned into compost!
The days are longer, winter coats have been cast to the back of the closet and avid gardeners have already started planning for planting season: it's the perfect time to talk compost.
Gordon joined the sustainability ranks at TRU more than five years ago as environmental programs and research co-ordinator, and knows the ins and outs and the importance of our vast campus compost system.
"There are two very positive outcomes of composting. One, you get a valuable soil additive at the end of it. But most importantly, in this era of climate change, you keep material out of the landfill. Which means that material doesn't produce the potent greenhouse gas methane," he said.
The path from orange peel to compost, or "black gold," all starts at one of more than 70 Zero Waste Stations on campus. A janitorial staff member collects the food waste items from the Zero Waste Stations, the smaller countertop bins placed in staff and faculty kitchens and the Campus Activity Centre kitchen. Food waste from the Culinary Arts Training Centre is collected and used by a local farmer.
The composting machine resembles a giant, stainless steel deep freezer with a spout on top to add items and a spout at the other end that churns out material. Nearby are bins upon bins of freshly composted material ready to be transported to a curing pile. Compost that is too ripe can damage plant root systems because the nutrients aren't balanced yet. For this reason, compost from TRU needs to cure for about one year. After the curing period, our grounds crew uses it across campus.
Home composting can take slightly more planning and time, but thanks to TRU's streamlined system, it's incredibly easy to compost on campus. Gordon stressed that students living in residences on campus should feel welcome to collect their own food waste and utilize the Zero Waste Stations.
Gordon has plenty of advice and helpful tips for anyone interested in starting up a home composting system. There are a few perceived drawbacks about compositing, including potential unpleasant smells.
"There are ways to make it easy on yourself. Compost is really just like baking. It's all chemistry as far as reducing the smell, increasing the speed and ending up with a good product."
Tips like making sure to add equal parts dry organic material (leaves, grass clippings, or wood shavings) to the food waste is key in keeping smells down and speeding up the process.
Using four compost systems at his own house, Gordon composts a range of organic materials, even the most unlikely items including his old cotton underwear and T-shirts (which are organic materials once any synthetic pieces are removed, like the rubber bands). Besides the food-waste composter, he has one for meat products, one for yard clippings and even one for dog waste (but this compost is never used on food-producing plants).
As we approach Earth Day on April 22, remember to always use the Zero Waste Stations on campus and think about adopting your very own home compost system.
"Some people think 'Ugh, I'm not doing compost, that's gross!' But I always try to encourage them that it's the right thing to do for the planet, and it's not that tough once you have the basics figured out," he said.
Home composting 101
Pick a sunny location to place the compost. It can be in a special compost bin, chicken wire in the shape of a cylinder, a tumbler or simply a pile right on the ground (although this last option can attract birds and/or rodents).
Collect food scraps. The most common items are fruits and veggies, bread products, grains, meat and fish, chicken and fish bones, eggs and egg shells, tea bags and coffee grounds and filters.
Don't forget to collect organic material like 100 percent cotton and paper. This includes compostable cutlery, paper towels, cardboard pizza plates and paper clamshells with or without food in it. Like composting anything, breaking this down into smaller pieces help speeds up the process.
Collect totally dry organic material like leaves, grass clippings, hay or wood shavings.
Layer equal amounts of food scraps with dry organic material. An easy way to do this is to add the same amount of leaves/grass/wood shavings each time you add food scraps.
Turn the pile every few weeks. It's recommended to use a pitchfork or a compost mixing tool.
Your black gold is ready for use once it's dark and crumbly!
Do not add:
Dairy products
Fatty food waste
Large bones like beef or lamb
Liquids
Any human biological waste
Pet waste*
*While it is possible to compost dog waste, it's a much more advanced practice. It must take place separately from other compost and must only be used to grow non-consumables.
For more information on all things sustainable at TRU, visit the Sustainability website.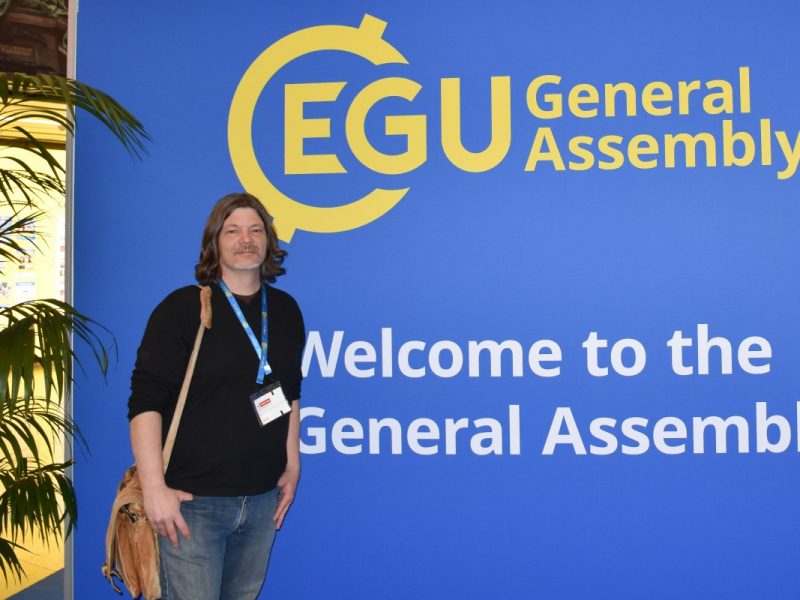 When a raindrop falls alone in a forest, and nobody is around to see it, where does it go? And how much builds up?
Arts faculty member Dr. Darryl Carlyle-Moses's research focuses on that and most other things relating to rain and trees. The amount of water that runs down a tree trunk and collects at the base is called stemflow, and that's his specialty.
He just wrapped up the exciting experience of sharing his research as an invited speaker at the European Geophysical Union General Assembly 2019 in Vienna, Austria. Carlyle-Moses presented his paper, Stand-Scale Metrics for Expressing Stemflow Commensurate with its Ecohydrological Importance, which opened the conference session on Water and Solute Fluxes Affected by Vegetation Canopies. Carlyle-Moses was one of 16,273 scientists in attendance from 113 countries. 
Carlyle-Moses has been teaching at TRU since 2004, and conducting local research in places like McArthur Island Park, Mayson Lake and areas on campus.
His field work while pursuing his PhD in the Sierra Madre Oriental mountain range in Mexico kickstarted a long road of research into the interaction between rainfall and ecosystems. He now specializes in forest hydrology, specifically what he calls eco-hydrology.
Examining stemflow, how that water affects ecosystems and how ecosystems influence water storage and movement is the cornerstone of his research. This work can help  urban planners understand how to mitigate flood risks from intense rainfall and how to best select trees in landscaped areas with limited irrigation—all by using trees and their natural ability to concentrate water at their bases.
According to Carlyle-Moses, much of the research done in forest hydrology doesn't pay enough attention to stemflow.
"So much of the literature has been ignoring stemflow, because it's such a small percentage of total rainfall. But it's really, really important because it can be such a large volume delivered to a very small area of the ground," he said.
For his paper, he studied 36 mature forests around the world and found that in all cases, the most water being delivered across the forest floor after rainfall was at the tree base. The largest depth of water was all from stemflow.
Closer to home, Carlyle-Moses's work still applies. Stemflow affects many aspects of urban planning like mitigating flooding during heavy rainstorms and, with the right type of tree, stemflow can provide trees with large amounts of water, which is important in areas where irrigation is limited or non-existent. Additionally, trees and stemflow figure into larger discussions around climate change.
"Environmentalists are coming in from forests and researching where ecosystem processes are still happening, in cities. Figuring out the function of trees and finding out how they can be beneficial during heat waves or large rainfalls is huge. Understanding the true role of trees in cities and how to manage trees is an enormous benefit to everyone," he said.
More Campus Life - Kamloops articles
The views expressed are strictly those of the author and not necessarily those of Castanet. Castanet presents its columns "as is" and does not warrant the contents.
Previous Stories