Campus Life - Kamloops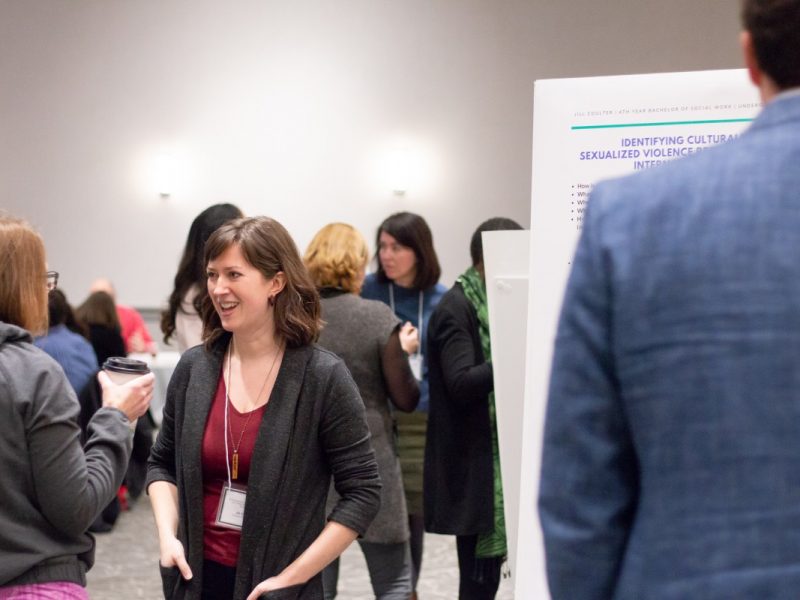 Microaggressions in the classroom, indigenization and internationalization in Canadian higher education, and South Asian students' experiences with Canadian health care were just a few of the discussion topics at the biennial Learning at Intercultural Intersections Conference (LII).
Students, scholars, researchers and attendees from across the globe embraced this special opportunity to share ideas on March 13 to 15, all in the name of moving toward equity, inclusion and reconciliation.
The first LII Conference was held in 2015 and was based on exploring the intersections of intercultural learning. TRU's diligent conference organizers have kept the conversation going ever since.
For social work student Jill Coulter, this was a chance to share her research poster Providing Culturally-Safe Sexualized Violence Response Services to International Students, and answer questions from conference attendees.
She was also given valuable and unexpected feedback.
"A former international (TRU) student from China approached me to talk to me about my research. She told me this was a very important topic, and that the information I had gathered regarding risk factors to experiencing and reporting sexualized violence that international students face was very accurate. She was happy that I was pursuing this research," she said.
It was welcome feedback, as Coulter wasn't initially going to participate.
"I was nervous to put myself and my research out there for everyone to critique, but I was encouraged to participate in the poster presentation by one of my UREAP supervisors who was involved with organizing the event. I'm so glad I decided to go for it!"
Coulter left the conference with an overwhelmingly positive experience as an undergraduate researcher. She heard constructive, enthusiastic and encouraging feedback, and was invited to collaborate on a similar project with a staff member at a different institution.
TRU staff members Brad Harasymchuk and Ashley Berard spoke about TRU's Global Competency certificate.
"LII is a great experiential learning space for students to come out and consider different perspectives about indigenization, internationalization and intercultural learning in higher education. It's also a great space to network and meet people from Canada and other countries," Harasymchuk said.
Speakers and attendees from across Canada, USA, Brazil, New Zealand and many other places added diverse viewpoints and a broad array of perspectives–some of which can be applied locally.
"The issues and content presenters are talking about are community-based issues. It's important to hear from people from different places and bring some of that knowledge back to your local community," he said.
Kyra Garson has been the main organizer for all three LII conferences and she stressed that many TRU faculty, staff and students–across disciplines–have contributed to this year's conference and the ongoing success of the initiative.
This year, the core committee consisted of Amie McLean, Stephanie Tate, Harminder Padda and Saloni Dalal. Other contributing committee members included Robline Davey, Brad Harasymchuk and Tanvir Alam.
Conference proceedings have resulted in the publication of two special issues of the following online journals:
Many TRU faculty have been involved in these publications as co-editors or authors. Kyra Garson, Lisa Bourque-Bearskin and Gloria Ramirez as editors, and Robin Reid, Emma Bourassa (retired), Wendy McKenzie, Florrian Fehr, Kim Burgess (retired), Gail Morong (retired) and Donna DesBiens (no longer at TRU) as authors.
LII coincided with TRU IDays, a week-long celebration of culture on campus. For more information on the posters, presentations and speakers of LII 2019, visit the website.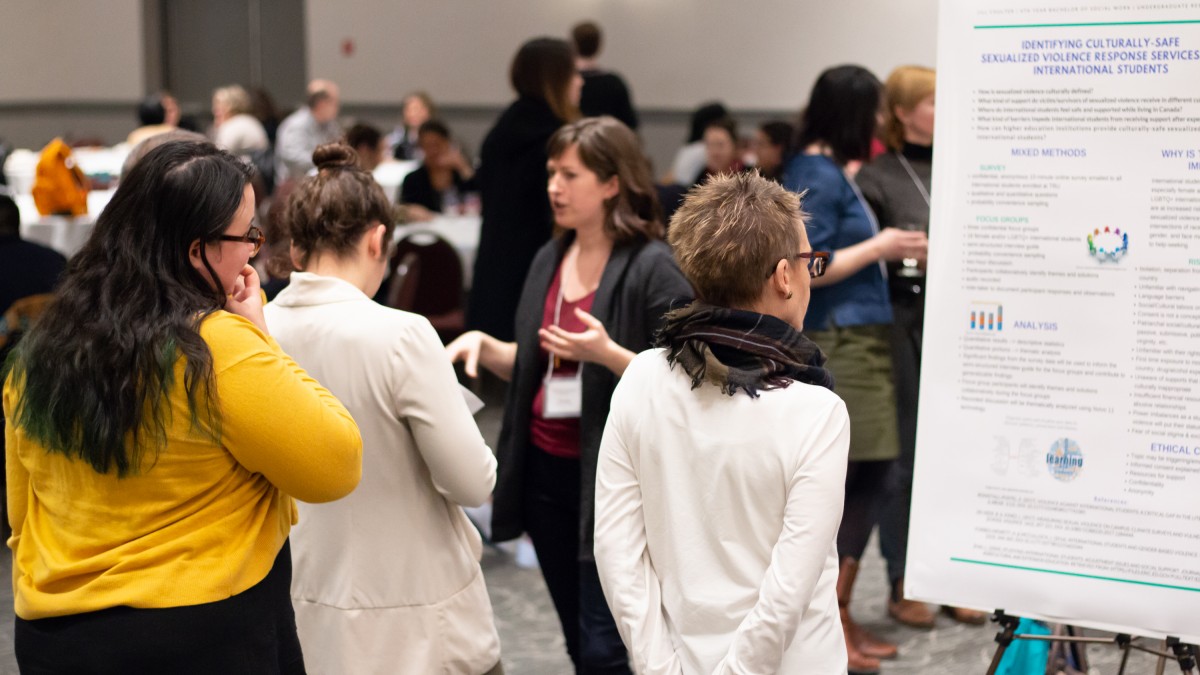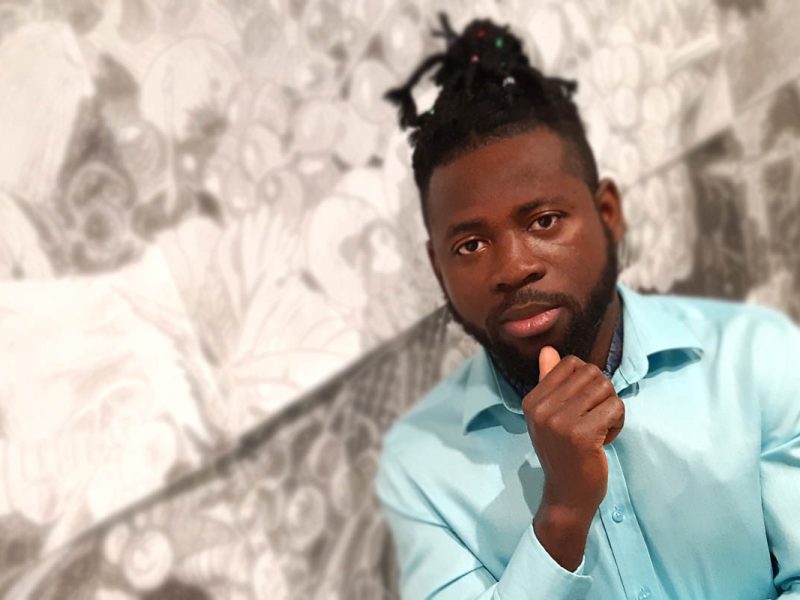 Before coming to TRU, Richard Abankwa's version of Indigenous people in Canada was one of stereotypes, misconception and untruths. But after going to workshops for new international students, that all changed.  
"I really got to learn that they were here first and they were here far, far, far longer than anybody else. I learned that they didn't migrate from India like I thought, that they didn't come from anywhere; they were here first," said Abankwa of the workshops held during orientation week. He arrived in 2016 from Ghana to do a Master of Business Administration, and one day hopes to use his degree to go into business for himself.
Those workshops and similar ones are part of TRU World's efforts to address the Truth and Reconciliation Commission's Calls to Action as they apply to newcomers. The efforts are also part of TRU's overall efforts through its Coyote Project.
Among other things, orientation introduces new arrivals to elders, the territorial acknowledgement, an explanation for the acknowledgement and a historical overview of this country's first people. A drumming workshop also gave Abankwa the opportunity to learn about the instrument itself, how to play it, the cultural significance, and to compare the instrument to those back home.
"I didn't know the Indigenous people were going to teach us how we should live life, that we should always extend a helping hand whenever someone else is in need," Abankwa said. "The person doesn't have to be black like me, doesn't have to be white, doesn't have to be brown. We are all the same human beings, but different colours. We are all the same people."
So moved by these learnings, he's shared them with family and friends in the hopes of making a difference in Ghana, working from the bottom up.
"You build a nation by starting with the family. If our family sets an example in our neighbourhood by acting as one and showing peace and love toward one another, the other people around the community may copy us. Then that sense of community will lead into the territories, and the territories will lead into the whole country. My mom said, "'Wow, you're really learning a lot in Canada,' and I said, 'Yeah, you brought me here to learn, so I'm learning.'"
Some of TRU's World's other indigenization efforts include exchange partnerships, field trips, cultural events and immersive short-term stays.
Exchange partnership

s (some examples)
Through an informal exchange, Indigenous students from Australia's University of Tasmania and University of Sydney spent part of February 2019 in Kamloops, where they learned from local Indigenous students, elders, educators and the community.
The visitors to Canada learned about Indigenous resilience, land rights, history, storytelling, language and traditions. They also participated in a workshop about Knowledge Makers, an Indigenous undergraduate research program at TRU.
In the summer of 2018, a TRU elder and a student visited Australia to share their cultural and historical perspectives, returning with observations of their own.
In fall 2018, a nursing faculty member and three Indigenous students did an Indigenous cultural exchange at the Universidad Intercultural del Estado De Mexico, in San Felipe del Progresso, Mexico. There, they shared TRU's experiences with reclamation, revitalization of traditional healing practices and the relationship between reconciliation and traditional healing.
TRU LEAP
Organizers of the activities-based Leadership Experience and Activity Program (LEAP) weave Indigenous events, themes and context into the schedule when possible. The Kamloopa Powwow is among the summer fixtures and Adams River salmon run in October is an opportunity to explain the importance of the fish to Indigenous people, from food and symbolic perspectives.
Future trips to Hat Creek Ranch near Ashcroft could include Indigenous components, while other trips could include teachings from Indigenous elders and students.
"My goal for 2019 is to experiment with including Indigenous elements in the LEAP programming," said LEAP Coordinator Jillian Folk. "If we are excluding Indigenous elements and perspectives from our institutions, then we are not presenting a Canadian cultural experience, but really a 'Western' one."
IDays
TRU World's annual celebration of international culture, diversity, ideas and research includes a variety of Indigenous events, from hands-on workshops to research and guest speakers. A number of events are preceded by a territorial acknowledgement and elder blessing.
Immersion and short-stay students
Each year, 900–1,000 people come to TRU for short-term training and summer immersion, with stays lasting two weeks to three months. During their time here, they hear at least one version of the story Abankwa heard.
"Every short-term student has a three-hour hour course on Indigenous culture," said TRU World Director, Administration and CFO, TRU World Global Operations Larry Peatt. "They have the opportunity to make a dream catcher, while the facilitator talks further about Indigenous culture."
Going far by including others
As TRU strives to be inclusive and pursue the right things in life, we demonstrate how in time, individuals, organizations, communities and countries can become bigger and better versions of themselves.
Abankwa believes TRU is on the right path.
"There's an African saying that if you want to go far, you go with someone; but if you want to go fast, you go alone," he said. "There's a difference between you going fast, and you going far."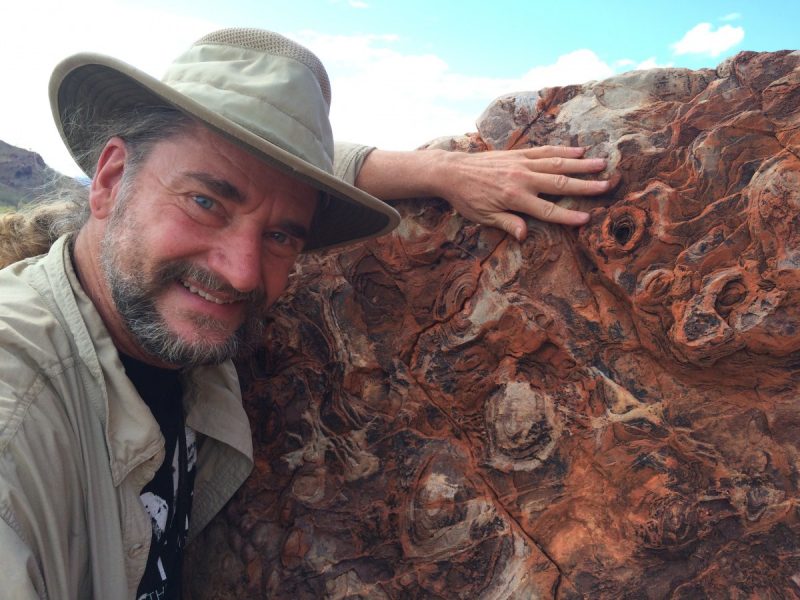 The average 14-year-old doesn't spend much time thinking abstractly or questioning the origin of life. But multi-disciplinary scientist and astrobiologist Dr. Bruce Damer wasn't your average 14-year-old, and that question and many others circulated his thoughts while hiking through the Kamloops sagebrush in 1976.
Small town boy contributes big ideas
Damer's thoughts and ideas continued to take shape and evolve, and led to him writing a series of articles for local newspapers. One of these was a science series where he shared plans for a new kind of spacecraft—one that would contribute to a significant leap forward years later in humanity's quest to open space to human habitation. At 19, he proposed his plans to NASA with hopes of getting hired. They wrote back, which encouraged him to pursue a formal education and aim for NASA in the future.
Got his start in computing science
In 1981, Damer enrolled in the nascent computing science program at TRU. Computers had always fascinated him, and inspired him to think about how the world's issues could be solved by developing software and systems that could simulate scenarios to offer different outcomes, and find solutions faster. Damer credits retired TRU IT Services team member and fellow student Wes Cole, as well as faculty member Derek Chambers, as his inspiration and support for writing his first software programs.
He continued developing his passion for computing in the mid-1980s as a University of Victoria co-op student performing leading-edge research for IBM. Later, he worked for a startup company called Elixir, where he developed some of the earliest PC user interfaces. In the 1990s, he led the community that brought the first multi-user virtual worlds to the Internet. Since 2000, he's been supporting NASA and the space industry with numerous direction-setting simulations and mission designs.
Paradigm shift in scientific thinking
Damer's most notable and recent research focuses on his co-authored hypothesis that the emergence of life occurred on land within fluctuating hot-spring pools, rather than deep in the ocean as previously thought. Many are calling it a paradigm shift in science as it changes the way we think about how biology first emerged, and suggests that other planets—such as Mars—might have possessed similar conditions that could support life. Damer currently serves on the NASA Mars 2020 team, where he contributes to deciding where to send the next rover searching for evidence of life on the red planet.
He's continuing his research with colleague Professor David Deamer, at University of California Santa Cruz. They conduct live-chemical testing in the lab and in the field at hot spring pools, in places like Yellowstone National Park in the United States and Rotorua, New Zealand. Recently their work was featured on the cover of Scientific American.
"There will be many implications for humanity in scientific, philosophical and spiritual dimensions. The realization of our deepest ancestry will contain the psychological power to re-orient our civilization toward a sustainable, expansive and long-term future," said Damer.
He is principal scientist at the Biota Institute, a new research organization, an associate researcher in the department of Biomolecular Engineering at University of California Santa Cruz, an associate of the NASA Astrobiology Centre, treasurer of the International Society for the Study of the Origin of Life and founder of several companies in Silicon Valley. One of his companies is developing a new spacecraft that could harvest water, fuel and minerals from asteroids and help open a path to space for humans in this century. Another company is using origin-of-life science to develop a powerful new therapy fighting viral infections and head off the next global pandemic.
Dr. Damer will be presenting his radical ideas at a free talk on March 28, 1-2 p.m. in room 190 at the Brown House of Learning.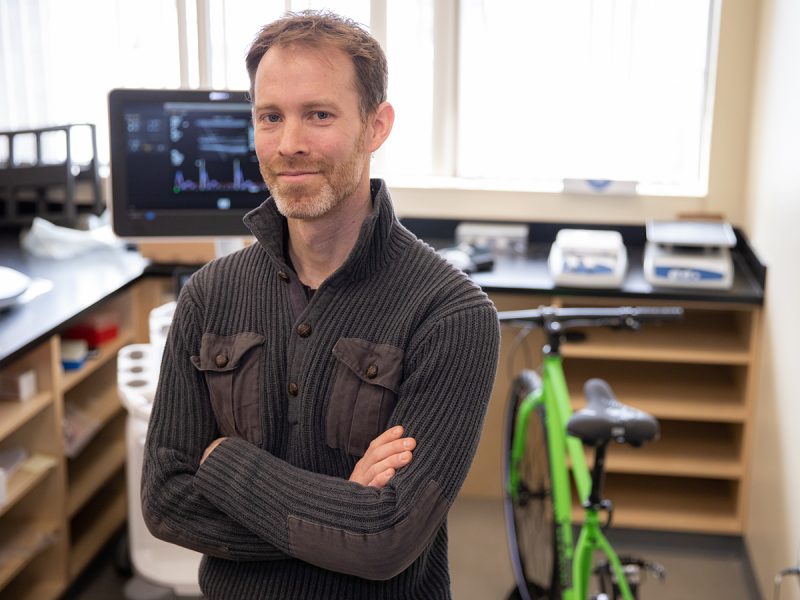 TRU is now home to a unique facility that assesses exercise capacity and cardiovascular disease risk thanks to a $200,000 grant from the Canada Foundation for Innovation's (CFI) John R. Evans Leaders Fund.
The funding is part of a $39-million investment announced today by the Government of Canada for the cutting-edge tools researchers require to keep Canada at the forefront of innovation.
Under the direction of Dr. Mark Rakobowchuk, assistant professor of biology, the Extracellular Vesicles and Endothelial Dynamics Lab is a novel research facility in which whole body human physiology, human cell function and 'omics' approaches are applied to a cluster of projects that explore the impacts of exercise at the cellular level.
Exercise and aging
His project, Micro and macrovascular structure and function in health and disease: Role of exercise derived microvesicles, provides the tools needed to advance research that will give basic scientists and clinicians a better understanding of disease processes and responses to exercise and aging.
"At this stage, we know exercise works to improve health and performance, but we're really now at the point where we're figuring out what works best for an individual," Rakobowchuk said.
The funds provided the lab with an exercise testing system called a metabolic cart that enables precise measurements of exercise intensity and prescription. State-of-the-art ultrasound equipment will enable Rakobowchuk's team to assess arterial stiffness and dilation, along with real-time high resolution blood flow to muscles during exercise. This will allow them to examine whole-body human physiological function in healthy and diseased individuals.
"With this equipment, we will see how well arteries dilate, or whether there is some dysfunction. Dilation is poor in people who have blood vessel damage, which is one of the best predictors of cardiovascular disease."
Every body is different
Rakobowchuk also highlighted that when it comes to exercise and health outcomes, there is so much information available to the public, but we are now learning that what is effective for one person might actually be of no benefit to another, which is why this research—which looks at the impact of exercise at a cellular and metabolic level—is so valuable. It will enable more precise prescription based on the responses we see within muscles and in the cells that make up our blood vessels
"You can do all the population health studies that you want, but we need to better understand what's going on inside the body to get an idea of what works for each individual. For example, some people can run daily but still not run their 5-km race faster, but health benefits may only be obvious at the cellular level," he explained.
More Campus Life - Kamloops articles
The views expressed are strictly those of the author and not necessarily those of Castanet. Castanet presents its columns "as is" and does not warrant the contents.
Previous Stories