Campus Life - Kamloops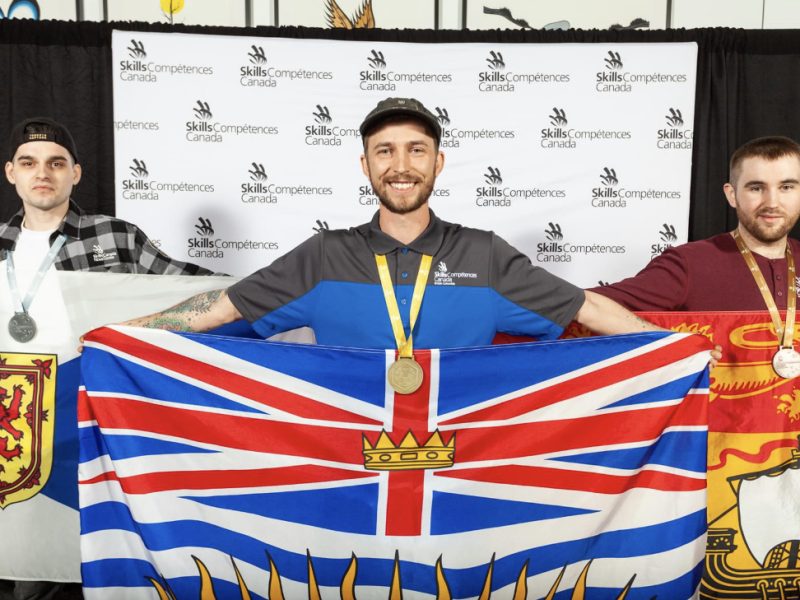 KAMLOOPS – Five Thompson Rivers University (TRU) School of Trades and Technology students have won national awards, including two golds, for demonstrating the best talent in their skilled trade.
Hugo Heyes (post-secondary level) took first-place gold in the plumbing category, while Nolan Ilic (secondary level) and Cole Allan (post-secondary level) won gold and bronze, respectively, for their welding expertise. Matthew Lavigne (post-secondary level) and Logan Jones (secondary level) each nabbed silver for their carpentry skills.
The awards were given out at the 2023 Skills Canada National Competition (SCNC) in Winnipeg, Man., in late May. The SCNC is the only multi-trade and technology competition for students and apprentices in Canada. Each year, more than 500 competitors from across the country compete for the title of national champion in over 40 skill areas.
"Hard work pays off," said Larry Franzen, TRU welding instructor. "To get to the national level takes dedication and a drive to overcome obstacles."
"Our plumber Hugo, and all the other TRU competitors did amazingly well," said plumbing instructor Audrey Curran. "Anyone brave enough to put themselves out there for these competitions should be very proud of themselves."
"Events like the Skills Canada National Competition encourage Canadian youth to discover skilled trade and technology careers through interactive activities and find their passion," said Shaun Thorson, chief executive officer, Skills/Compétences Canada. "It also allows us to raise awareness of these important and lucrative careers to our future skilled workforce."
*Some students and instructors are available for media interviews upon request.
**Photos available upon request.
Contact:
Kim Van Haren, Communications Content Specialist
University Relations, Thompson Rivers University
778-471-8389 | [email protected]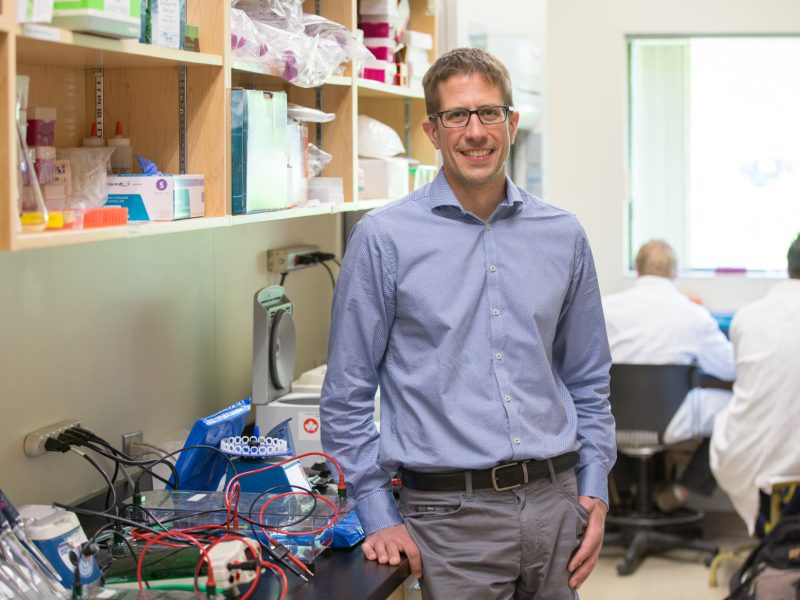 A TRU faculty member's research into breaking down toxic 'forever chemicals' is getting support that allows him to expand his work.
Dr. Jonathan Van Hamme, professor of Biological Sciences and scientific director of the TRUGen Applied Genomics Lab, has been awarded the prestigious Northcote and Brink Professorship. Established in 2005, the endowment honours the ecological contributions of Dr. Tom Northcote and Dr. Bert Brink in British Columbia.
The professorship may be held for up to three years and is valued at $10,000 annually.
Restoration and repair
As an environmental microbiologist with expertise in ecological remediation, Van Hamme will direct funds from the professorship toward training student researchers and a PhD research associate to develop tools to restore ecosystems contaminated with toxic chemicals known as poly- and perfluoroalkyl substances (PFAS). Commonly referred to as forever chemicals, many PFAS are a concern because they don't break down in the environment.
"PFAS are distributed globally," says Van Hamme. "Cookware, food and food packaging, clothing, plants, soil, drinking water, breast milk. You name it, PFAS will probably be found there. The goal is to provide answers regarding PFAS biodegradability."
The research aims to understand how tiny organisms (microbes) break down and process these forever chemicals and develop soil and water remediation technologies to restore contaminated environments.
"We have a state-of-the-art laboratory that allows us to explore the relationship between PFAS and microorganisms in the environment," says Van Hamme.
"Student researchers are able to grow microorganisms that metabolize PFAS, sequence their genomes, and explore both the genes expressed and protein catalysts (enzymes) produced by those microorganisms. Thanks to a collaboration with Dr. Jinxia Liu at McGill, one of the top PFAS analytical chemists in the world, students can ask powerful questions while receiving excellent scientific training."
Dr. Karl Larsen, professor of Natural Resource Sciences, held the professorship in 2020 for researching BC's most vulnerable species. Dr. Matt Reudink, associate professor of biology, earned the honour in 2017 for studying the conservation of migratory birds.
The professorship aims to expand TRU's knowledge of the connection between restoration of ecosystems and the social benefits to communities.
Starting a new chapter in life inevitably causes stress. When that new chapter involves relocating, potential stressors increase. Now imagine that journey involves travelling to a place vastly different than anywhere you've ever been — new climate, unfamiliar culture, language, food, landscape. That's exactly what international alum Amit Thakur (BBA '11) faced when he began his journey at TRU in 2007.
Thakur was born and raised in Muscat, Oman, but holds Indian citizenship. He attended Indian School Muscat with more than 9,000 students. Touching down in Kamloops after living in a bustling urban centre was a huge change. Due to complications beyond his control, Thakur did not arrive at TRU until the first day of classes, missing orientation and feeling "completely clueless."
Ever resilient, Thakur shrugs the transition off as a rough patch and credits his international student advisor Reyna Denison with helping him get sorted quickly upon his arrival.
Soon after, the young marketing student joined the masters swim club and began hosting a weekly show on campus radio station CFBX 92.5 FM, sharing Indian music and culture. That's where he says the idea first came to him to revitalize a stagnant India Club.
"The plan was to engage Indian students and maybe introduce Indian culture to locals as well," says Thakur. "Let people know there's more to Indian culture than just butter chicken."
Thakur found support and mentorship within the university. Together a small group began planning a few events and then witnessed the club's membership numbers start to take off.
Embracing and sharing culture
"Word quickly spread because there was a growing group of Indian kids at TRU looking to connect with the Indian community in Kamloops," he says, adding the university club soon joined forces with a community club to maximize their exposure. "There were a lot of people from the community that supported us and really made a difference."
The club's mission is "to bring events that encourage a mix of our beautiful cultures and make a home for students away from home. The club aims to bring the Indian community closer while also engaging with the diverse culture here in Kamloops."
Affiliated with the Thompson Rivers University Student Union (TRUSU), India Club celebrates festivals and diversity relevant to Indian culture. In the past, the club has organized various events celebrating Diwali, Holi, Vaisakhi and Ram Navami. Diwali and Rang De Basanti, a Holi celebration, have emerged as signature club events.
By the time Thakur graduated in 2011, the India Club was organizing events with major sponsors and generating high attendance numbers. In the ensuing years, the club's membership on its Facebook page has grown to more than 7,000 members. Ruchika Shetty is the club's current president and she says participation in the club continues to be a great way to help new students navigate through a new country and culture.
BC becomes home
As for Thakur, he fell in love with the BC mountains and made the province his permanent home. He lives and works in the Lower Mainland, where he is the branch manager at City Electric Supply (C.E.S), a Canadian company that's part of a privately owned electrical wholesale network. When he's not working, chances are good he's exploring somewhere.
"I'm a big fan of the outdoors. I love the mountains. I love hiking. I love kayaking," he says. "I've had opportunities to go work in other places, but I've always said no to them because of the lifestyle we have here. There are not many places in the world where within 30 minutes you can be on the ocean or in the mountains. Where else would I want to be?"
He is considering doing his MBA soon, spurred on by fond memories of his time at TRU. In spite of the culture shock he experienced when he first arrived, he says he found Kamloops to be welcoming and friendly. He has kept connections at TRU World and has recruited and hired several students to work for C.E.S.
Thakur's best advice to other students crossing continents to attend TRU? Make the most of the opportunity. Keep busy. Learn lots. And share your culture.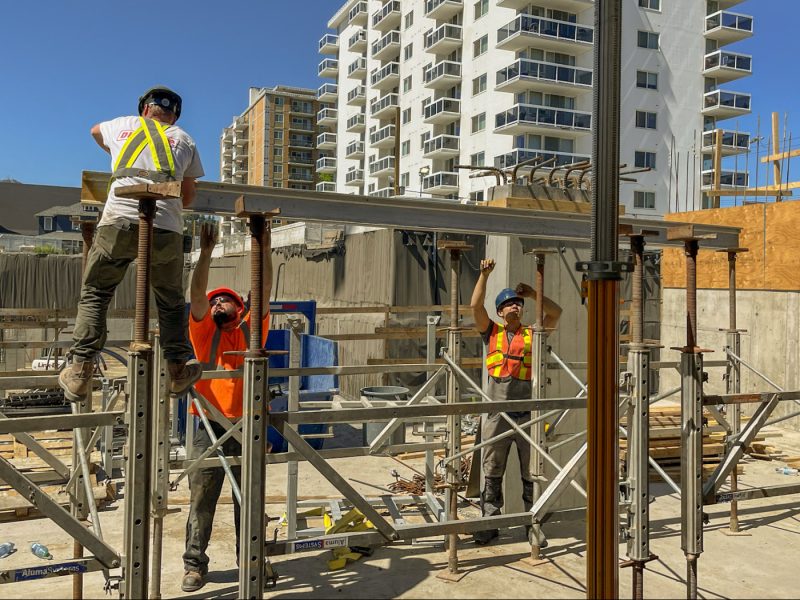 A day at the City Gardens construction site provided an eye-opening opportunity for TRU's carpentry students recently.
"It was a good experience to do something I probably would never get to do otherwise," says Connor Simmons, who visited the Kelson Group development site last week. Simmons is a third-year carpentry student who works mainly on residential framing projects in the Lower Mainland. The large-scale condo development, located in downtown Kamloops, is a departure from what he sees in his day-to-day work, and he says he appreciates the new skills he is taking home following his stint at TRU.
The first group of carpentry students attended the site in early April, two more groups spent time there last week, and if all goes as planned, the collaboration will continue for the duration of the massive project, which is slated to go on for the next eight years.
Massive project creates learning opportunities
"Getting on site at a construction site is such good learning for our students," says carpentry instructor Greg Alm. "We are appreciative of Kelson Group creating the opportunity for our students, especially since a project of this magnitude has never been built in Kamloops before. They certainly learned a lot, and it has created excitement for what their future careers in construction hold."
Carpentry student Maxwell Gardner has plenty of industry experience but says he is grateful for the opportunity to get back in the classroom at TRU and see some of what's happening in the industry through the experiential learning opportunities provided.
"I think it helps to be able to take what's in the classroom and go out and do it firsthand," he said, adding that the experience at City Gardens was especially gratifying. "I've been itching to get there ever since I found out it was coming up. It was a really cool experience to see how much labour is going into it — and seeing how organized it has to be. It is impressive."
A win-win partnership
Patrick Brown is a site supervisor with Kelson Group developments. He says having the students on site is beneficial for both parties and that he sees the collaboration continuing for a long while.
"It is our pleasure to be able to provide a site where students can relate what they learn in class to what is actually happening on an active large-scale construction site," he says. "We benefit from the extra personnel, and they benefit from the hands-on experience."
The current carpentry session is wrapping up this week, but the next cohort of students arrives in September and will no doubt look forward to leaving their mark on City Gardens.
More Campus Life - Kamloops articles
The views expressed are strictly those of the author and not necessarily those of Castanet. Castanet presents its columns "as is" and does not warrant the contents.
Previous Stories