Campus Life - Kamloops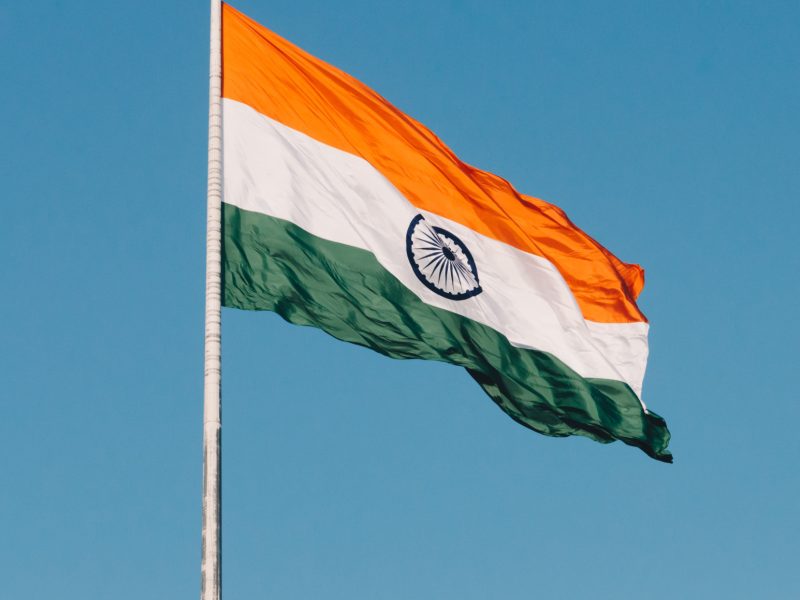 The Conversation Canada article by TRU Arts faculty member
The United States government recently stated it had thwarted a plot to assassinate a Sikh separatist leader in the U.S. and issued a warning to the Indian government. According to media reports, U.S. authorities say they successfully stopped a plot to assassinate Sikh separatist Gurpatwant Singh Pannun on American soil. Pannun is a U.S.-Canadian citizen and a prominent figure in the pro-Khalistan movement, which calls for establishing an independent Sikh state in northern India.
White House National Security Council spokesperson Adrienne Watson indicated that the administration is treating this issue with the utmost seriousness and noted it has been raised with India "at the senior-most levels."
Canadian Prime Minister Justin Trudeau said he hoped India "will take these real concerns seriously." This recent revelation comes two months after Trudeau said his government had "credible evidence" of an Indian link to the killing of a pro-Khalistan leader in Canada. In June 2023, Hardeep Singh Nijjar was assassinated outside a Sikh temple in Surrey, B.C.
US protest
The alleged killing in Canada and foiled plot in the U.S. give rise to concerns regarding India's reliability as a trusted strategic partner for Western governments. The mounting authoritarianism of Indian Prime Minister Narendra Modi's government and its belligerent foreign policy raises questions about India's future trajectory which potentially conflicts with the interests of the U.S. and its allies.
The U.S. reportedly issued a diplomatic protest to India following Modi's visit to Washington in June. Furthermore, U.S. federal prosecutors have filed a sealed indictment against one suspect in court. The debate now centres around whether to unseal and make this indictment public immediately, or await the completion of Canadian investigations before its disclosure.
Pannun has been organizing a symbolic referendum on an independent Khalistan in San Francisco. India perceives the activities of pro-Khalistan leaders as a threat to its sovereignty.
India's differing responses
The Indian Ministry of External Affairs has not commented on the White House statement. Nevertheless, the White House statement conveyed that their Indian counterparts "expressed surprise and concern" upon the issue being raised with them. Indian officials reiterated that extrajudicial killing is not reflective of Indian government policy.
The contrast in the Indian government's response to the Canadian and U.S. announcements is intriguing. India vehemently denied Canada's allegations and dismissed the claims as "absurd." Furthermore, New Delhi heightened diplomatic tensions by issuing a travel warning to its citizens in Canada, halting visa services and threatening to revoke the immunity of Canadian diplomats in India.
From the perspective of the Indian government, relations with Canada are not deemed strategically crucial. Consequently, India appears willing to weather a temporary strain in relations and can afford to allow them to be derailed for a few years.
However, India's relations with the U.S. hold immense strategic significance. Given the ongoing border disputes with China and Beijing's escalating assertiveness, there exists a tangible threat to India's territorial sovereignty.
Recognizing the power asymmetry with China, India finds it imperative to cultivate a closer strategic partnership with the U.S. Conversely, the U.S. sees India as pivotal to its Indo-Pacific strategy, which is aimed at counterbalancing China's growing influence. The U.S. has actively supported India's economic and military growth to foster a power balance in the Asian region.
The great power rivalry between the U.S. and China aligns with India's national interests. However, India seeks a stable rivalry, cautious of overly hostile relations that could potentially entangle it in the U.S.-China conflict. Simultaneously, if relations were to improve between the U.S. and China, India could risk losing its current strategic significance.
Growing belligerence
The Indian government has consistently asserted that extrajudicial killing is not part of its foreign policy. However, its alleged involvement in Nijjar's assassination in June, the killing of another Sikh leader in Pakistan in May, and this thwarted plot in the U.S. indicate a concerning pattern of behaviour.
The authoritarian tendencies of the Modi government and its seeming willingness to target people on foreign soil could strain India's relationship with its allies and partners.
The India-U.S. relationship has been billed as grounded in shared democratic values. This alliance has also been held up as a model contrasting with the authoritarian regime in China. The recent events, however, cast a shadow on this narrative, and could prompt the U.S. to reevaluate the partnership.
Under the authoritarian trajectory of the Modi government, U.S.-India relations appear to be shifting towards an alignment with mutual interests rather than shared values.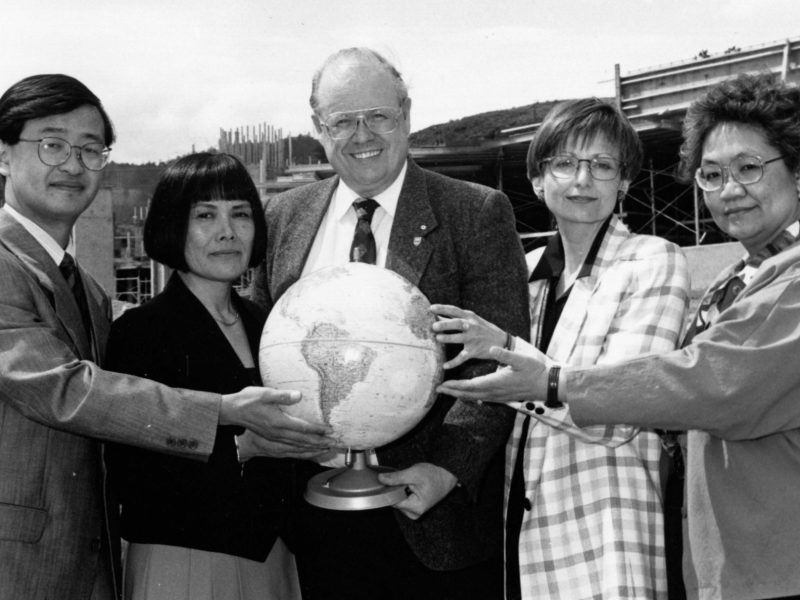 KAMLOOPS — Memories, milestones and new scholarships for international students — TRU World's 40th anniversary celebrations in 2023 have reflected back on four decades of change and are now looking toward the future.
As the year-long celebrations wrap up, TRU World is announcing the creation of new scholarships for international students. This aligns with the university's ongoing efforts to make international education more accessible and foster academic excellence through the creation of scholarships and financial awards.
"We extend our heartfelt thanks to the community for their invaluable support throughout Thompson Rivers University's 40th year of international excellence and innovation. Your contributions have been instrumental in our success. We eagerly anticipate the next chapter, where we will continue to strive for innovation and empower our students to thrive in a changing world," said TRU Vice-President International Baihua Chadwick.
The year's celebrations kicked off in spring with the in-person return of IDays, a vibrant event that highlights the diversity that is integral to TRU's campus community. As the year comes to an end, TRU is bringing together a distinguished group of guests, staff, students, faculty, alumni and partners to share stories, contribute memories and acknowledge the people who have played a pivotal role in elevating TRU's global presence and reputation.
"This milestone is a testament to TRU World's unwavering commitment to fostering global perspectives, nurturing talent, and shaping the leaders of tomorrow. I applaud TRU World for its dedication to academic excellence, cultural diversity, and a shared vision of a better future," said Cyndi McLeod, CEO Canada, Global University Systems and former CEO TRU World.
The influence that TRU World has had, not just on the university campus, but in the communities TRU serves, is evident in the final event for the 40th anniversary, this year's Santa Claus Parade on Sunday, Nov. 26, at 4 p.m. in downtown Kamloops. This year's theme is A World of Celebration.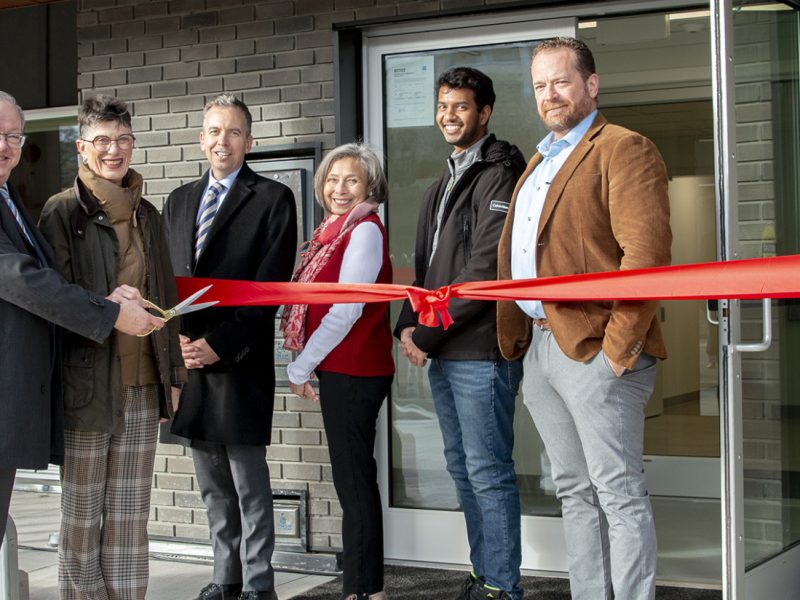 KAMLOOPS — Thompson Rivers University (TRU) has expanded its student housing in Kamloops, with the newest residence now open for occupancy.
A grand opening ceremony on Wednesday, Nov. 22, marked the official unveiling of this new facility, symbolizing a significant milestone in TRU's ongoing efforts to meet the evolving needs of its diverse student body. TRU staff, faculty and community partners were invited to hear from university officials and take a guided tour of the residence.
"It is with great pride and excitement that I announce the grand opening of our newest student housing at East Village," said TRU President and Vice-Chancellor Brett Fairbairn.
"The new residence not only addresses the growing demand for affordable student accommodation, but also reflects our dedication to fostering a supportive and enriching campus environment. Secure and affordable housing is an important part of what enables students to succeed in their studies. Not only does this new housing enhance the student experience, it also shows TRU is continuing to do our part to address BC's and Canada's housing shortages. We are deeply grateful to our partners, particularly the Province of British Columbia, who made this possible."
The new building located at East Village features 80 rooms and 148 student beds with a mix of single and double occupancy, as well as common study and kitchen spaces, that provides more students with affordable housing just steps away from campus. The demand for such housing is evident, with approximately 25 students accepting the offer to move in mid-semester.
The building has been named Sk?elepéllcw (Coyote Den) in honour and recognition of the traditional lands of the Tk'emlúps te Secwépemc territory where TRU resides and features outstanding views of the North Thompson River and mountain vistas.
"The newest addition of Coyote Den will highly benefit the community of students," said Tarun Agarwal, East Village resident and TRU student in the Master of Business Administration program, addressing the crowd that included Mayor Reid Hamer-Jackson and city councillors Katie Neustaeter, Kelly Hall, Stephen Karpuk, Margot Middleton and Bill Sarai.
"This building is not only a physical expansion, but an opportunity for students to create an environment that nurtures both academic excellence and the camaraderie that comes with shared living. As a resident, I'm glad to be a part of the opening of a space that will be a home away from home for countless students to come."
The B.C. government provided $10.85 million toward the $18-million development, with TRU contributing nearly $8 million. The residence was built in an impressively short time using modular construction that was fabricated off-site by NRB Modular Solutions and transported to East Village, where it was assembled and ready for move-in within seven months.
"Having secure, stable and affordable housing is essential for students to be successful at their studies," said Selina Robinson, Minister of Post-Secondary Education and Future Skills. "The new residence at TRU builds on the thousands of new units we have delivered across BC that are relieving pressure on students and the local housing market."
This development is phase one of a three-phase plan for TRU to build a total of three new student housing buildings at East Village. To support the next phase, the project includes a site build-out for the future student housing builds, including utility relocation and asphalt paving of the parking lot.
–30–
Contact:
Michele Young, Manager, Communications Content
University Relations, Thompson Rivers University
250-828-5361 | [email protected]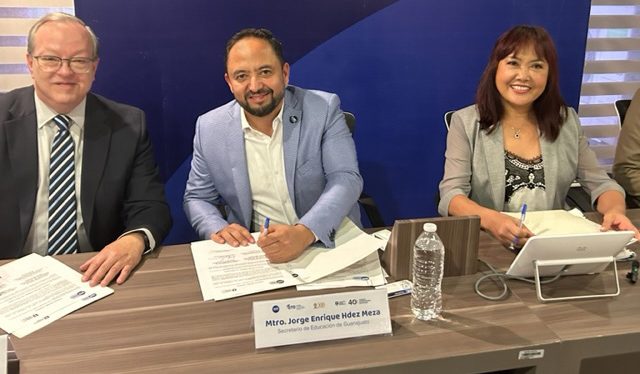 KAMLOOPS — Thompson Rivers University (TRU) is expanding its international academic relations with its latest signing of three Memorandums of Understanding (MOUs) with prominent Mexican institutions.
TRU President Dr. Brett Fairbairn, Vice-President International Baihua Chadwick and Chadwick's Special Advisor Colin Doerr, recently travelled to Mexico City, Querétaro, San Miquel de Allende, Guanajuato City and León to strengthen partnerships in the region. They met with key stakeholders, including the Mexican secretariat of public education, the federal government authority overseeing national education policy and AMEXCID, an international co-operation agency.
"I am impressed by TRU's new partners in the state of Guanajuato, and particularly by their commitment to internationalization. These partnerships will open interesting opportunities in new fields for TRU faculty and students. In future I expect to see more Canadians experience Guanajuato, and more Mexicans discover the Interior of B.C., because of the new relationships we have established," said Fairbairn.
They updated their federal colleagues on TRU's activities and identified areas of mutual interest for potential collaboration. Additionally, Fairbairn took the opportunity to explore the current environmental state of the Americas and the profound impacts of climate change. In a compelling speech delivered at the University of Guanajuato, he emphasized the responsibility of academic institutions in addressing this global challenge. The TRU delegation toured the campus and engaged with the Querétaro Universities Consortium led by the Universidad Politecnica de Santa Rosa Jaregui, further strengthening ties within the academic community.
"The selection of two institutions with characteristics that can match the programs and vocation of TRU such as the Technological University of San Miguel de Allende and the Technological University of Leon will lead to small steps in a relationship with long-term views and hoping that both the municipality of San Miguel de Allende with its multicultural tourism profile and Leon as a city of industrial, technological and business tourism will be a project that benefits the educational community of Guanajuato and Thompson Rivers University," said Jorge Enrique Hernández Meza, Secretary of Education of the State of Guanajuato.
The three MOUs were signed with the Ministry of Education, Guanajuato State, Universidad Tecnológica de León and Universidad Tecnológica de San Miguel de Allende. These MOUs create opportunities for TRU to explore educational partnerships, facilitate short-term intensive and visiting student programs, and promote student exchanges. The signed agreements are a direct result of sustained collaboration and signal a prosperous partnership ahead.
"Through our global engagements, we not only celebrate our achievements but also embark on a journey of discovering best practices and nurturing a legacy of collaboration, innovation, and transformative experiences for students, staff, faculty and the Kamloops community," said TRU Vice-President International Baihua Chadwick.
These MOUs and the delegation's visit to central Mexico demonstrate TRU's commitment to fostering global academic relations and enhancing the internationalization of our campus. By enabling exchanges and promoting collaborative initiatives, TRU continues to broaden the horizons of its students and faculty while establishing new opportunities for mutual growth and understanding. 
–30–
Contact:
Baihua Chadwick, TRU vice-president International
[email protected]
More Campus Life - Kamloops articles
The views expressed are strictly those of the author and not necessarily those of Castanet. Castanet presents its columns "as is" and does not warrant the contents.
Previous Stories