Campus Life - Kamloops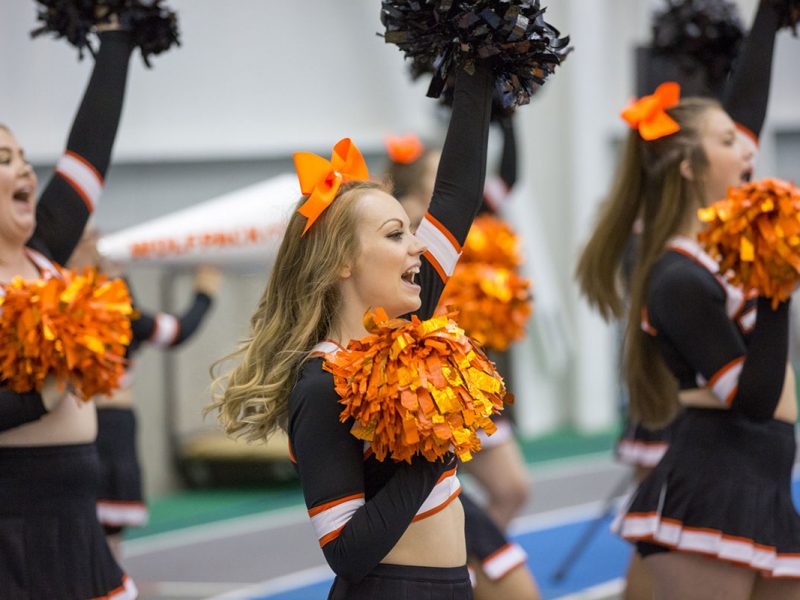 Grab your family and friends, and fuel up before you cheer on your WolfPack. The Den is featuring a special game-day menu guaranteed to keep you going as you head out to cheer on your team.
Drop into The Den—Campus Activity Centre, second floor—on game days to check out some unique menu choices.
Start small with mini corn dogs. Get spicy and indulge in jalapeño cream cheese poppers. Test your Canadian heritage by feasting on Back The 'Pack poutine. Show you've got game by ordering the ultimate sports-watching combo, the WolfPack burger and beverage.
Get a free ticket to the game and enter to win a WolfPack prize package! The Den's game-day promotion runs from this Friday, Sept. 21 (men's soccer) until Friday, Feb. 8 (women's and men's volleyball).
Download the full game schedule
#HEREWECOME—see you on game day!
TRU Food Services welcomes your feedback and looks forward to working with you and all of the TRU community to improve your on-campus dining experience. Please send comments to Food for U at [email protected].
TRU strives to close the gap for Indigenous students
The surface of McConnell Lake is like glass. The only ripples on the water and in the silence come from four canoes being paddled by TRU students and staff and their charges: a group of kids ranging from eight to 12 years old.

Some of the youths have never been in a canoe. Today, they learn how to paddle while being safe on the water. After they can handle the paddles, they are handed a fishing rod. If they catch anything, they will get a lesson on how to clean and cook the fish from an Indigenous Elder watching them from the shore.
In return, the TRU students and staff get experience teaching and learning with local Indigenous youths. They connect with the Elder, the children's families and staff from White Buffalo Indigenous Urban Services to share skills, customs and knowledge.
Canada Research Chair Dr. Courtney Mason started the bi-annual lake trip in 2015 because he sees the value of connecting university students to the nearby Indigenous communities and cultural practices.
"My perspective is, it's always been about building community relations," he said.
The McConnell Lake trip is one piece of a campuswide indigenization initiative known as The Coyote Project.
Like other universities across Canada, TRU has been indigenizing the campus for years. Change, however, wasn't always happening quickly, even with Murray Sinclair's calls to action from the Truth and Reconciliation Commission report.
TRU's Dean of Education and Social Work, Airini, saw The Coyote Project as a way to unite the university in speeding up indigenization, drawing together all nine faculties and schools and three departments.
"This is a project to bring together work that was happening already. It's accelerating the pace of change," Airini said. "We have talked for years, we have known for years. Now is the time for doing something."
Originally from New Zealand, she goes by a single Maori name that means peace. It's a name that suits a woman who is peacefully, but persistently, moving Coyote forward.
Coyote is accelerating indigenization within each faculty, school and department in a two-year time frame. Each gets $15,000 a year from the Provost's Office to support the work that's needed, whether it's acquiring materials, hiring Indigenous staff, reviewing curricula or enhancing what's already being done.
This isn't just a feel-good exercise. Everyone involved with Coyote is committed to keeping track of numbers and reviewing results—good or bad. This is an investment, not just financial, but for the long-term future of the university.
The project has passed the halfway point, and in the spring of 2019, figures will be reviewed to see what impact Coyote has made, although some impacts might not be known for a few more years.
The deans and department heads participating in The Coyote Project know there is a lot of room for improvement, particularly when it comes to retention and completion for the roughly 10% of TRU students who self-identify as Indigenous. Currently, Indigenous students in post-secondary institutions do not enter in the same number as other students. More of them drop out. Fewer of them graduate.
Statistics Canada's figures show in 2016, 54 percent of Canadians aged 25 and 64 had a bachelor's degree or higher, compared with 10.9 percent of Indigeous peoples in the same age range. While that's up from 7.7 percent in 2006, the gap is still substantial. All of the deans and department heads involved in The Coyote Project are united in wanting to change that.
Why Coyote?
In Secwépemc legends, Coyote is a trickster and transformer who teaches humans lessons through his own behavior. The project is based on the story of Coyote Brings Food from the Upper World, a tale about how Coyote brought animals, fish and plants down to earth for food and medicine. He gathered all the people and reminded them to share what they have and to protect all living things—to be a caretaker.
Coyote helps transform the world and brings nourishment and knowledge to help people in their journeys, explained Paul Michel, executive director of Aboriginal Affairs at TRU. The Coyote Project aims to transform TRU and share Indigenous knowledge with all.
The transformation is underway.
Law, Science, Nursing and Adventure, Culinary Arts and Tourism are creating opportunities for students to meet and learn directly from Indigenous kids, adults and Elders, some of whom attended residential schools.
Education and Social Work, Business and Economics and Arts are enhancing their curricula, adding Indigenous content and looking at hiring more Indigenous staff.
The School of Trades and Technology, which already has some full cohorts of Indigenous students in programs such as wastewater treatment, is building partnerships with First Nations communities to work with them in delivering programs on site and promoting more mentorship.
Student Development and Open Learning staff have done intercultural reflection to look at their own perspectives while seeking information from Indigenous students to find out what they need for support.
The library is acquiring new Indigenous resources and adding Secwepemctsín to signs, while TRU World sent a student and Elder to Tasmania to participate in a field school on Indigenous knowledge.
All of the elements of The Coyote Project—the nine faculties and schools and three departments, the internal self-examination, the revisions to curricula, the hiring, the connections with Indigenous communities—all of it is aimed at creating change. It already has.
"People are genuine and authentic about this. People are saying I'm not an expert, but I know I have a part to play in the solution," said Airini.
"I think we understand some of the urgency of this work. We have talked for years, we have known for years. Now is the time for doing something."
Learn more about The Coyote Project.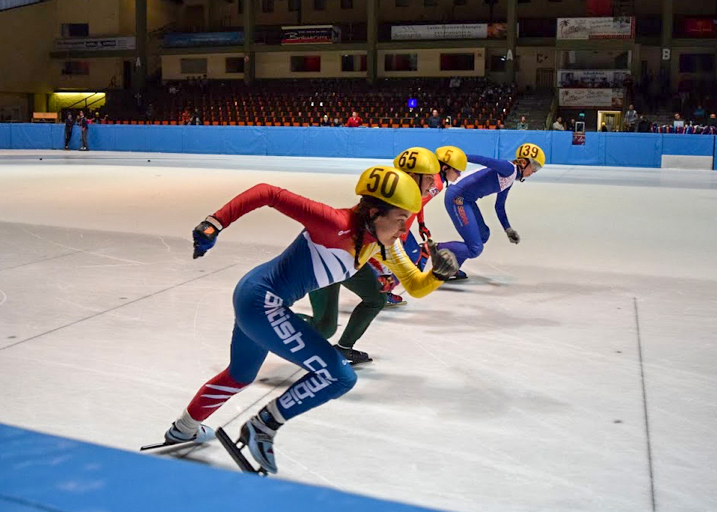 Sometimes you have to go far from your comfort zone to find where you belong.
Sylvie Lloyd, TRU Study Abroad student and competitive speed skater, knows this from experience. She wanted to find somewhere she felt like she belonged, and it turned out she just needed to leave the continent to do it.
Lloyd is a third-year sociology major and has been heavily influenced by the speed-skating community, as her mother is a coach in the sport. She grew up in Kamloops and felt very comfortable and somewhat "stuck" in her hometown, and wanted an opportunity to train somewhere new.
The usual path her skating friends took of going to Calgary to do further training didn't seem like the right one for Lloyd. Despite wanting to continue her studies at TRU she wanted to find somewhere new to train and study that felt like her own.
"I was talking about it with my mom one day, and she remembered that TRU had a Study Abroad program. The rest was history from there, really.  I went to the next available info session and got going on the application process and never looked back," says Lloyd.
A new city and country meant an opportunity to travel and to meet new people, and to broaden her perspective past the place she grew up in.
Lloyd chose to study at Tilburg University in Tilburg, Netherlands, where the skating facilities and courses she needed to continue both her training and education were available. Tilburg also offered plenty of opportunity for travel and adventure in a beautiful European setting; full of old world charm and unique architecture. The icy winters provided opportunities for Lloyd and her friends from the Tilburg Skating Club to have some fun practicing their sport in a new environment.
"One of the coolest experiences I had was during the winter. There were a couple of cold days where everything froze, and I went out to a remote little place with a couple of friends and we made a skating track on the frozen pond.  It was really beautiful out there and we had the place to ourselves. We froze our toes but it was worth it!"
For many students, studying in a foreign country would be a lot of stress and new experiences to juggle, let alone training and competing in high-level speed skating. To combat any feelings of being overwhelmed Lloyd chose to compartmentalize her life a bit and focused on building a routine from the get-go.
"I don't see all this as juggling: being in a foreign country, completing my studies, and competing in speed skating, I just think of it as my life right now. I found a routine right away and rolled with it."
As for any advice for students considering Study Abroad for themselves, Lloyd can't recommend taking the opportunity to study abroad enough.
"Don't overthink it and talk yourself out of it. Put your anxieties and apprehensions aside and just go for it."
Lloyd says that her experience with Study Abroad hasn't pointed her in one direction in terms of her future career plans, instead it has shown her that there is a world of possibilities out there.
"The world is big, the possibilities are endless, and I'm still figuring out where I fit into all of that," she says. "I've seen and done so many new things and opened my eyes to the fact that there is a whole world out there that I've barely even seen."
After being in The Netherlands since the beginning of the year, it will be another adjustment for Lloyd to come back to Kamloops, and she is coming back with plans to find more adventures in the future.
"It's going to be so hard coming home now, but I'm so grateful I've had this experience.  When I get back I will only have one more year of school left, after that who knows where I'll end up?"
To learn more about opportunities to Study Abroad, visit tru.ca/studyabroad, or attend an information session.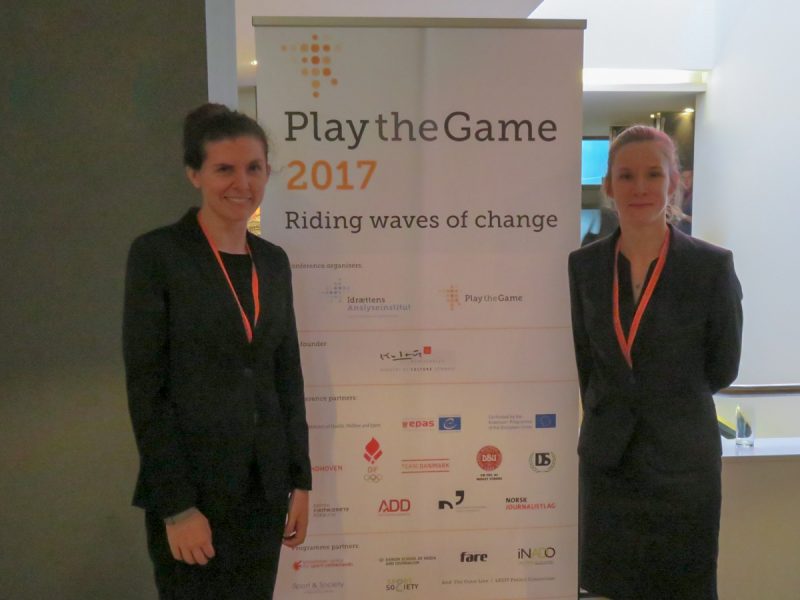 What began as a late-night conversation about a shared interest between two friends, started an eventful journey toward their paper, The Legal Impact of Brexit on the English Premier League, being published by not one, but two academic journals.
TRU law alumni Karen Perry and Madison Steenson began their journey when they were invited to present at the Play the Game conference in Eindhoven, Netherlands. In the lead up to the conference, the two worked tirelessly on perfecting their presentation by practising to audiences of faculty members and classmates.
The task of condensing a 17,000-word paper into a 12-minute presentation was not an easy feat, but the presentation was met with great success. Following the conference, they reached out to journals for publication. The next day they were contacted by the University of Denver Sports & Entertainment Law Journal and two weeks later by the Harvard Journal of Sports and Entertainment Law .
"With the help of many of TRU's Law Faculty, we were able to successfully navigate the world of academic publishing. They encouraged us to write the initial paper, let us bounce ideas off of them, introduced us to industry experts, and took time out of their evenings and weekends to listen to us practice for our presentation," said Perry. "The TRU Law faculty members are what truly makes attending TRU special. They went out of their way to help us and we can't thank them enough."
Perry is currently an articling student at a law firm in Calgary, where she has had plenty of exposure to litigation, as well as bringing in her own clients, including some sports organizations. Alongside her articling work, she is pursuing a graduate program in tax law through the Osgoode Law School at York University.
Steenson is currently working at Omura Law group in Calgary with a sole practitioner, where she is able to work with a variety of files, including civil litigation and family law.
The two have plans to continue to write in the academic community, and Perry has plans to continue to write for Canadian Tax Focus, an academic journal about tax law. Both women hope to open their own law firm one day, and have even spoken about it being another collaboration between them, as both have an interest in pursuing sports law in the future.
More Campus Life - Kamloops articles
The views expressed are strictly those of the author and not necessarily those of Castanet. Castanet presents its columns "as is" and does not warrant the contents.
Previous Stories