Campus Life - Kamloops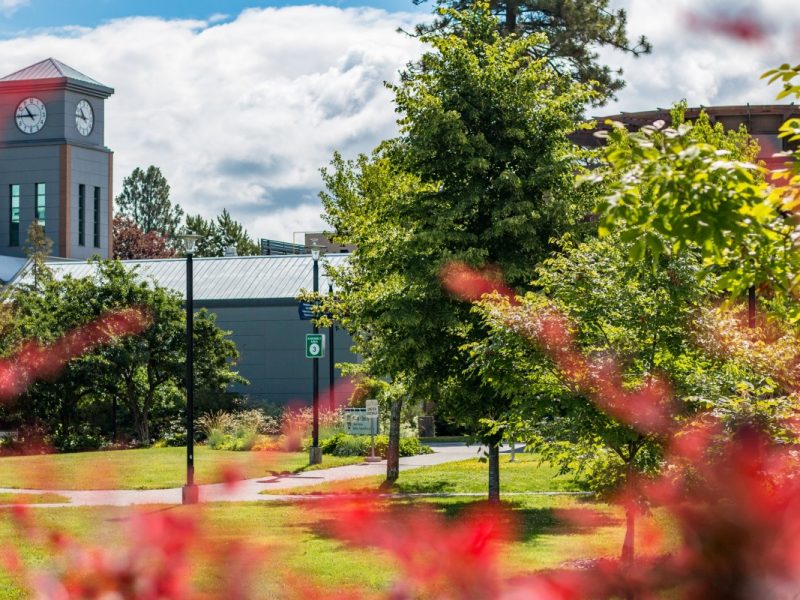 In light of recent media attention that has focused on Thompson Rivers University, the publishing activity of its faculty, and on academic freedom, I feel it necessary to provide this public statement.
Much of the media attention has incorrectly stated that faculty member Dr. Derek Pyne was disciplined for his research. This is not the case. The discipline imposed is related to matters which I am unable to comment on due to both employment and privacy law. But I do want to be clear, to set the record straight, that academic freedom is fully protected at TRU under the collective agreement with our faculty association. Action taken against Dr. Pyne was not related to his specific research, the dissemination of his research, or the exercising of his right to academic freedom.
Additionally, it is important that I convey to you, to the public, my confidence in the calibre and quality of the faculty at TRU. We have a strong faculty complement committed to excellence in teaching, research, and scholarship. Any faculty member hired or promoted at TRU goes through a robust process which involves a review of research activity and publishing credentials. This is a process led by peers, hence, any faculty member at TRU moving through the promotion and tenure process is doing so with the endorsement of their faculty colleagues provincially, nationally, and internationally.
Regarding disputes involving faculty, our focus is on resolving such disputes through the appropriate internal processes and in a way that is respectful of all individuals and their right to privacy.
Christine Bovis-Cnossen
President and Vice-Chancellor (Interim)
Thompson Rivers University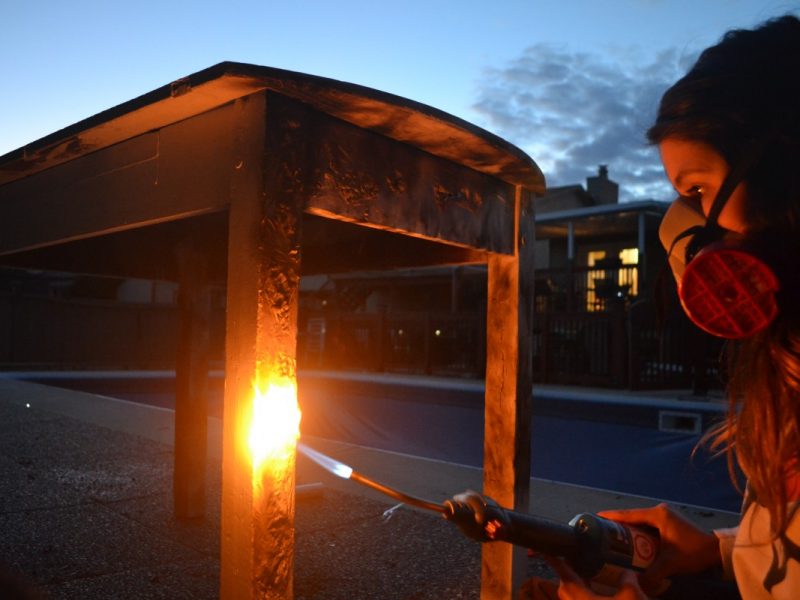 In her graduating exhibition, Ana Bayona Ricaurte built and destroyed three rooms. She set one on fire, flooded one and created a windstorm in the other—all in the name of art.
Bayona thrives when creating surrealist installation artwork. The work lives as long as the exhibition, it changes and deteriorates as time goes on and she returns to take it down.
After graduating from TRU in 2017 with a Bachelor of Fine Arts (Visual Arts), Bayona took her skills abroad to Madrid for an artist residency. She was one of 50 artists from 23 different countries to contribute work in the pop-up exhibition styled after a marketplace. Leaning on the marketplace theme, Bayona used real fruit and vegetables, painted on a clear coating, arranged them neatly—then simply left. The work sat in the open air for two weeks and quickly turned from ripe and shiny to soft, soggy and rotting.
"It was like a time-process exhibition. If you went in the beginning, it all looked glossy, shiny and perfect, but throughout the two weeks you could really watch it deteriorate. I like the idea of creating surreal spaces, because they are completely unique, out of the ordinary and totally unexpected," she said.
Following the stint in Europe, Bayona returned to Kamloops and began work as a gallery coordinator at Arnica Artist-Run Centre while searching for art shows to submit her work to.
Now she's putting the finishing touches on a bonfire-inspired installation piece for the next show: White Lights, Dark Nights at the Salmon Arm Art Gallery. This work will be her third showing there and it'll run from Nov. 17 to Dec. 22, 2018.
Coming from the bustling city of Bogota, Colombia, Kamloops was a big change. Rather than becoming discouraged by the smaller arts community in Kamloops, she chose to embrace it and use it to her advantage.
"There isn't a huge arts community here, sadly. But TRU connects you with so many people on a professional and personal level. For example, I worked with Donald Lawrence as a research assistant. We went to Vancouver and met several curators there, so that was very beneficial for my art practice."
Recalling the ways her fourth-year exhibition pushed and challenged her, Bayona wants to follow that path of constructing settings into film set design.
"My fourth-year exhibition was the most frustrating thing I've ever done. The water room was such a pain! Water is so unpredictable. But looking back and seeing what I had built over eight months is so rewarding," she said.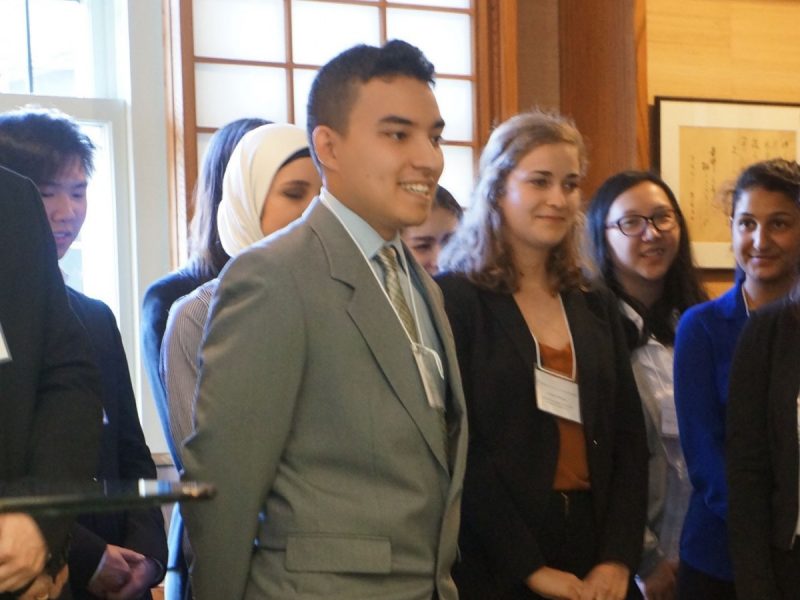 Two Thompson Rivers University students are in the Land of the Rising Sun building up experience and skills in their Co-operative Education programs.
Cyrus Lok Yin Lee came to BC in 2012 to attend Rutland senior secondary school in Kelowna. He wanted to pursue a different academic path than what China typically offers. Lee landed at TRU after graduating in 2015 and discovering the co-op program.
"I chose to get involved with the co-op program because it was a chance to get real world industrial working experience before I graduate," he said. "I also thought I could learn some leading-edge technology by working with hands-on projects."
Computing science caught Lee's interest and after taking two years of courses on campus — including a Japanese class — he got on with the Nippon Telegraph and Telephone (NTT).
"I love Japan – their food, language, culture and especially the Otaku sub-culture (anime). After taking Japanese at TRU, I figured it would be great to practise my studies by living in the country," said Lee. 
NTT is a holding company of the largest telecommunication business in Japan, similar to how Rogers and Telus provide phone and internet services here in Canada. It's also the fourth largest telecommunications company in the world in terms of revenue.
Working out of Musashino, a city of 144,000 just west of Tokyo, Lee is a trainee responsible for researching and reporting. He is working on a project with in-band network telemetry and programming protocol-independent packet processors, gathering metadata from intermediate devices and stacking that information into a packet.
Like Lee, Shohei Maeda came to BC before college. He moved from Japan to Kamloops in 2006, where he attended Kamloops Christian School and graduated in 2013.
Maeda experimented in environmental engineering at the University of Northern British Columbia, then started a degree in chemistry at TRU before settling into the Bachelor of Computing Science program.
"I did some programming in high school and thought it was pretty complicated. I later did an introductory course in computer programming and really enjoyed it. It was much different from what I did in high school," said Maeda. "I got really excited about entering the program."
He was already familiar with co-op programs as he had worked with Australian Laboratory Services in Calgary in 2016.
Once he started computer programming at TRU, he knew where he wanted it to take him.
"I love Japan. I didn't think I'd end up here, but I love it here and would love to work here one day," said Maeda.
He was hired by Rakuten, a Japanese electronic commerce and Internet company based in Tokyo, similar to Amazon in North America. There, he fills a similar role to Lee, doing research and programming as an application engineer on a variety of projects.
"I like working in the field much more than the classroom part. I wouldn't have had this opportunity to network and meet other people if it wasn't for the co-op program," said Maeda.
"The relaxed nature of the job is one of the best things about it. Japanese companies have this vision of being quite strict, however Rakuten is quite westernized which is nice, so the feeling at the office is quite laid-back."
Both co-op students are hard at work heading into the second half of their work terms in Japan. They will return to TRU this spring, bringing back with them months of cultural experiences and invaluable on-the-job learning.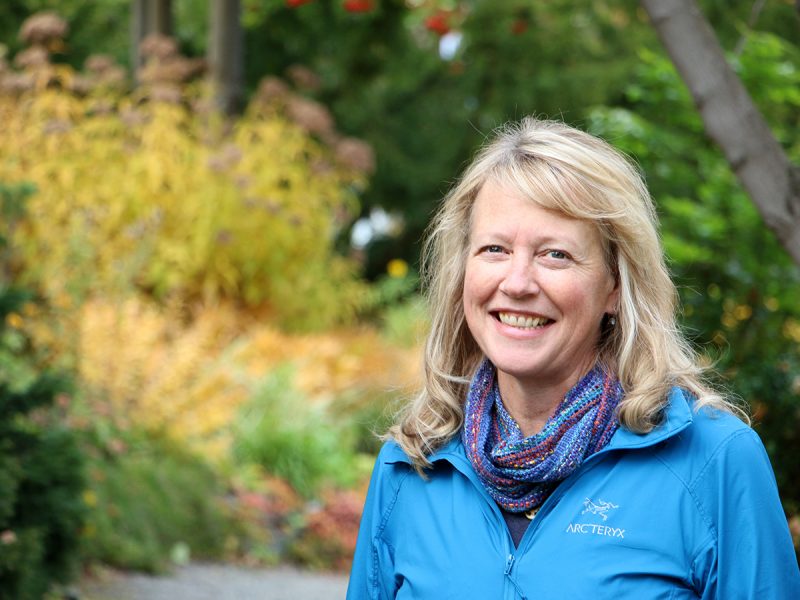 What comes to mind when you think of a coach?
Is it someone who inspires you to do better? To work harder? To give it everything you've got?
A coach is likely all of these things, and so much more, but a coach isn't only someone who keeps you on your physical toes — he or she can also empower you to reach higher academically, too.
That's exactly what TRU's newly designed Research Coach program is designed to do — empower first and second year students to discover research by pairing them with third or fourth year students who help open doors and engage them in new and creative ways.
Faculty, interested in participating? Apply now for the January 2018 intake
The program was created following an international conference held at TRU earlier this year. During High impacts in undergraduate research: Establishing inclusive opportunities, it was discovered that as good as TRU has become at providing opportunities for undergraduate research, there was room for improvement.
"The conference inspired us to take a step back and look at access and inclusivity. As an open access university it's important that our programs reflect that in the opportunities we provide, and we noticed a gap in the first and second years of study," said Sukh Heer Matonovich, manager of graduate studies and undergraduate research.
The program, which began with a soft pilot in September, allows a faculty member to identify a third or fourth year student with research experience, who will then receive Research Coach training, and a $1,500 award. That coach will then work with the faculty member to design a research experience for a first or second-year class. The students in that class will spend the semester working on the research under the guidance of the Research Coach.
Building research into the curriculum early is uncommon in most Canadian universities. However, it is a great way to open doors to students who wouldn't otherwise see themselves as researchers.
"This is only going to strengthen our undergraduate research. It enhances what we already have, and when students get into their third and fourth year they'll be better prepared," Heer Matonovich said.
Robin Reid, assistant professor of tourism, is one of the first four faculty members to participate in the program, bringing Research Coach Fauve Garson-Stewart into her course People, Places and the Toured Landscape (TM 2060).
Reid had worked with Garson-Stewart as a research assistant previously, so knew it would be a great fit.
"I revised the curriculum to accommodate an inquiry-based research component. Fauve comes into the class each week and together we break down the research question into bite-size pieces, put students into working groups, and take advantage of the newly-designed classrooms in Old Main for research-engaged activities."
Read: Old Main gets new life, InsideTRU, May 10, 2018
"Both my students and I are learning as we go. We're both exploring the ideas and documenting our process," she said. "Maybe there are students out there who don't realize their potential as researchers. If we could build that curiosity and inquiry-based learning in early, it might just build excitement and foster further studies in that area."
Reid is fully committed to the program, and plans to participate in January during the official pilot, and so far it's been a fantastic experience for Garson-Stewart.
"Being so involved with research in my fourth year I realized how much more I could have accomplished if I had started earlier on in university," she said. "I think I can speak for other tourism students when I say that when you think of research, you often think of science and math, and you probably didn't go into tourism to be a part of research. But research can be so much more, and this program introduces it in a way that is fun, and not scary."
More information
More Campus Life - Kamloops articles
The views expressed are strictly those of the author and not necessarily those of Castanet. Castanet presents its columns "as is" and does not warrant the contents.
Previous Stories