Campus Life - Kamloops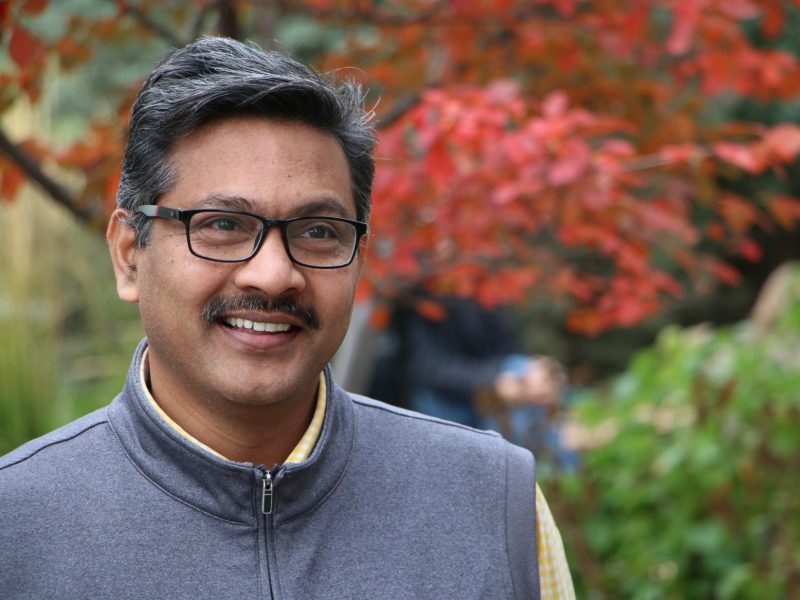 Waste not, want not. Thompson Rivers University (TRU) faculty member Dr. Bala Nikku and his team are addressing pressing societal challenges by examining ways to adopt a circular economy, which focuses on optimizing our resources — through recycling, reusing and restoring products and materials — while reducing waste. Their work is being funded by a $200,043 grant through the Social Sciences and Humanities Research Council of Canada's (SSHRC) Imagining Canada's Future Ideas Lab.
"The circular economy is something that touches so many areas, not only economics and politics but also geography, social work, social policies, social welfare, psychology and anthropology," says Nikku. "My disaster work and green social work teaching and research connects to the earth-caring capacity of this project. This is where I can contribute to the current research and discourse around the circular economy and make a difference."
The project, which encourages innovation and different ways of thinking about the circular economy and sustainable livelihoods, brings together six researchers from different disciplines and post-secondary institutions: Dr. Nicholas Lynch (Geography, Memorial University of Newfoundland); Dr. Janice Rudkowski (Retail Management, Toronto Metropolitan University); Dr. Fatih Sekercioglu (Occupational and Public Health, Toronto Metropolitan University); Philip Robbins (Fine Arts, Langara College); Miranda Ting (Interactive Design, University of the Fraser Valley); and Dr. Bala Nikku (Social Work, Thompson Rivers University).
Room for improvement
According to the World Bank, if countries continue to overconsume everyday items, which puts a strain on the environment and on natural resources, annual global waste production could increase by 70 per cent by 2050.
When considering next steps, countries, including Canada, need to recognize that in a circular economy, everything is used and nothing is wasted.
"For a long time, the world's economies have operated on a linear model where raw materials are taken and made into products before being used and thrown away," says Nikku. "Countries in the European Union, especially the Netherlands, have started leading in the circular economy. Unfortunately, Canada falls behind. So far, our model has been 'take, make, use and dispose,' and we need to change that paradigm."
Makerspaces and the circular economy
For Nikku and his colleagues coast to coast, their research begins with the mapping of makerspaces — community-led places where design, production and technology meet — across Canada and investigating their role in collaborative learning and knowledge production about the circular economy.
"Makerspaces, like the one at TRU, are where you invent and tinker with ideas, foster innovation and develop your entrepreneurial skills," says Nikku. "These spaces used to be only for engineering students, but now these spaces are for everybody. There you'll find all types of fabrics, materials, toolkits and information. It's a creative space for experimenting with and testing prototype ideas and turning them into real-world products and processes."
Building a circular society
By the end of the project, the team of researchers will have created a website with diverse learning tools — including a makerspace atlas, graphic journals and recorded webinars — where community members can gather and share information and ideas about people, products and processes that nurture sustainable livelihoods.
"We imagine this platform as a powerful learning place where ideas can be hybridized, where people can go and network with each other," says Nikku. "It will have a photo journal and student videos. People can build on what's already there."
"Our goal is to build resilient community futures, which we learn about from makerspaces, the circular economy and analytics. We will use a range of collective research tools that we have in our toolbox."
Three Thompson Rivers University (TRU) researchers received $590,000 through the federal Natural Sciences and Engineering Research Council (NSERC) Discovery Grants Program, announced today by the Government of Canada.
Minister of Innovation, Science, and Industry François-Philippe Champagne has announced an investment of more than $506 million in new funding to provide 4,216 science and engineering leaders with the means to pursue world-class discovery work.
"Discovery is the foundation of all advancements," says Champagne. "Through this major investment in some of Canada's most promising and innovative researchers, we are supporting scientists and students to become global leaders in their field. By helping to expand the frontiers of science, we are investing in a better society and a brighter future for Canadians."
Dr. Eric Bottos, from the Department of Biological Sciences, has been awarded $252,500 over five years, which includes an Early Career Researcher supplement as well as a Northern Research Supplement, to predict permafrost microbial community responses to thaw based on pre-thaw ecosystem characteristics.
"Research funded by this grant will allow us to better understand how the composition and activity of microbial communities in Arctic soils are influenced by environmental conditions, and how these communities will respond to changes in these conditions brought on by climate change," says Bottos. "Such knowledge will improve predictions of ecosystem dynamics and climate feedbacks in a warming Arctic."
Dr. Nelaine Mora-Diez, from the Department of Chemistry, received a $180,000 Discovery Grant to focus on the theoretical studies of biochemical and environmental relevance.
"This funding is essential for training students at all levels," says Mora-Diez. "It allows me to send students to work with collaborators at other institutions, in Canada and overseas. Funding allows me to visit and collaborate with groups on research projects at other universities, train new students who visit TRU and interact with the undergraduate students I supervise.
"This summer, I will be attending two important theoretical chemistry conferences in BC — the Canadian Symposium on Theoretical and Computational Chemistry and the Triennial Congress of the World Association of Theoretical and Computational Chemists) — with six of my students, four of whom are undergraduates and two former TRU graduates who continue to work with me. My NSERC grant, in addition to TRU funding , contributes to fund all this. The reach of our work would be very limited without funding from the Discovery Grants Program."
Dr. Muhammad Hanif, from the Department of Engineering, has been awarded $157,500, which also includes an Early Career Researcher supplement, to study reconfigurable intelligent surfaces-based future wireless communications.
"The NSERC Discovery Grant allows me to work on one of the most-promising techniques of the 6G wireless communication systems: Reconfigurable Intelligent Surfaces (RIS)," says Hanif. "Deploying RIS can result in increased data speed, reduced data latency, ultra-reliable communication and significantly-reduced power consumption of communication devices, simultaneously. These features enable a plethora of applications, which cannot be realized using the currently-deployed technology. Thus, the grant allows me to contribute to some of the exciting applications and use cases of the 6G wireless communication systems, such as super-smart cities, smart health care, multisensory extended virtual reality and holographic telepresence."
Associate Professor Paul Simpson, from the Piping Trades program, believes in empowering his students while ensuring they're learning in a safe and supportive environment. He nurtures the belief that everyone can learn and grow. So, when some of his students needed extra support, he was ready to help.
"For five years now, I've noticed challenges with many of my students," says Simpson. "They've been coming forward to discuss diagnosed or undiagnosed learning disabilities they have. And because people with disabilities are often heavily stigmatized, they were initially hesitant to reach out. But because I try to offer a safe spot for students in the classroom and with each cohort, they said something, which I'm thankful for."
Help for struggling readers
When Simpson considered how he could best provide support, he included his students' voices in the conversation.
"I started speaking with them as they were going through the accommodation process, asking what accommodations I needed to better support them. And reading problems came up a whole bunch. Students said they often listen to audiobooks while driving or working, which prompted a few discussions about why audiobooks, for manuals or textbooks, aren't part of our program."
Simpson had a thought: what if audiobooks, acting as a reading aid, could benefit students who struggle with reading. He decided to share his idea with BCcampus, a government agency that works with post-secondary institutions to help adapt impactful teaching and learning practices to better support students.
"I emailed them about my idea and said I just didn't know how to get started or get funding for it," he says. "I didn't hear from them for a while, and then when I did, I found out they would fund the pilot project while I provided research around it. So, turning the idea into something that might come to fruition was quite a leap, to be honest, but it happened."
Challenges met
After hearing that students preferred listening to a human voice, with inflections in the right spot, and not to a computer-generated one, Simpson was ready to do the work, learning as he went along.
"I had no idea how to record. The timing was challenging to figure out. I didn't know how long it would take to read paragraphs, pages and chapters. But, through trial and error, I finally figured it out. I also needed to create a space to record my voice. I had no idea about acoustics, so I used moving blankets and made a cocoon out of one of the lab stations in the School of Trades. I heard about the TRU Library Makerspace during the recording, which might've worked out well, but I kept going with what I was doing. Fast forward to the week of May 29, where level one of the audiobook has been submitted to BCcampus, ready to be produced and released in a way that is easily accessible for teachers and students. We might see the audiobooks as early as this fall."
When it came to doing research, a first for Simpson, he knew who to ask.
"I went down to the Office of the Vice-President Research and had some great discussions on process, surveys and reports. The research end of it was so interesting. The survey went out and I received a lot of help from the School of Trades — a lot of instructors helped with delivering and collecting the surveys. The report has now been completed and sent off to BCcampus."
Light on the horizon
Looking ahead, Simpson anticipates positive changes for trades students with learning disabilities.
"I can see some changes already with the agencies we work with, including the Industry Training Authority that manages trades programs in BC," he says. "They have individuals on board that can do consultations and allow for accommodations on their national exams. I discovered that as I was asking a lot of questions about support for students. Barriers don't need to be there, so we're making progress, both at the post-secondary level and within agencies. Having a system that can identify and give credibility to these individuals in a safe and fair manner is the goal."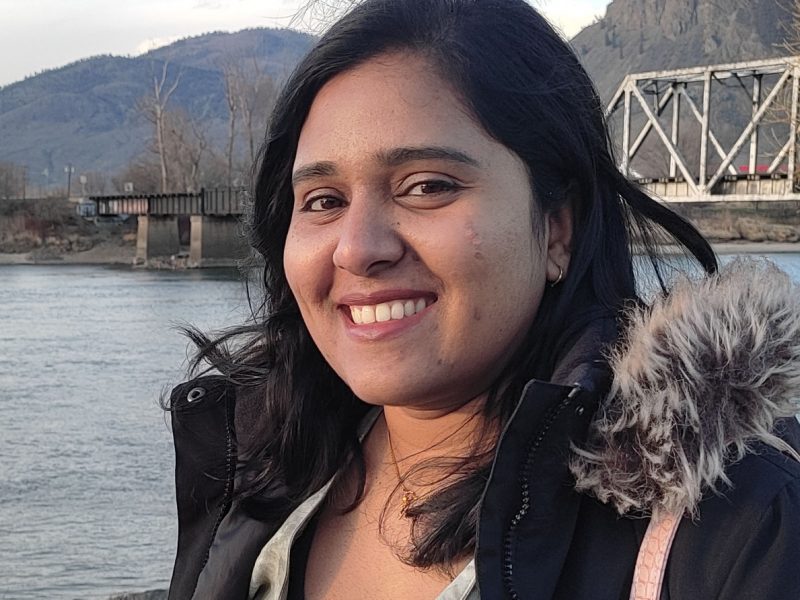 After travelling more than 11,000 kilometres from her home in India to Thompson Rivers University (TRU) in the summer of 2021, Master of Science in Data Science (MScDS) student Bhavithry Sen Puliparambil couldn't imagine what the next year would bring, including receiving the Governor General's Academic Medal (Gold).
Created in 1873 to encourage academic excellence across Canada, the medal is the most prestigious award students can receive. The gold medal is awarded to the student who achieves the highest academic standing at the graduate level.
"I never imagined this would happen," says Sen Puliparambil, who was part of the first cohort of students to graduate from the MScDS program on June 9. "It's an unexpected blessing."
Forging ahead
Arriving in a new city, surrounded by an unfamiliar landscape, can be daunting for anyone — especially when your new home is threatened by fires.
"When I came to Kamloops, there were wildfires everywhere," says Sen Puliparambil, who arrived without the familiarity of her family by her side. "The only fires I had seen were campfires. Because of the smoke, I had to use my asthma inhaler to help me breathe. And of course, we were living through a pandemic."
The master's student was also facing a shorter timeline to complete her degree.
"We started the program remotely in January 2021, but we had some COVID-related issues, so we had to complete it in one year," says Sen Puliparambil. "Because of the delayed start date, we didn't get a summer break, so we, my seven classmates and I, finished it in one year instead of two, which is normally how long the program would take. We took the courses sequentially and not in a parallel format over the summer semester. So, one course at a time. Every week we had classes for that course, an exam, an assignment and a project due. So, there wasn't a single day without a deadline."
It takes a village
When reflecting on all the important work she's done, Sen Puliparambil recognizes how pivotal her support system was to her success.
"Without the support from my husband (Jose Mathews Kanjooparambil), family and faculty, this wouldn't have been possible. At TRU, I was fortunate to meet and work alongside two incredible supervisors, Dr. Jabed Tomal, from the Department of Mathematics and Statistics, and Dr. Yan Yan, from the Department of Computing Science, who shared their expertise and provided great support. They also nominated me for the Governor General's Academic Medal."
"This is a tremendous accomplishment," says Tomal, whose student award recommendation letter recognized Sen Puliparambil's outstanding academic achievements while praising her leadership, dedication and peer support.
"Bhavithry is probably one of the most talented students I've seen over the years," says Dr. Yan Yan. "To complete six courses, plus her thesis, in a short period of time, is exceptional. She has contributed new knowledge to the field of data science and is truly a role model for all students."
During her year at TRU, Sen Puliparambil also founded the Data Science Club, worked as a graduate research and teaching assistant, created the first open graduate thesis template for TRU on Overleaf, presented her research on single cell RNA sequencing at the Research in Computational Molecular Biology Conference in May 2022 and was invited to include her research in a special issue of the international, peer-reviewed, open access journal, Biology, next month. Over the next year, Sen Puliparambil will be working as a research associate with the Integrated Planning and Effectiveness division at TRU. She will receive her medal this fall.
More Campus Life - Kamloops articles
The views expressed are strictly those of the author and not necessarily those of Castanet. Castanet presents its columns "as is" and does not warrant the contents.
Previous Stories