Campus Life - Kamloops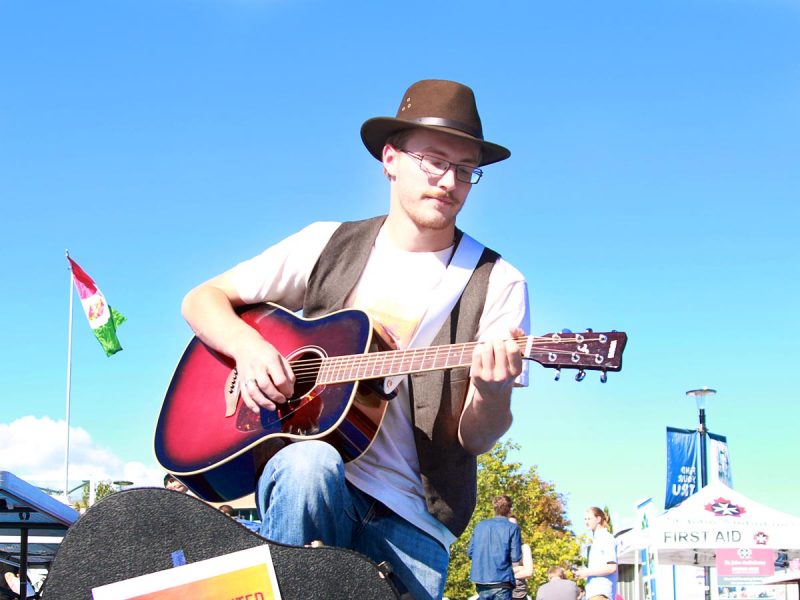 Campus clubs are a great way to connect with others while sharing your interests and acquiring valuable soft skills along the way.
Soft skills? How so?
During brainstorming meetings, you're tapping into your communication and negotiation skills. Help organize an event, sign up for a committee, or be part of the executive and your skills in the areas of time management, leadership, patience and listening are put to the test.
On Sept. 14, more than 1,000 students took the first steps towards connecting and skill building during TRU Students' Union (TRUSU) clubs day. More than 40 TRU clubs—and some community ones—assembled in Campus Court and visitors picked up brochures, signed email lists, asked questions and left with free give-aways. TRUSU's clubs directory lists more than 90 clubs, with some of the newer ones still to be added.
To learn for ourselves what impacts clubs can have, the Newsroom asked some club members how their involvement has made their lives better.
Pre-Law Society TRU
Founder and president Kennedy Aberdeen said the doors are open to everyone, whether pursing entrance into law school or not.
At the very least, she said, members will develop skills associated with networking and public speaking.
"A lot of people will go through their entire university career without developing soft skills like public speaking and communicating. Any workplace you're in, you will need to be able to talk to people, and that's something we can all work on," said Aberdeen, who is in her third year and majoring in business accounting while minoring in theatre.
TRU Marketing Association
"You're getting out of the box and getting to develop not just what you're good at, but developing a skill-set in a range of areas," said Allister Grapes, fourth year Psychology honours.
Learning how to market himself has been another highlight and to the question of why marketing yourself is important, he replied, "Why is getting a job important?"
Beth Engel is in her fourth year of business and is majoring in marketing and minoring in economics. She's thrilled to be more comfortable and confident around others.
"You meet people you wouldn't normally cross paths with and you're learning from people with different points of view. It's like having a new family and you're getting to work on cool stuff together," she said. "I can still be shy at times, but I'm more comfortable talking to anyone, even in front of a class."
TRUSU Car Enthusiasts Club
Just a few weeks old, the club has the name car in it, but president Logan Cramwell said all manners of vehicle enthusiasts are welcome. That could be motorcycles, boats, lawnmowers, skateboards or even "shoelace express" as one person wrote on the signup sheet.
"The club is more of a segue to meeting people with similar interests, but from different backgrounds," said Cramwell, who is in his third year of a double major in math and computing science.
Among the ideas he has for the club, are offering free do-it-yourself workshops on topics like oil changes and hand washing and waxing.
"It was a club that I considered missing on campus, so I did something about it. I'm told organizing a club and putting on events looks good on a resume. Organizing a club says something about your leadership skills and people skills," he said.
Biology Undergraduate Society (BUGS)
BUGS president Jesse Biddlecombe has gained a stronger rapport with faculty, which is never a bad thing.
"Those relationships can be valuable because they can help with getting research opportunities and making it easier to ask for help outside of a classroom environment," said Biddlecombe, who is in the third year of a bachelor of science with concentrations in cellular, molecular and microbial biology.
CFBX campus and community radio station
Hosting a radio show is more than sitting back, playing tunes and chit-chatting with a faceless audience, said station manager Brant Zwicker. So many skills are happening all at once that it may seem like not much is happening at all.
Zwicker said most on-air hosts will learn:
Time management: Putting together the pieces for a one- or two-hour show.
Writing: Most on-air volunteers hone their writing, whether it's scripting a show in full or in part, writing pitch letters to musicians for interviews, or promoting their shows through blogs and social media channels.
Lateral thinking: Seeing how things are connected or can be connected is not something that comes easy for most. The better hosts do it with ease.
Public speaking: Talking on-air promotes speaking clearly, confidently, knowledgeably and often off the top of your head.
"It's not just a radio show because there's all that other stuff going on," said Zwicker.
Thompson Valley Airsoft Enthusiasts' Association
Similar to paintball, airsoft is a team game and participants use replica weapons. Aside from teaching teamwork, players learn the importance of safety at all times, an appreciation for the wilderness, accurately judging distances and reducing messages into their simplest words and actions.
"I've learned the value of communicating concisely with other people because the information has to be relayed quickly during a game," said, third-year computing science student Logan Royer, adding "that kind of skill would be good in business writing."
Photography Club
Lokesh Sharma's interest in photography runs so deep, that he didn't let his recent arrival from India stop him from co-founding the club earlier this month.
Enrolled in the post baccalaureate event tourism program, Sharma is keeping the club's structure and format fairly loose for the time being.
"We will have Saturday photo walks," he said, adding, "the club is about educating people how to use their cameras in manual setting," along with working through the challenges that are part of photographing in that mode.
TRUSU Musicians Club
Looking to get more out of his guitar playing and wanting others to play with, Owen Powers started the club last year.
From a musical standpoint, his expectations have been met. His rhythm playing has improved, so has his timing and technique.
Then there's the other skills he had no idea would come his way. He now knows how to start a club, promote it in person and by other means, has developed different teaching styles, is patient and open to trying different music styles, has developed different negotiation styles and appreciates the value of being prepared for the weekly drop-ins that are most Mondays, from 6–9 p.m., in the Alumni Theatre in the Clock Tower building.
"I've learned how to manage a club, about being organized, about being in a leadership position," said the second-year natural resource science student.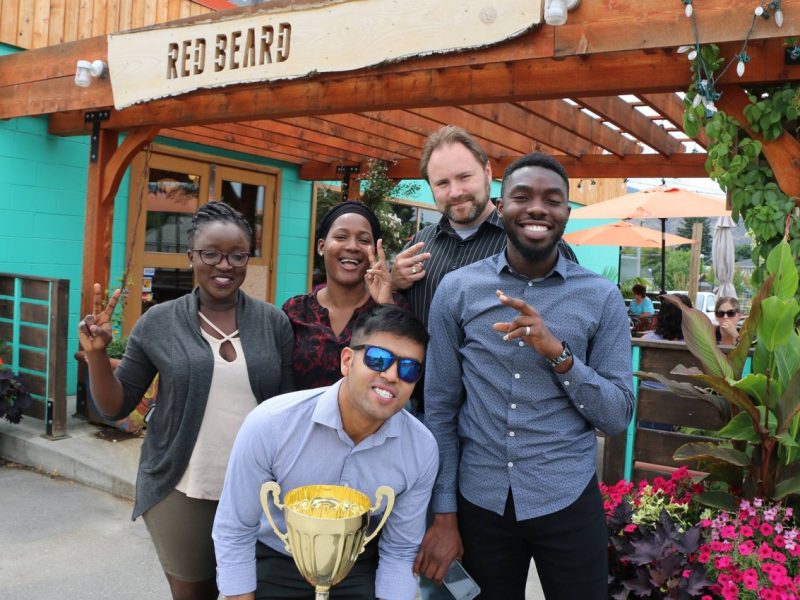 Preparation for the School of Business and Economics (SoBE) hosting the BC MBA Games is in full swing.
SoBE's Master of Business Administration (MBA) students won the games last year in Nanaimo—resulting in the cup coming to Kamloops—and the event being held on TRU turf.
An organizing committee of students is gearing up for the games this fall, which are happening Oct 20 to 22, 2017.
Tomi Owoyemi completed his MBA at TRU this summer and is now coordinator of the BC MBA Games organizing committee.
Owoyemi started out as a volunteer and when a position was created to organize the games, he jumped on it. It's been a great way for Owoyemi to improve his event coordination skills, building on his experience from back home. He planned events for Covenant University, in Nigeria, where he earned is undergrad in economics before attending TRU.
Owoyemi also participated in the National MBA Games in January 2017 in Nanaimo. He was on TRU's marketing team, which took third place overall.
Q & A with Tomi Owoyemi
What can you tell me about the games?
We've chosen a theme "open insight." This is all about expanding your horizons, being receptive to possible solutions and taking steps to act towards them. Problem solving is woven throughout the theme, open insight and social innovation speak to providing solutions to social problems in and around the community in a new way.
Our charity partner is the Canadian Mental Health Association (CMHA), our drive to provide social solutions that are new and creative led us to choose CMHA. We (the organizing committee) are all passionate about different things, I want to help kids, others are passionate about improving working conditions, or interested in mental health issues and initiatives. So we put it all together and found that CMHA was a great fit.
We are really making the BC MBA Games ours as hosts, hosting for the first time means that we can make it memorable and a fun experience for all participants. Adding new events to the components of the games, restructuring the fundraising component. In the past, you just raised money in the traditional sense. This year, you make a plan to throw an event and then you video the event, which adds an element of experiential learning and increases engagement with the charity partner.
Five schools are participating: Vancouver Island University, Simon Fraser University, University of BC, University of Victoria. This means that five groups of highly motivated MBA students are throwing five different high-caliber events across BC for CMHA.
Not only do we raise money, but awareness for the cause is forefront to this new structure. The minimum amount teams must raise is $500, so worst case we raise $2,500 in total, but we're confident it's going be so much greater. Last year's games raised in the tens of thousands and we should see at least that again.
How many volunteers do you have right now and how many more do you need?

We have 35 now, but are looking to recruit another 65 for a total of 100, in order to have enough support for a successful event.
What kinds of roles will are there to be filled?
We need people for event organization—everything from sporting events to our big dinner with all the universities.
We need assistance with logistics, managing the info desks, giving out refreshments, guides and support with set up and tear down.
This is a great opportunity for all students, and especially for SoBE undergrads or grad students who are not participating in the games. We also welcome any faculty or staff who would like to get involved. We have opportunities for them to be judges in cases and the spirit events.
Why volunteer for the BC MBA Games?
This will definitely be a fun experience.
It looks great on your resume and you will get to meet dozens of MBA students from across BC and network with local business owners. If you're an aspiring MBA student, this is a good chance to work alongside many diverse MBA students and gain some unique insight into the program.
Visit the BC MBA Games site for more information on volunteering and to register as a volunteer.
What are some goals you have before the games?
We want to increase awareness around TRU about these games and get support from other faculties. For example, we are receiving some help from the theatre program (but the details are still secret) and TRU World.
We're working with social media ambassadors on campus and we've been working with advancement as well.
Another goal is reaching out to the community to increase their knowledge of the TRU MBA program in general through the games. We just want to have as many deptartments and faculties involved as possible, as well as as many local businesses. Local businesses can still sponsor an event, donate items and judge cases.
We have sourced all of our cases from local businesses and those details are also top secret at this point.
What goals do you have during the games?
We, as the team from TRU, want to bring our "A game." Of course, we want TRU to win again. But if it's a tight competition, it's all about good sportsmanship.
And we hope that all participants fully enjoy themselves. If people have fun while here in Kamloops and on campus and they have something to talk about after leaving—that will be the a success.
What do you hope other MBA students get out of the experience of coming to TRU?
It would be nice to think that after they've visited, they look forward to working in this region eventually.
I want to attract more MBA grads to our centre, whether as employees or entrepreneurs. This is another chance for us to show off our great city and what we have to offer.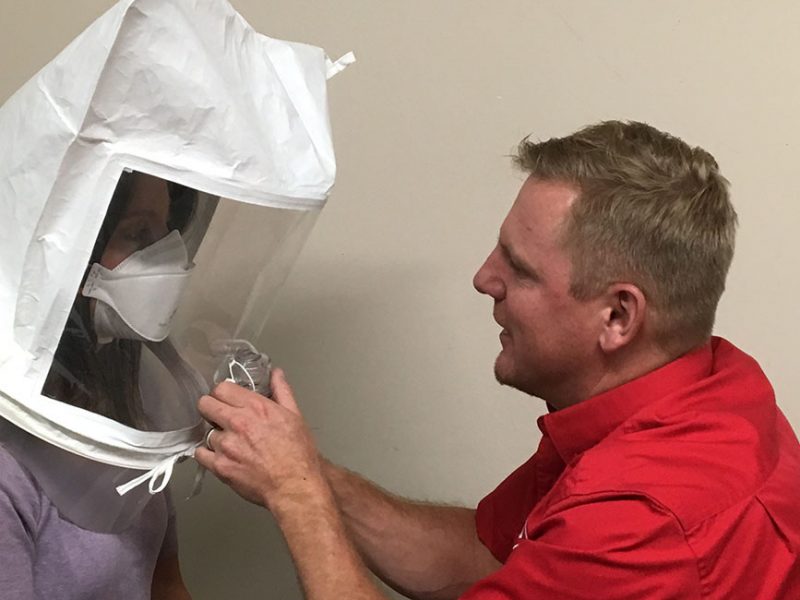 Nutech Fire Protection and Safety Services isn't a name we would normally associate with the School of Nursing (SoN), but thanks to CEO Bob Dieno, a brand new bursary has been established that will provide $,1500 each year to a student in need.
Nutech Safety is a certified mask fit-testing authority for the Kamloops and Kelowna regions and Dieno, who is a certified mask fit-tester, has been involved with the SoN for a few years, performing fit tests to nursing students as needed.
To protect patients, the Interior Health Authority adopted a policy requiring all employees, students, physicians, residents, contractors, vendors and volunteers to get immunized or to wear a mask during influenza season when in a patient-care area. Since students are now required to wear a mask during practicum, they are also required to get fit-tested by a fit-testing authority, so the SoN started referring their students to Dieno.
"I used to do fit-testing on students casually, maybe five or six a year. Now I see about 40-50 students a year. I also come to campus to fit another dozen students from out of town," said Dieno.
"Since TRU is supporting me and my business, I wanted to give back. I decided that I would donate all the money from fit-testing students back to the nursing program and create an annual award to help a student in need," he said. "Lots of the students who walk through my doors are single parents who are trying to change their lives, so I would love for this award to help a single parent."
Since the 2015/16 season, all BC health care workers employed by a health authority and medical staff have been required to report what they do to prevent flu, whether they have chosen to be vaccinated or wear a mask in patient care areas.
"As we all know, going to school is very costly from tuition to texts, and all the other daily expenses incurred," said Debbie Thompson, program assistant in the School of Nursing. "Students in need appreciate any help toward their education. This is very kind and generous of Bob."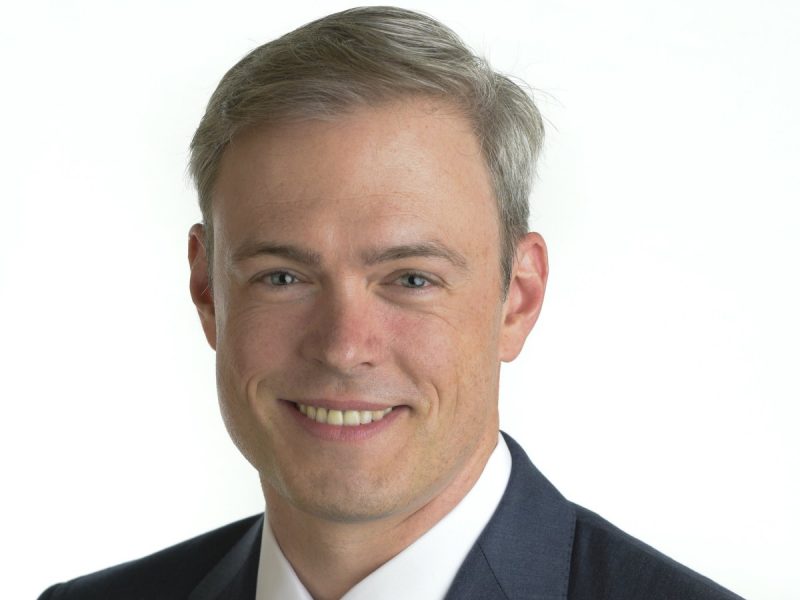 Are people being served by the legal institutions around them? Do they have access to those institutions and services when they need them?
Are they aware that their issue is a legal one, and where they might be able to find help?
These are the big questions that Andrew Pilliar, a new faculty member at TRU Law is researching. Pilliar's work focusses on improving access to justice and he is founder of the Access to Justice Research Network.
"Recent data shows that almost half of all Canadian adults will experience at least one significant legal problem over a three-year period," he explained.
"Extrapolated over a lifetime, that basically means everyone," he added, referring to The Cost of Justice Project, which surveyed 3,000 Canadians seeking to gather information on how they experience legal problems.
He says the survey also revealed that the vast majority of people will try to resolve their problem without seeking legal assistance.
"My research draws on this data to try to better understand why Canadians respond as they do, and to try to create better response pathways in the future," he said.
"Increasing awareness is important, so that people understand when they are facing a legal issue and know what to do about it. Fundamentally, we have to understand how legal services are provided and whether we can dramatically improve access."
Pilliar says he would ultimately like to see a legal system as accessible as, for example, our health care system.
"I think there needs to be a lot more work on figuring out how to make systems work better for people."
Related:
Listen to Andrew Pilliar on the Jim Harrison Show, Sept. 19, 2017, talking about access to justice in relation to the BC Wildfire aftermath:
Need information on pro-bono services? Access Pro Bono has a dedicated wildfire access to justice phone line (1.877.762.6664) and resources available online.

Law students launch pro bono club

Andrew Pilliar TEDx talk: Why you should care about access to justice, Nov. 25, 2013
More Campus Life - Kamloops articles
The views expressed are strictly those of the author and not necessarily those of Castanet. Castanet presents its columns "as is" and does not warrant the contents.
Previous Stories