Campus Life - Kamloops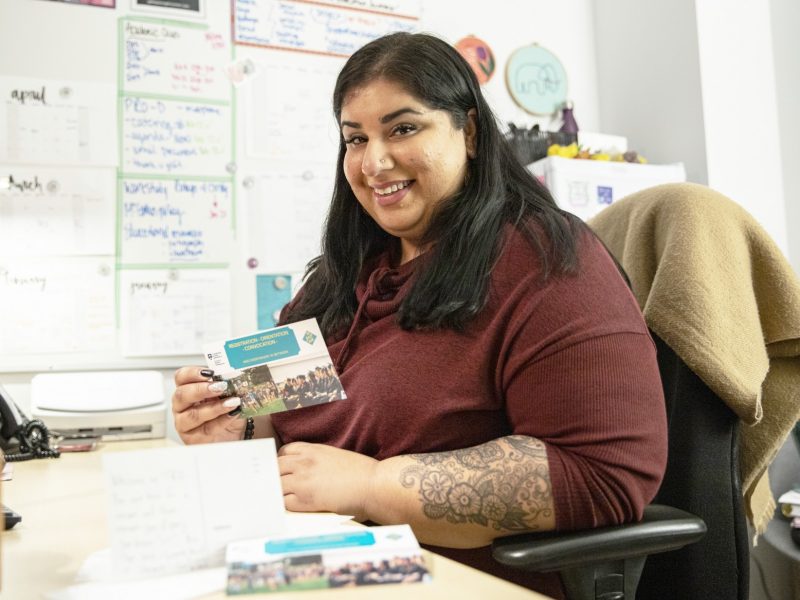 Stephanie Tate wanted to give new students a boost of motivation as they navigate their first year. She found fresh graduates to share their wisdom and insight.
The goal was to make new students feel connected at a time when the pressures of university begin to take a toll. The project to build this feeling of student connection went so well, the student driving TRU's Words of Wisdom initiative is going to Ottawa to share her success with federal politicians and university officials.
Stephanie Tate, who is taking her Master of Education degree while working as an academic integrity learning strategist, had worked with new students while on co-op with the Faculty of Student Development. She wanted to do something that was simple for them that would let them know they weren't alone.
Words of Wisdom was born. The project asks students on the cusp of graduation to write short postcards about their journey at TRU. Those postcards are then distributed to new students just as they are writing their first mid-term exams.
Last year, Tate headed out to spring and fall convocation ceremonies armed with a dozen pens, six clipboards and hundreds of postcards in hand. She approached graduates who were gowned up and waiting for their ceremony to begin. Write something simple, something inspiring, something that will help a first-year student get through a tough moment or give some thoughts about your own journey at TRU, she asked.
"Some of the students were so mindful," she said of the respondents. "What did you want to hear after that first mid-term?"
More than 350 grads shared words of encouragement, hashtags of motivation and ideas to help when studying gets hard. Mostly, they gave a brief reminder that the challenging times will pass with words that would wrap new students in comfort and a sense of community.
"You may feel like you're drowning, but it'll be OK."
"It's OK to cry on your couch."
"Welcome to TRU. You are here for a reason and that reason only you know 'it.' All the best – work hard + smart."
The postcards were sorted according to the writer's faculty and circumstances, so that a female plumbing student wrote for another woman starting out in trades and a male nursing student offered advice to a man beginning the program.
Months later, after graduates had moved on and new students arrived on campus and settled into their classes, the postcards went out. Just as those first-year students were digging into mid-term exams, they opened their mailboxes to be told to hang in there.
Tate said she had tremendous support from staff and colleagues as she developed Words of Wisdom. Next week, she'll be thinking about them (and giving them credit) while presenting her project at the Colleges and Institutes Canada (CICan) annual conference in Ottawa. She joins university and college students from across Canada for CICan on the Hill and Student Showcase at the National Art Centre, where she'll present a poster about her project's impact to post-secondary presidents and federal parliamentarians.
To be part of the showcase, Tate was nominated by a faculty member. Projects highlighted at this year's reception demonstrate social innovation, entrepreneurship, sustainability, reconciliation and inclusion. Showcasing student-led projects demonstrates the important work being done on the ground across the country and reinforces the difference the students and their institutions make in their community.
Tate said she might pick up a few new ideas to bring back.
"I'm excited to see what other universities have done," she said.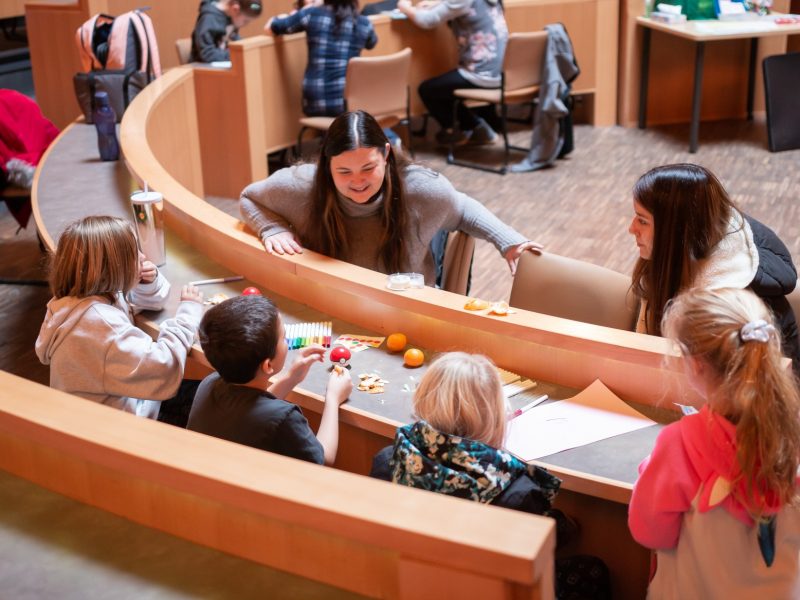 Excited, giggling kids marching about, adults scurrying after them, joyful exclamations, and abandoned, half-eaten mandarin oranges filled the ordinarily peaceful, serene space of the round room in the House of Learning.
Forty-one grades 2 and 3 children from School District #73 were positively buzzing and 26 TRU students (and their instructor) were tasked with keeping them entertained and, well, on task. Their mission: teach the youngsters about children's rights, set out by the United Nations Convention on the Rights of the Child. In other words, they were introducing the group to basic human rights that children worldwide should have.
This Jan. 22, 2020 session was the second meeting of TRU's Faculty of Education and Social work's event with SD73, bringing local school children to campus. K-16: Mind the Gap is an initiative that connects TRU faculty and students with school-aged students to extend everyone's learning while reinforcing community.
Pairs of TRU students enrolled in Introduction to Professional Foundations of Child and Youth Care (CYCA 2000) worked together to prepare, build and deliver learning opportunities in order to; first, get to know the children, and second, to teach them one right of children worldwide. Then, the team was to create an artistic representation of the right assigned to them.
"Even though they only had two visits, it appeared to be a very meaningful time. Some children were really emotional about having to leave and said, 'see you in nine years!'", said social work and human service faculty member and project developer Tanya Pawliuk. "We talk a lot about the importance of relationship building, and Mind the Gap is meant to bring community and campus together."
Meghan Selski is a year into a human service diploma and would one day like to become a social worker in a hospital setting. She and fellow first-year Teira Joseph teamed up for this challenge, and both came away learning as much from the children as they taught.
Selski discovered the importance of flexibility and going with the flow when dealing with little humans.
"Teira and I spent hours creating a lesson plan and we ended up having to scrap most of it because the kids were not into it. I think the kids enjoyed that we were able to adapt and create a new lesson plan on the fly that catered more to how they wanted to learn," she said.
Explaining the concept of universal human rights, and teaching one is no small task.
Some rights are straightforward:
Article 6: You have the right to an identity–an official record of who you are. No one should take this away from you.

Article 24: You have the right to the best health care possible, safe water to drink, nutritious food, a clean and safe environment, and information to help you stay well.
Others, more complex:
Article 14: You have the right to choose your own religion and beliefs. Your parents should help you decide what is right and wrong, and what is best for you.

Article 29: Your education should help you use and develop your talents and abilities. It should also help you learn to live peacefully, protect the environment and respect other people.
The teams reinforced the learning with artful representations created using colourful paper, felt markers and other vibrant supplies.
Growing up with foster children sparked Joseph's interest in social work early on, and she felt that a diploma in human service was a great first step on her path to a bachelor of social work.
"When we learned about the Mind the Gap project, I was a bit hesitant. But once we met with the kids it was a really great learning experience. Kids are so interesting (in a good way!) so working with them was a lot of fun," Joseph said.
"The most challenging part was keeping all of them on track and engaged in the same activity, while being very flexible. Each kid is different and what works for one kid won't work for another."
TRU students took away as much as they helped impart on the schoolchildren, and the littles left with a greater understanding of their own rights, and what was clearly a very fun experience on campus.
The bus pulled away. The orange peels were tossed in the compost, the juice boxes recycled and the round room was quiet once again. But, the partnership with K-16: Mind the Gap will continue bridging campus and community, and hopefully, it will always bring as much laughter and learning as this session did.
Learn more about education and social work at TRU
More information on K-16: Mind the Gap
More information on the United Nations Convention on the Rights of the Child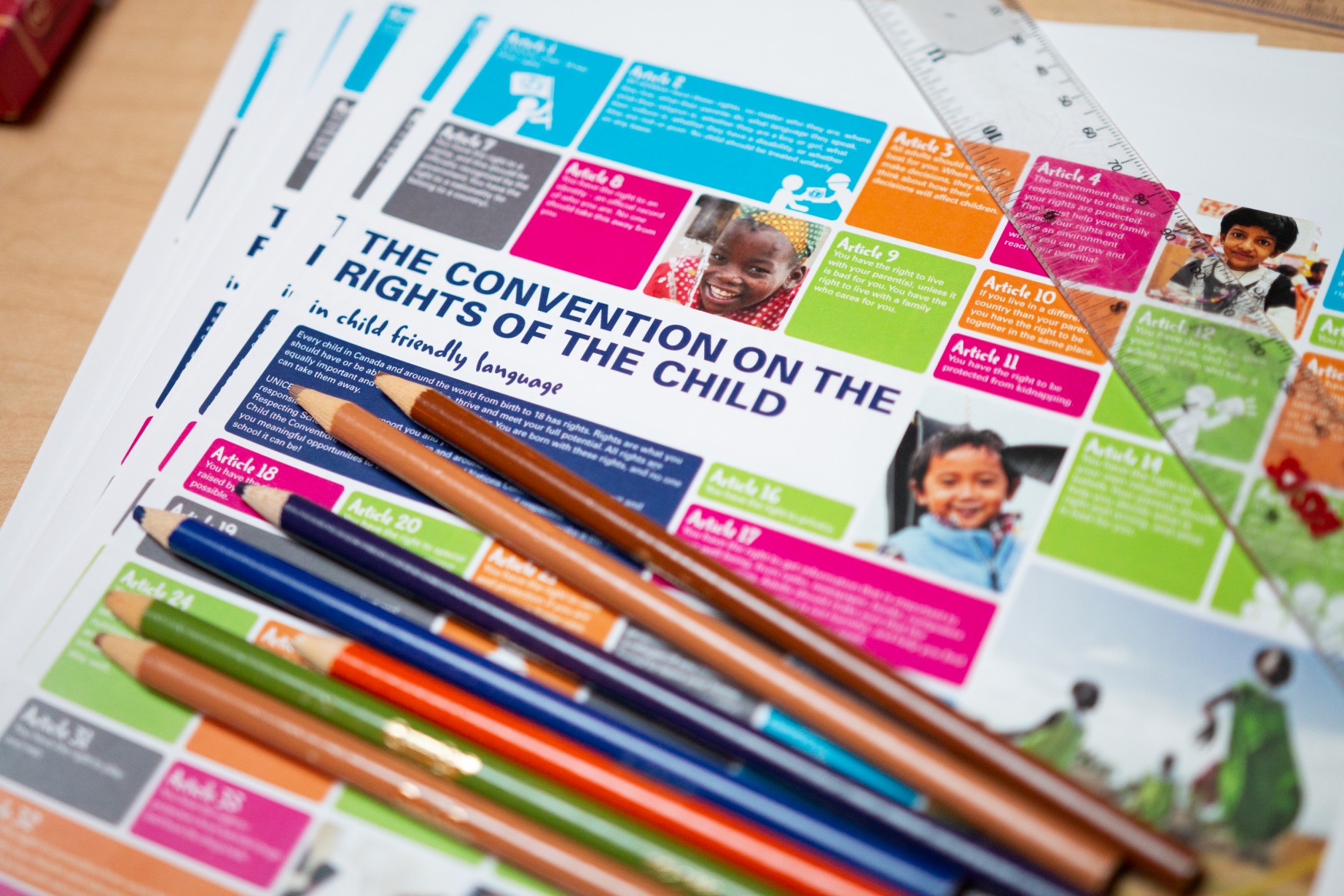 For two years, Sebastian Carrasco had prepared for this moment. Yet as he waited at the base of Mt. Kilimanjaro, questions continued to swirl in his mind. How long would it take? Would he even get there? Had he trained enough?
He could only answer the last question with any certainty.
Yes, he had. Six days a week for two years.
"It had been my dream to climb a mountain again. Before my accident I loved the outdoors: rock climbing, mountaineering, cycling and just being out in nature," said Carrasco, who completed TRU's Adventure Guide program in 2006 and enjoyed a 10-year guiding career after that. Then an accident during a high rope course in 2015 changed his life forever. He lost the ability to walk.
At 5,895 metres (19,340 feet) above sea level, Mt. Kilimanjaro is the highest point on the African continent.
"The idea of climbing Kilimanjaro came from Gisela Toledo," Carrasco said of his physical therapist friend who joined the mission as his massage therapist and as the project manager for what became knowns as One More Summit. "Even though it sounded crazy when she suggested it, I thought the climb was doable because the mountain's topography is easy enough to do on a handbike."
Handbikes are bicycles pedalled by arm power, and Carrasco brought two rugged ones for the journey. One had three wheels—one in the front and two in the back. The four wheeler had two at both ends. Then there was his support team of nearly 40 people and their various roles. In addition to Toledo as his massage therapist, he had a bike mechanic, nutritionist, climb leader/mountain guide Carla Perez, someone in charge of safety and logistics, a camera crew, guides and their assistants, cooks and porters. When the path was too rocky, steep or slippery to navigate entirely on his own, Carrasco was pushed, or pulled using a fixed rope and a winch.
"The hardest challenges are in our head, but when we have good teamwork, we can accomplish everything," said Carrasco.
It takes people with two working legs five to nine days to reach the top. Carrasco and crew got it done in eight. It was a magical moment for the entire team that day in September 2019.
What's up next?
With Kilimanjaro successfully summited, Carrasco is more determined than ever to show the world that disability doesn't mean inability.
Carrasco wants to climb Mt. Vinson in Antarctica (4,892m), mounts Cayambe (5,790m) and Cotopaxi (5,897m) in his homeland of Ecuador, the Nose of el Capitan in Yosemite National Park in California, traverse the Uyuni Salt Flats in Bolivia and race Manta Iron Man and the New York Gran Fondo.
He's also busy building his foundation, which is undergoing a name change, and which raises awareness and money so people with disabilities can participate in adventure adaptive-sports like handcycling, kayaking and diving.
"I think it's important to do what we love. We need to dream big, despite the limitations we may have," said Carrasco. "The most difficult battles are the ones we have in our head. I learned from Kilimanjaro that when the leader of a group manages to inspire and motivate his team, he can make the group's goal become a dream for everyone."
To keep up with Carrasco, his adventures and humanitarian projects, follow him on Instagram at @zuko_carrasco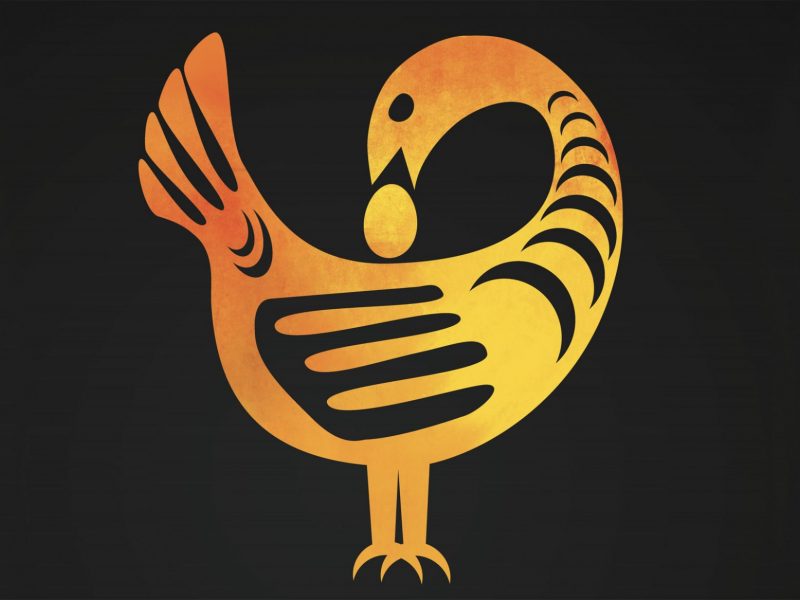 Each February, Black History Month highlights the integral role that black Canadians have played throughout the history of our nation, and presents an opportunity to honour and celebrate their accomplishments and contributions.
This year's theme, Canadians of African Descent: Going forward, guided by the past, is represented by the Sankofa Bird—with feet forward and head turned back, it reflects on the past to build a successful future.
Here are a few ways to celebrate Black History Month in Kamloops:
Attend an Event
Just Mercy Film Screening
Friday, February 21 at Paramount Theatre (downtown Kamloops)

Join the Kamloops Caribbean Cultural Society, the African-Canadian Heritage Association of Kamloops and the Kamloops Film Society for a special showing of this true story. There will also be a fundraising bake sale of African and Caribbean snacks in the lobby. Event details

Black History Month TRU Celebration
Friday, February 28 at TRU Campus Activity Centre

The TRUSU Caribbean Student Club presents an afternoon of music, food, games, free hair braiding and a photo exhibition. Everyone welcome. Event details

Black History Month Community Celebration
Saturday, February 29 at the Plaza Hotel (downtown Kamloops)

The Kamloops Caribbean Cultural Society and the African-Canadian Heritage Association of Kamloops have teamed up to present a pan-African dinner celebration featuring live performances from local talents—including TRU students and alumni—to celebrate the rich history of African and Caribbean countries. Event details
---
Discover a new author
TRU Library Client Service Associate Meg Polier has prepared the following list of recommended reading. For more suggestions, follow @TRULibrary on Instagram.
André Alexis (African-Canadian author)—Most known for his series of five novels set in Southern Ontario and his book, Fifteen Dogs, which won the Giller Prize. Find at TRU Library

Austin Clarke (African-Canadian author)—Most memorable books include The Polished Hoe, winner of the Giller Prize, and Membering. Find at TRU Library

Esi Edugyan (African-Canadian author)—Edugyan won the Giller Prize for her books, Half-Blood Blues and Washington Black. Find at TRU Library

Cecil Foster (Caribbean-Canadian author)—Well known for his exploration of race through immigration. Find at TRU Library

Lawrence Hill (African-Canadian author)—Best known for his award-winning The Book of Negroes (Commonwealth Writer's Prize, The Rogers Writer's Trust Fiction Price, etc.) Find at TRU Library

Nalo Hopkinson (Jamaican-Canadian author)—Writer of speculative fiction that often draws upon the history and language of the Caribbean. Find at TRU Library

Dany Laferrière (Haitian-Canadian French author)—His first novel, How to Make Love to a Negro Without Getting Tired, has been translated into English. Find at TRU Library

Suzette Mayr (Canadian author)—Writer of five critically-acclaimed novels including Edith Vane and the Hares of Crawley Hall and Monoceros. Find at TRU Library

Dionne Brand (African-Canadian author and poet)—Winner of many awards, including the Governor General's Award for Poetry, the Trillium Prize for Literature and the Toronto Book Award. Find at TRU Library

Mairuth Sarsfield (Canadian author)—Her book, No Crystal Stair, won the National Congress of Black Women Foundation's First Literary Award. Find at TRU Library

Makeda Silvera (Caribbean-Canadian author)—Co-founder and managing editor of Sister Vision Press. Find at TRU Library

Claire Harris (Trinidadian-Canadian poet)—Her collection of poems, Drawing Down a Daughter, won the Governor General's Award. Find at TRU Library

Afua Cooper (Jamaican-Canadian author)—Writer of The Hanging of Angelique: The Untold Story of Canadian Slavery and the Burning of Old Montreal. Find at TRU Library

Whitney French (Canadian author)—Her latest work, Black Writers Matter, is a collection of African-Canadian writing with established and new authors. Find at TRU Library

Sarah Raughley (Canadian)—Her young adult fantasy book series, starting with Fate of Flames, features women tasked with protecting the world using the power of the four elements. Find at TRU Library
---
Watch a film
For movies with a Canadian perspective, check out The Black Experience in Canada: A Rich History. This 24-film playlist curated by the National Film Board (NFB) of Canada features films from all over Canada that explore diverse topics, and range from shorts to feature-length documentaries. NFB playlist

If you're not sure where to start your cinematic journey into Black History Month, check out the February 21 screening of Just Mercy—hosted by the Kamloops Caribbean Cultural Society, the African-Canadian Heritage Association of Kamloops and the Kamloops Film Society. Event details
---
Join a local club
TRUSU Black Law Students Association: Aims to explore pressing legal issues facing the Black community and to promote diversity in the educational and professional sphere. Details

TRUSU Caribbean Students Club: Facilitates the transitions of new students from the Caribbean, while providing a social outlet for members through academic excellence and cultural exchange. Details

Kamloops Caribbean Cultural Society: A non-profit organization composed of TRU students and community members alike. Details

African-Canadian Heritage Association of Kamloops: A place to socialize and give back, to benefit individual members and their children, and to be impactful in the community through donations, volunteer services and other means. Details
---
More information
For more information, resources are available from the Government of Canada's Black History Month resources or, for a British Columbian perspective, the BC Black History Awareness Society.
Did we miss something? Let us know! Get in touch with your suggestion at [email protected]
More Campus Life - Kamloops articles
The views expressed are strictly those of the author and not necessarily those of Castanet. Castanet presents its columns "as is" and does not warrant the contents.
Previous Stories