BC
Photo: Photo Mike Howell.
Melody Watts, with her son Seth at her side, spoke at a news conference Tuesday about living in a makeshift shelter on an East Hastings Street sidewalk.
It's now been more than three weeks since Vancouver Fire Chief Karen Fry issued an order for the sidewalks along a stretch of East Hastings Street to be cleared of tents and makeshift shelters.
A walk through the area Tuesday found there has been little progress in dismantling the encampment that is predominantly concentrated between Main and Columbia Streets, where dozens of people continue to reside.
The unhoused, like 43-year-old Melody Watts, who lives in a tarp-heavy structure with her son outside the vacant Regent Hotel, had the same question Tuesday as she did when the fire chief's order was issued July 25: Where are we supposed to go?
"Housing, more care for people down here — that's what we need," said Watts, whose last residence was a suite at a downtown Holiday Inn, where she and many others from the now defunct Strathcona Park encampment were offered rooms.
Watts said she was kicked out of the hotel last summer after allowing a homeless brother and sister to live with her in the suite. She said she had a broken hip, a broken pelvic bone and a broken wrist at the time, requiring a wheelchair to get around.
"Now I'm here," said Watts, who was one of several speakers at a news conference Tuesday called by Pivot Legal Society to condemn the fire chief's order. The non-profit organization has alleged the order has led to "violent, forced evictions" of people living on the street.
'We just want to be a family'
At the lectern, Watts told reporters she could stay in a shelter, but that would leave her son, Seth, who is 20 years old, to live by himself on the streets. She said they can't find a place to accommodate both of them.
"We just want to be a family and have our own place together," she said.
"Everyone deserves that. They took our tent away multiple times. We got tired of them taking our tent away. A couple of times, we walked away from it because we couldn't pack up every day. Another time I was being pulled away in my tent while I was still sleeping. That was wrong; that was crazy. I was pretty shocked."
BC Housing and Mayor Kennedy Stewart have both said at a recent news conference and via emailed statements that there is not enough housing available for people living on the sidewalks.
Some have found homes, though.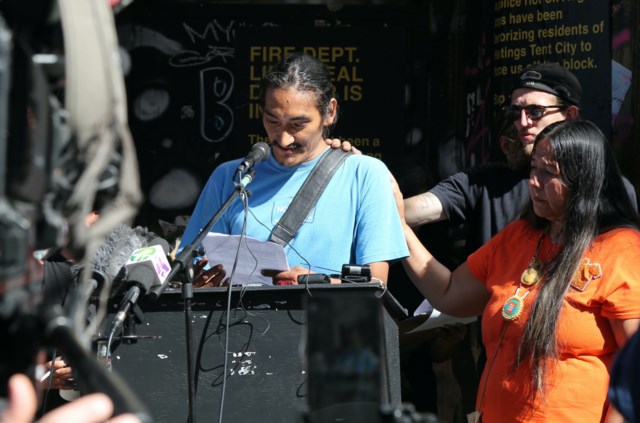 'We weren't trying to instigate anything'
A man at the news conference who identified himself as Aero told Vancouver Is Awesome that he lived in an alley but recently learned he will soon move into a building operated by housing provider, Atira.
The 32-year-old member of the Vancouver Area Network of Drug Users (VANDU) said having a place to live will allow him to be "more part of the community — because I love this community, and I want to fight for it."
Aero's turn at the lectern focused on the Aug. 9 melee outside the Carnegie Centre, which ignited after police arrested a man they said was acting erratically and throwing computers at the centre.
At the time, several police officers were in the Main and Hastings area as city crews, firefighters and social service workers were present to observe and assist with the delivery of totes to encampment residents as part of an effort to clear the sidewalks.
Aero said he was charged with assaulting a police officer after he went to the aid of a friend trying to help a walker-dependent man who was on the ground and surrounded by police officers.
"We weren't trying to instigate anything," he said. "It was just they pushed down one of our [VANDU] members, and my colleague saw that happen, and he was trying to help him to get up. And then he got intercepted by cops and got beaten down. And then I saw that happen, so I tried to go and help him, and then I got thrown down, and I started getting beaten up."
He said the charge was related to him allegedly biting an officer. Aero smiled to show he had no front teeth.
"With what teeth? I have no teeth," he said.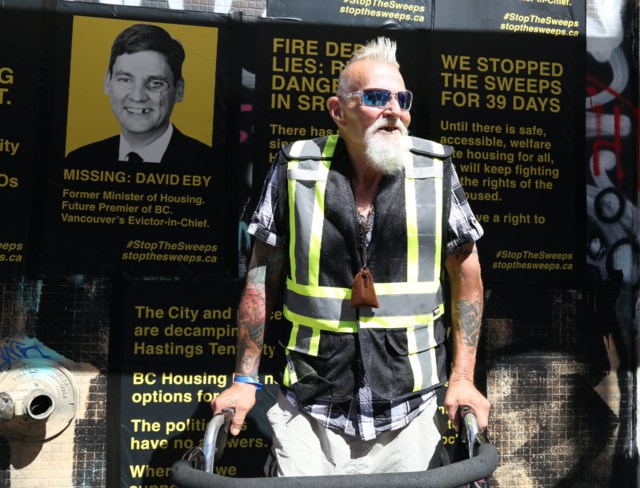 The walker-dependent man on the ground was 63-year-old Randy Crossan, who was with his small dog, River, at Main and Hastings when the melee broke out.
"A cop threw my walker with my dog tied to it and then shoved me so hard I flew about 20 feet," he said, adding that he has since contacted a lawyer and plans to sue the City of Vancouver and the Vancouver Police Department. "Somebody's going to pay, and they're going to pay me. I wasn't doing anything."
CBC photojournalist Ben Nelms captured a striking image of Crossan on the ground that was featured widely via social media.
Crossan said he was once homeless and lived in the most recent Oppenheimer Park encampment, which was dismantled two years ago. From there, he was offered a place to live in a temporary modular housing building in the city.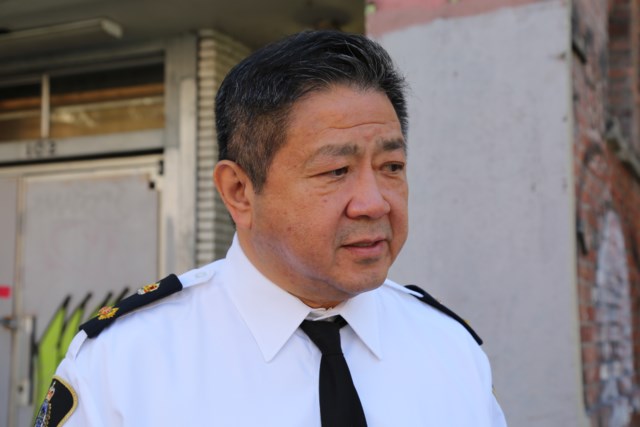 'Just doing their jobs'
In a statement last week, the Vancouver Police Department said that officers involved in the melee were "just doing their jobs — fulfilling their duty to protect the public and apprehend a violent offender."
Officers were surrounded by people who threw objects at them, bit them, punched them in the face and tried to prevent them from making an arrest, according to a statement from Sgt. Steve Addison, a media relations officer.
Const. Tania Visintin, also a media relations officer, reiterated in an email Tuesday the department's role regarding the encampment last week, saying it "was to maintain public safety and our officers had no role in removing tents, structures, debris or belongings."
Deputy Police Chief Howard Chow told reporters after Tuesday's news conference that officers stopped escorting city clean-up crews July 1. Since then, the encampment and garbage have grown along East Hastings.
"It's become untenable now with some of the concerns that are going on," he said from a sidewalk in Chinatown.
"Of course, we should try to find more suitable housing for those that are in need down there and look after our vulnerable. But there are also the other complexities of those who live in those buildings —that is their community, and they want more support, more help, more policing to make it safer for everybody down there."
Photo: From Facebook.
A Facebook posting from February showing Lambda Cabaret open for business in defiance of an order to close from Northern Health.
A Prince George nightclub has been issued a week-long suspension for defying provincial health orders to close back in February.
In a decision issued August 3, a B.C. Liquor and Cannabis Regulation Branch delegate said the licence held by Learn to Earn Bartending School and Consulting Ltd. for Lambda Cabaret, now known as Club 1177, will be suspended for seven days starting from the close of business on Wed., Aug. 31.
"Signs satisfactory to the (LCRB) general manager notifying the public that the licence is suspended will be placed in a prominent location in the establishment by a branch inspector or a police officer, and must remain in place during the period of suspension," the delegate said in the decision.
Beginning in early February and at about the same the Freedom Convoy converged on Ottawa and a large rally in its support was held at Exhibition Park in Prince George, Lambda opened for business in defiance of a provincial health order.
A closure order issued on Feb. 9 by Northern Health was rescinded eight days later when liquor primary premises were allowed to reopen but another one was issued two days later after Northern Health inspectors observed security guards admitting patrons without requesting proof of vaccination.
Coinciding with the Northern Health orders, the LCRB suspended the nightspot's liquor licence.
"The branch subsequently learned that the licensee had continued to operate and serve liquor during the period of licence suspension," the delegate said in the decision and went on to say the allegation was confirmed by postings on social media by Lambda's principal owner, Linda Allen.
A pre-hearing conference on the matter had originally been set for April 28 but was postponed at request of the licensee. Several attempts to reschedule were met with no response, according to the delegate, and when one was unilaterally scheduled to proceed on May 26, neither Allen nor her counsel showed up.
As such, on May 27, they were both advised the matter would proceed by way of written submissions, were provided with the branch's documents and given 14 days to provide a response. No response was received, the delegate said.
Allen also delayed responding to requests to forward sales receipts for the days in question. Once provided, the documents confirmed the nightspot was operating on those dates, the delegate said.
Given no record of a contravention by the licensee within the preceding two years of the incident, the penalties ranged from a seven to 11-day suspension and or a fine of $7,000 to $11,000.
Noting the defendant did not indicate a preference between a suspension or a fine, the delegate settled on the suspension, noting that the licensee continued to operate in February despite the suspension.
"Failure to comply promptly with a demand made by the branch is a serious matter as it may involve issues of public safety. In the circumstances, I find that a license suspension is more appropriate than a monetary penalty," the delegate reasoned.
Located at 1177 Third Avenue, it's now known as Club 1177 although consistently referred to as Lambda Cabaret throughout the decision. Allen turned the nightspot to new management in mid-July according to a posting on the Club 1177 Facebook page.
Photo: The Canadian Press
A female wolf, left, and male wolf roam the tundra near The Meadowbank Gold Mine located in the Nunavut Territory of Canada on Wednesday, March 25, 2009. THE CANADIAN PRESS/Nathan Denette
The Greater Vancouver Zoo says a "small number" of its wolves are unaccounted for after the animals were believed to have been released as a result of "malicious intent," but there is no danger to the public.
The zoo says on its website that a number of wolves were discovered outside their enclosure in the morning and it's working with the B.C. Conservation Officer Service to "contain" the animals, while the Langley RCMP investigate what appears to be a case of unlawful entry and vandalism.
The zoo is located about 55 kilometres east of Vancouver, in the community of Aldergrove.
The zoo says most of the wolves are back in the care of its animal health and welfare team.
The zoo, which announced that it was closed via its Instagram and Facebook accounts on Tuesday morning, has nine adult grey wolves and six cubs.
The Environment Ministry says anyone who sees a wolf on the loose should keep their distance and report it by calling 1-877-952-7277.
The ministry had said earlier that only one wolf remained at large.
Photo: pixabay
You may have about five days until that favourite bellini is in jeopardy.
That's because B.C. restaurants and private liquor retailers say they are faced with an approximate one- and two-week window, respectively, until their supplies of liquor and import beers run dry should the B.C. General Employees' Union strike at government liquor distribution warehouses persist.
"Eventually, if this continues, everybody will run out of stock. So it's a problem," said Ian Tostenson, president and CEO of the BC Restaurant and Foodservice Association.
"And it's a problem because, the thing I'll say is that we generally carry maybe, at the most, a week of inventory in a restaurant. So, after four or five days, if this isn't resolved we'll start to feel the shortages in our inventory," Tostenson told Glacier Media.
"The only way we (restaurants) can get import beer, wine and spirits is through a government liquor store (BC Liquor)," and not private retail cold beer and wine stores, explained Tostenson.
Similar circumstances are unfolding at those private cold beer and wine retailers.
"It's going to be very challenging," should the strike extend weeks, said Ronnie Paterson, owner of Lulu Island Liquor Store on Alderbridge Way in Richmond.
Paterson says his shop keeps a roughly two-week inventory on hand but he is expecting to run out of some products in the days to come, should the warehouses not re-open.
"It's difficult as a private store when [the] number one competitor is your supplier," said Paterson, adding what's compounded the potential problem was a lack of notice in order to order ahead.
Other retailers Glacier Media spoke to said inventory is between two and four weeks.
Private retail cold beer and wine stores receive all imported beer and wine and all spirit products from BC Liquor Distribution Branch warehouses, now under picket lines.
However, these stores, as well as restaurants, will be able to keep receiving domestic beer and wine directly from suppliers, including the Molson Coors plant in Chilliwack and smaller operations, such as craft beer producers and local vineyards.
"From a beer perspective, we should be OK, but everything else is at risk," said Paterson, who expects consumer choices to change to whatever is available.
Tostenson said he is confident the strike can be resolved before restaurants run out of spirits, the key ingredient of profitable drinks.
Tostenson also called for shoppers to not panic buy.
"I think the best thing to do is to try to make sure that, assuming that there's not going to be any new product in the system, that to just keep regular shopping patterns. Let's not do the Costco toilet paper thing; it's not necessary, this thing is going to get resolved. And if we go into panic buying, then we're going to accelerate the problems," said Tostenson.
Glacier Media has asked the BC Liquor Distribution Branch to provide information on its own stocks at BC Liquor Stores but has yet to receive a reply.
Photo: REW / Malcolm Hasman
Sitting high above the city, Penthouse 2 is one of three at the top of the Shangri-La, Vancouver's tallest building.
Click here to view gallery
High above the streets of Vancouver towers the Shangri-La, the tallest building in Vancouver and one of the tallest buildings in Canada.
On the very top of that are its three penthouses, and right now Penthouse 2 is for sale, giving those who can't afford to live on top of the city a chance to see inside.
The highlight of the home is of course its views, which overlook literally everything in the city. At nearly 200 meters above the city, there's essentially nothing obstructing views looking off into the distance.
Thanks to the positioning of the penthouses, number 2 has views in all sorts of directions, especially out over the Burrard Inlet looking across to North Vancouver. Given its height, it looks like an excellent vantage point for watching the ships move in and out of the Port of Vancouver.
And if the spectacular views aren't enough, the builders dropped an amazing, huge outdoor pool on the unit's private terrace. While it takes up a good chunk of the outdoor patio, there's still room for outdoor dining space and a bar, perfect for entertaining on top of the world.
Inside there's all the luxury that would be expected with a $34.8 million home. Almost all of the rooms have their own gorgeous views of the city, including a bathtub sitting right next to the windows for a relaxing soak while watching the city light below. There's also a bedroom with a view looking out over English Bay from the bed.
Along with the home itself, the new residents will also get their own private three-car garage downstairs with valet service and access to all the Shangri-La Hotel amenities, including a 24-hour concierge.
Photo: Contributed
A fraudulent investment venture devised by three B.C. residents was, in part, unravelled by securities investigators by analyzing metadata of investment documents, according to findings by a B.C. Securities Commission panel.
John Sand, Karol Achs and Jolyon Charles Christopher Gulston were found to have committed fraud against two other B.C. residents, who believed the trio would use their $600,000 to develop a fuel cell battery product, according to an Aug. 8 decision by commissioners Gordon Johnson, Audry Ho and James Kershaw.
Instead, the trio — who purported to operate their nascent battery business in North Vancouver — used more than $360,000 for personal purposes, including cash withdrawals, credit card payments, loan payments to themselves and relatives, cellphone and grocery bills and legal fees with no ties to the proposed venture, according to panel estimates.
In fall of 2014, Gulston approached "Investor K" and "Investor P" about a proposed battery product, according to the ruling, which anonymized the victims.
Achs, of North Vancouver, was the purported scientist for the battery business; Sand, of West Vancouver, was supposedly responsible for sales and Gulston, also of West Vancouver, was an investor who was seeking to attract other investors, the ruling explained.
Investor K is an insurance broker who was once registered to sell mutual funds. Investor K and Investor P had a pre-existing business relationship in joint real estate investments, including a commercial site for Investor P's medical practice, documents show.
A coffee shop meeting took place where Achs unveiled a blue plastic box purported to be the battery, according to the ruling. Seemingly convinced, the investors wrote cheques for $600,000 by April 30, 2015.
When the investors lodged a complaint with the commission a year later investigators found the trio had used falsified documents as part of their plan. One set of documents created by Achs was post-dated, according to metadata. It had purported to be from the Namibian Ministry of Trade and Industry showing interest in the fuel cells but it turned out to be altered in Photoshop, according to the digital time stamp in the metadata. Investigators rooted out other false documents, the ruling stated.
Investigators' analysis of bank documents revealed that some of the investors' funds were initially paid to companies that were connected to the trio.
Gulston was asked about $100,000 paid to a related company.
"Gulston gave contradictory answers regarding whether he personally benefited from those funds, eventually admitting that he did receive some of the money. Gulston was also somewhat contradictory about the justification for the payment, at times suggesting that the funds represented repayment for expenses, at times saying that he was being paid for his time and at times agreeing that the funds could be called a commission for fundraising," stated the ruling.
The investors did get $200,000 returned to them.
The ruling shows the trio attempted to explain the venture was going to operate in Washington State, but never did.
"When asked about activities in Washington State, Achs said that they looked into operating a manufacturing facility in Blaine in order to minimize costs relative to operating in North Vancouver, but they never did sign a lease or open a facility in Blaine. He said they stored some materials, mainly zinc, in a friend's home garage in Blaine," states the ruling.
The commissioners ultimately determined the trio intentionally misled the investors and used the money for their personal benefit.
"The respondents knew that there were no purchase orders and not having any reasonable prospects of revenue (especially for an untried technology) would put the investors' pecuniary interest at risk. The respondents told lies to gain access to funds of the investors. All of the elements of fraud under [Section 57 of the B.C. Securities Act] have been proven."
In addition, Gulston violated the act for securities misrepresentations granted he engaged in investor relations while making false statements of material facts to sell securities to investors.
Next for the trio will be a sanctions hearing where they may have fines and repayment orders imposed on them.
Photo: pixabay
Inflation on the West Coast exceeded the national rate for the second time in 2022, growing by 8 per cent on an annual basis in July after showing signs of cooling a month earlier.
The country as a whole saw inflation ease up, growing at a rate of 7.6 per cent in July compared with 8.1 per cent a month earlier, according to data released Tuesday by Statistics Canada.
The province has been on its own trajectory throughout much of the year, with inflation growing by 8.1 per cent in May, 7.9 per cent in June and 8 per cent last month.
For most of 2022, B.C. inflation trailed national numbers by notable margins:
January: 4.3 per cent (B.C.) vs. 5.1 per cent (Canada)
February: 4.7 per cent vs. 5.7 per cent
March: 6 per cent vs. 6.7 per cent
April: 6.7 per cent vs. 6.8 per cent
It was a trend one TD economist described as a "puzzler" and a "curious case."
Meanwhile, gasoline prices came down for Canadians by 9.2 per cent between June and July — the largest decline since April 2020 at the outset of the pandemic.
But those decreases were offset by increases in airline tickets (+25.5 per cent), hotels (+10.1 per cent) and natural gas (+12.4 per cent).
"Inflation may be past the peak, but it's still pretty painful," BMO chief economist Douglas Porter said in a note.
"The early read on August is favourable with gasoline headed for roughly a 7 per cent drop again this month, but there are plenty of other items that could frustrate a faster fall in overall inflation (we're looking at you, natural gas)."
Porter is forecasting the Bank of Canada will hike its key rate by 50 basis points next month based on Tuesday's inflation numbers, while economists at TD and CIBC both predict the central bank is gearing up for a rate-hike of 75 basis points.
Photo: The Canadian Press
The deaths keep piling up.
The BC Coroners Service reports that 1,095 people died due to toxic, illicit drugs in the first six months of 2022.
That includes 146 lives lost in June, a 17 per cent increase over June of 2021, but a 26 per cent drop from May of this year.
Year-to-date in Interior Health there have been 178 illicit drug toxicity deaths as of June 30, which works out to 43 people per 100,000 population. Forty-seven of those people died in Kamloops, 43 in Kelowna and 23 in Vernon.
The BC Coroners Service says that by Local Health Area (LHA), so far in 2022, the highest rates per 100,000 residents were in Lillooet, Mission, Terrace, Cariboo/Chilcotin, and Powell River.
The vast majority of the deaths, 84 per cent, happened inside private homes or other housing. Just 15 per cent occurred outside on sidewalks, on streets, in parks or in vehicles.
One noteworthy trend is that the percentage of victims over 50 years of age continues to grow, now representing 37 per cent of deaths.
Minister of Health and Mental Addictions Sheila Malcomson issued a statement in response to the report.
"Over the past six months, we've deepened investments in all parts of the province. We're expanding treatment and recovery options with more substance use beds in the Okanagan, Nanaimo, Maple Ridge, and Prince George, and addiction medicine services in Vernon, Kamloops and Abbotsford. We're also leading the country on decriminalization and prescribed safer supply.
"Since January, we have opened complex care housing at three locations for those with overlapping complex mental-health and substance-use challenges and who are at risk of homelessness, and we have announced future locations in communities throughout B.C. We have also opened new Foundry centres to support young people with mental-health and substance-use challenges in Comox and Langley, and have announced future locations in three more B.C. communities," she notes.
"We continue to confront this emergency from every angle, making the large, systemic changes necessary to turn the tide on this crisis. Although progress on building a system of care is being made, we know there is more to do. We won't stop working until all British Columbians can access the services they need and deserve," adds Malcolmson.
Lisa Lapointe, BC's chief coroner, will have more to say about the report at a news conference this morning.
Photo: The Canadian Press
Response vessels with a vacuum trucks on board are shown off San Juan Island, Washington.
Crews are working to drain fuel from a sunken fish boat in U.S. waters just east of Vancouver Island before it fouls a key feeding ground for endangered southern resident killer whales.
An update from the U.S. Coast Guard says the 15-metre Aleutian Isle has shifted since it went down Saturday off Washington state, near San Juan Island, roughly 25 kilometres east of Victoria.
The vessel, loaded with about 10,000 litres of diesel and oil, was originally resting in about 30 metres of water, but U.S. officials say it is now some 60 metres below the surface.
The coast guard says the added depth presents more logistical challenges that the on-scene dive team is working to resolve.
Divers are also trying to gather and remove a large fishing net that has floated free of the wreck and the Coast Guard update says officials are watching the area closely even though no marine mammals have been reported nearby.
The stretch of Haro Strait where the Aleutian Isle sank is a protected area considered critical habitat for the 74 remaining southern resident killer whales and, although the pods were last spotted just 50 kilometres away, the whales were believed to be moving west, away from the sunken vessel.
An oil sheen estimated to be several kilometres long now covers waters west of San Juan Island and U.S. officials say it has moved into Canadian waters east of Victoria.
About 640 metres of boom had been laid by Monday night, the Coast Guard said in its latest release, and drones were being used to monitor the sheen and watch for any marine mammals.
Photo: .
A search warrant led to the seizure of firearms and other items. Via Victoria police.
Victoria police seized firearms, brass knuckles, a Taser and a sword after executing a search warrant last month.
Officers also arrested a man and a woman in the July 16 operation, which happened at a supportive-housing facility in the 800-block of Johnson Street.
Firearms found included a shotgun with ammunition and two handguns with ammunition, along with several replica firearms. Body armour and batons were also seized.
The man and woman face a number of recommended firearm charges.
The information was made public after a month had gone by because of "investigative reasons," police said.
Police would like to hear from anyone with information about the case; phone 250-995-7654, extension 1. Information can also be given anonymously at Greater Victoria Crime Stoppers at 1-800-222-8477.
The B.C. Liberal Caucus is, for the second time, calling for a 30-day action plan to "help tackle the primary care crisis" in British Columbia.
Kevin Falcon, the leader of the BC Liberals, is urging Health Minister Adrian Dix to make swift changes amidst news reports of emergency rooms being closed and people dying while waiting in care due to staffing shortages.

In Ashcroft, two people have died in less than a month while waiting for care. In July, a woman died waiting for a bed on a stretcher at Lions Gate Hospital in North Vancouver.
"I would describe [the current system] the same way the premier of the province has described it, which was crumbling. It may even be worse than that," says Falcon, who first released an action plan on July 12 before re-releasing it with additional solutions this month.

"I hear from family physicians in every part of this province, and believe me, we have a major problem, and we need leadership and a plan to deal with this challenge."

The action plan includes incentives to keep doctors from leaving the province or country by introducing a simplified billing code to reduce their paperwork and increasing payments to keep up with inflation.
Falcon is also calling for an increase in the number of training spaces for doctors from the current 288 to 400 and to make it smoother for international doctors to start working.
"A lot of those international medical graduates are actually Canadians that study abroad because they couldn't get into UBC or they chose to study in Australia or Ireland or the United States, and they want to come back and practice in British Columbia," says Falcon.
In response to Glacier Media, a spokesperson for the B.C. government said the pandemic has exacerbated B.C.'s health care challenges.
"Our primary care system will not change overnight," the spokesperson said in an emailed statement. "There is still more work to do; we will continue making the right investments to ensure all British Columbians have access to primary care delivered by our public health-care system."
The B.C. government outlined several initiatives it's launched since taking office related to health-care, including:
Adding 38,000 health-care professionals to the system since 2018
Opening 27 urgent and primary care centres (UPCC). There are another 23 UPCCs planned to be opened by April 2025.
Adding 602 nursing seats to post-secondary institutions in the province
Committing $2.3 million to support the Practice Ready Assessment BC program for international medical graduates
The BC Nurses' Union vice-president Adriane Gear says the current state of B.C.'s health-care system is "in a crisis."
"My worry is that it's actually going to get worse. And I can't imagine what that would look like," says Gear. "We're speaking to our members each and every day, and many of them are on the brink of leaving."
Nurses are currently working copious amounts of overtime and facing constant redeployments to keep the system afloat, says Gear.
The stress is even more undue when combined with reported increases in aggression and violence they're facing in the workplace from patients.
Gear wants bold action focusing on recruiting nurses and retention tactics to keep the ones currently working to "stop the bleeding."
"Nurses, frankly, feel gaslighted sometimes that it's not being fully acknowledged just how dire the situation is," says Gear. "And that in itself is so distressing."
Dr. Atul Kapur, a Canadian Association of Emergency Physicians spokesman, agrees that one of the most significant gaps in the health-care system is the lack of nurses.
"We've been sounding the alarm about shortages of physicians and nurses for quite some time," Kapur said, adding the temporary closure of emergency rooms is particularly troubling in rural areas because of the distance to the next hospital.
Kapur hopes Canada's premiers will push to prioritize the recruitment and retention of health-care professionals — and not just in the short term.
The premiers are meeting in Victoria early this week, where one of the items they'll be addressing is a call on the federal government to increase its share of health-care spending from 22 to 35 percent.
Photo: The Canadian Press
Tents line the sidewalk on East Hastings Street as the city works to clear tents from a sprawling homeless encampment in the Downtown Eastside of Vancouver, on Tuesday, August 9, 2022. People living in a growing street encampment along a busy street in Vancouver's Downtown Eastside have been handed notices advising that the tents and other structures are about to be removed. The city's fire chief issued an order last month requiring the tents be cleared because of an extreme fire safety hazard. THE CANADIAN PRESS/Darryl Dyck
Police are urging people living in a tent encampment in Vancouver's Downtown Eastside to be vigilant after someone distributed threatening flyers in the area over the weekend.
A statement from Vancouver police says they've launched an investigation to identify who is responsible for the flyers that threatened to burn down tents with gasoline and propane if residents don't leave the encampment along Hastings Street within a week.
Police say the flyers also included threats against a supervised drug-injection site.
Sgt. Steve Addison says in the statement police are asking people to report suspicious activity, and anyone with information about the flyers is asked to call them.
Fire Chief Karen Fry ordered tents set up along Hastings Street sidewalks removed last month, saying there was an extreme fire and safety risk.
Police blocked traffic last Tuesday as city staff began what's expected to be a weeks-long process of dismantling the encampment, but little had changed by the end of the week with most residents staying put, saying they have nowhere else to go.
The city has said staff plan to approach encampment residents with "respect and sensitivity" to encourage the voluntary removal of their tents and belongings.
More BC News