BC
Photo: The Canadian Press
Carol Todd holds a photo of her late teenage daughter Amanda Todd, who died by suicide in 2012.
Carol Todd is worried the Dutch man convicted of harassing and extorting her teenage daughter, Amanda, who later died by suicide, may not serve any of the 13-year sentence handed to him by a British Columbia court last month.
Todd said she knew at the start of the B.C. Supreme Court trial for Aydin Coban last June that any sentence would be converted once he returned to the Netherlands.
"I didn't know exactly what that meant. I thought that if he were sentenced to 10 years, maybe he would serve five," she said in an interview on Thursday.
It wasn't until a Dutch reporter contacted her after Coban was convicted in August that Todd said she learned it's possible he may not serve the Canadian sentence because a court in his home country had already handed him a maximum term for similar crimes committed around the time he was harassing her daughter.
Coban was sentenced to nearly 11 years in 2017 for crimes involving more than 30 youth, before he was extradited to Canada in 2020 to face charges in relation to Amanda, including extortion, harassment and distribution of child pornography.
An information sheet by the Netherlands' Ministry of Justice shows Dutch prisoners who are sent home after being convicted and sentenced abroad can either have prison terms commuted to the length of time they would have received for their crime in the Netherlands, or the term would be continued and served in full.
But a continued sentence "may never exceed the maximum sentence for the relevant crime in the Netherlands," the document says.
Todd said the Dutch reporter spoke with lawyers who indicatedDutch law also stipulates when someone is convicted and sentenced, then found guilty of the same kind of offence in the same time period, the existing punishment applies.
Todd reached out to Crown prosecutors in B.C. after the publication of the Dutch journalist's story about the potential conversion of Coban's sentence, she said.
They verified that was the law, she said.
It's "heartbreaking" to know Coban may not spend his Canadian sentence behind bars, she said.
Instead, she was "hoping for some karma," Todd said with a chuckle.
Todd said she reminds herself the trial served a "good purpose" in Canadian law by setting a precedent for sentencing those who exploit children online.
"I have to keep that forefront, because if I don't, I'll get frustrated, and sort of angry."
Over the course of the nine-week trial in B.C., the court heard Coban used 22 aliases to harass Amanda over two years, starting when she was 12 years old.
The trial heard Coban made good on his threats to send photos of Amanda exposing her breasts to her family, friends and school administrators unless she complied with his demands to perform sexual "shows" in front of a web camera.
Amanda was 15 when she took her own life in October 2012 in her Port Coquitlam, B.C., home, a few weeks after posting a video using flash cards to describe being tormented by an online predator.
Delivering the sentence on Oct. 14, Justice Martha Devlin said she had heard Amanda's voice.
"I have considered Amanda's words as expressed through her video and through messages she sent when she was alive," Devlin told the court.
"She could not escape the images or videos. It was a 'never-ending story,'" she said, quoting from Todd's description of her ordeal in the video.
Todd said her daughter would have turned 26 this weekend, just as Coban is set to be transported back to his country to serve the remainder of his Dutch sentence.
The trial heard he must be taken back within 45 days of his Canadian sentencing, a deadline which falls next week. The Department of Justice said Thursday Coban had not yet been returned.
Todd said she's asked Crown prosecutors in B.C. to inform her when Coban has arrived back to his home country. She did not know when the hearing to convert his sentence may take place, but she is hoping to attend virtually, she said.
Todd attended Coban's Dutch trial and said Amanda's case was not considered part of those proceedings, but as a separate case to be heard in a Canadian courtroom.
Photo: Jennifer J Taylor/Getty Images
With the holiday season ramping up, it's getting easier and easier to forget about the various packages you ordered for friends and family, or even yourself!
Has the gaming console for your daughter arrived?
Is the box of essential oils going to make it in time for your sister?
What about the personalized socks for your best friend? The list goes on.
The Better Business Bureau (BBB) is reminding consumers to be wary of delivery scams and make sure thieves don't steal your joy, your identity, or your money.
How the scam works
The first scam to look out for are phishing texts or emails that pose as official notices from delivery companies.
These either contain a "tracking link" or a message that the shipper is having difficulty delivering a package to you, or most recently, a link to update delivery preferences. Clicking the link either takes you to a form that asks for personal information, or to a site that downloads malware onto your computer.
Another version of a delivery scam involves fake "missed delivery" tags. Scammers place a note on your door that claims they are having challenges delivering a package to you. They ask you to call a phone number to reschedule your delivery, but it's really a ruse to get your personal information.
Separate fake versus legitimate delivery notifications by carefully examining if an email, text message or paper notice are authentic. Have you received a message from this carrier before? Are they using the same text message or email style as before? Review the email address and urls as well. Avoid clicking links; instead go to the delivery carrier's website directly to use their tracking tools.
Phishing attempts in Vancouver
In February 2021, a Vancouver woman received a text message stating her full name and leading her to a link to confirm the delivery of her package.
The message said: "Your [package] is held back in the distribution center and we will need your credit card information."
After pressing the link, she quickly found out a payment of $3 was required, even though she already paid a previous delivery fee for her item. Recognizing a potential scam, she quickly deleted the message.
On another instance in October 2021, a Vancouver man received a call claiming to be from Canada Post. The caller had his name, number, postal code, and claimed they were just missing his actual home address to deliver his package. He was taken aback with their amount of info, so he provided his home address. After hanging up, he realized that he hadn't ordered a package in the first place.
This is how easy it is for a scammer to garner even more personal information from you.
From Jan. 1 to Aug. 31, 2022, the Canadian Anti-Fraud Centre has received 6,364 reports of phishing, in which 1,538 people were victimized.
"Beyond phishing attempts, package theft is also rampant leading up to the holidays," said Simone Lis, President and CEO, BBB serving Mainland BC.
"Even when you are doing everything you can to avoid falling prey to scammers, some Grinches will go so far as grabbing parcels from your doorstep and your apartment complex lobby."
Five ways to avoid delivery scams:
Chances are this feature may come with a price tag, but it may be worth the extra fee. Requesting a signature means that a delivery service won't be able to drop a package on your doorstep unless someone is around to sign for it.
Open your delivery upon receipt to check for damage or signs of tampering
Contact the seller immediately if you believe something is wrong with the shipment or if it's not what you ordered. Also, be sure to review the seller's return policy for damaged or unwanted items.
Watch out for texts, calls or emails about a missed delivery
Legitimate delivery services usually leave a "missed delivery" notice on your door. If you receive a missed delivery notice, examine the form carefully to make sure it is authentic and only then follow their instructions. Keep track of what you've ordered so you have a better idea of what is coming and when. Don't click on any links; go to the delivery carrier's website directly, or log in and use the retailer's tracking tools.
Take precautions to ensure a safe delivery
If you are having a valuable or fragile item delivered to your home, consider purchasing shipping insurance. In addition, always get tracking numbers for your purchases and check the shipping progress periodically.
Don't leave packages sitting on your doorstep
Packages left sitting outside are particularly vulnerable to theft. To ensure safe delivery, have your package delivered to your workplace, or to a trusted friend or neighbor who will be home to accept delivery. Some delivery companies now have lockers where your packages can securely wait for you to pick them up using a one-time code to open the locker.
Photo: Silentfoto / Moment / Getty Images
Free-roaming turkeys at home on Ruckle Heritage Farm in Ruckle Provincial Park, Saltspring Island, B.C.
Christmas dinner in British Columbia could look a little different this year as nearly two dozen farms across the province slaughter hundreds of thousands of birds in an attempt to contain the avian influenza virus.
From the Interior, to the Fraser Valley and Vancouver Island, the Canadian Food Inspection Agency (CFIA) has identified high-pathogenic strains (HPAI) of H5N1 — the most deadly variety of avian influenza or "bird flu"— in 42 B.C. flocks. As of Wednesday afternoon, 23 outbreaks were ongoing and 275,800 birds had been slaughtered in an effort to contain the pathogen.
The culled birds include broiler chickens, ducks and laying hens, among other specialty birds. But the most heavily affected poultry has been turkey, says Amanda Brittain, chief information officer for the BC Poultry Association, the group that helps coordinate the province's four poultry and egg marketing boards during emergencies.
"The BC Turkey Marketing Board tells me that they're looking to be 20 per cent short of how much they grow," said Brittain. "Turkeys grow for 13 to 15 weeks, so there is no time to grow more before Christmas."
H5N1 has been identified at over 220 locations across Canada and led to the culling of 3.7 million birds since the start of the latest epidemic.
The seven commercial Fraser Valley poultry farms hit with the virus since Nov. 16 have come under "intense disease pressure," said B.C. Minister of Agriculture Lana Popham.
Island supplies limited
On the Vancouver Island, avian flu outbreaks have been contained to small backyard flocks, but all producers remain on high alert.
One of the Island's largest ­diversified poultry producers, Firbank Farms, which produces about 100,000 birds at a time on the Saanich Peninsula, has not been affected by the disease and ­continues to adhere to strict protocols.
"We're all safe, touch wood," co-owner Diane Williamson said Friday.
There are no large-scale turkey ­producers on Vancouver Island, with most farmers raising a few dozen to up to 500.
One of the capital region's largest turkey producers, Ireland Farms, got out of the business two years ago. The Saanich Peninsula farm had produced about 1,500 turkeys a year.
Bryce Rashleigh of Saanichton Farms has 50 turkeys ready for ­Christmas dinners this year, but those have already been sold.
Rashleigh said he has ordered 50 turkey chicks for delivery on Dec. 22, but with the tenuous avian flu ­situation ­everything is up in the air because Lower Mainland farms that provide stock are managing day to day.
"We have one of the biggest ­producers on the Island out of the ­picture now, farmers retiring and ­getting older, the cost of feed is through the roof and now avian flu … it's ­knocking everyone in the teeth," said Rashleigh.
Rashleigh said the permit paperwork now required to move live birds is cumbersome, but essential to keep flocks safe.
Retailers are bracing for shortages.
A spokeswoman at Glenwood Meats in Langford said turkeys are expected to arrive on Dec. 21, but that could change.
She said Glenwood is not taking orders from customers. "We're doing first-come, first serve … with avian flu, we have no idea what's going to happen," said the spokeswoman. "It's the same with turkey parts. We never know what we're going to get or when."
From the wild to the farm
The outbreaks in Chilliwack and Abbotsford come out of step with the seasonal migration of wild birds, which have been found to carry and pass on the virus to domestic flocks.
"The virus this year is different than we've ever seen in the past and it is behaving differently in both wild birds and domestic birds," said Brittain.
Scientists have isolated variants of the influenza virus in more than 100 wild bird species worldwide, from waterfowl like geese, swans, ducks and gulls to shoreline species like sandpipers, plovers and storks. Not all strains are deadly. In the same way that many humans pull through an annual bout of the flu, many strains of the avian varieties rarely cause more than the sniffles, lethargy or fever in birds.
High-pathogenic strains are different. When HPAIs enter a poultry farm, they often find the epidemiological equivalent of a refugee camp for birds, says Ronald Ydenberg, a professor of behavioural ecology and director of Simon Fraser University's Centre for Wildlife Ecology.
"There are thousands of birds there. They're all immunologically naive. They haven't had time to evolve any resistance. And there's a fresh batch every six weeks," he told Glacier Media last spring.
The viruses that cause avian flu can be shed through a bird's saliva, feces and nasal secretions. If an infected animal sheds into a pond, near a bird feeder or in a cramped barn, it can easily pass on to another individual — whether wild or domestic.
This is where turkeys may be most vulnerable, says Brittain. Some are raised in open barns, where only partial walls and tarps protect the flocks from foul weather.
"In an open barn, it's harder to prevent the migratory birds from getting in," she said.
Avian flu in pets and humans
CFIA says there have been no cases of wild birds passing the virus to humans in Canada, but transmission from pet birds to humans is still a risk.
"Current science suggests that the risk of a human contracting avian influenza from a mammalian pet is very low," notes the federal agency.
Owners are still encouraged to take appropriate precautions to protect their pets and themselves.
There's always a potential for low-pathogenic avian flu viruses to evolve into highly pathogenic viruses. Such a novel virus could emerge with pandemic potential among the human population.
"H5N1 infection in humans can cause severe disease and has a high mortality rate," states the WHO. "If the H5N1 virus were to change and become easily transmissible from person to person while retaining its capacity to cause severe disease, the consequences for public health could be very serious."
Since highly pathogenic Asian bird flu strains emerged worldwide in the past two decades, many worried H5N1 would jump to people like the incredibly deadly Spanish Flu 100 years earlier, said Ydenberg.
But "it just didn't happen," he added.
Ydenberg says there is little evidence that this wave will be any different.
"I would say vigilance is required here. But certainly, if I were an average person, I would not worry about this very much."
That level of certainty is unlikely to be matched at the grocer aisle this Christmas.
Brittain said that people should have no concern eating poultry or eggs. Finding a big bird and a good price is another question.
Since January, the wholesale prices of live turkeys in B.C. have climbed between 15 and 18 per cent depending on their size, according to Statistics Canada.
"We're fine on chicken and eggs. But it is a concern with turkeys right now," said Brittain.
"What I'm hearing is that avian influenza is making it very challenging for turkey farms and producers to meet demand in B.C. before Christmas. They have been hard hit."
– With Darron Kloster, Times Colonist and The Canadian Press
Photo: The Canadian Press
B.C. Premier David Eby
A government plan to phase out individualized funding for children diagnosed with autism in British Columbia was dropped Friday by Premier David Eby, who said families don't need the stress of worrying about losing supports for their kids.
Eby said the decision to maintain individualized funding instead of phasing it out in 2025 came after recent meetings with parents, caregivers, Indigenous groups, child rights organizations and experts.
Parents of children with autism have been calling on the New Democrat government and Children's Minister Mitzi Dean to drop the plan since its announcement in October 2021.
"My hope here is that we have a reset where parents are reassured that they'll get the services for their kids that they need regardless of that child's diagnosis, and those parents that have systems in place that are working for families, that are working for their kids, will be able to continue with those programs," Eby said at a news conference.
Julia Boyle, executive director of AutismBC, says in a statement that parents will be "incredibly relieved" to keep direct autism funding and the service providers who already support their children.
B.C. was planning to open 40 so-called family connections centres, or hubs, to provide services, instead of directly funding parents, but that has been paused with the exception of four pilot locations.
Families of children with autism have said they would have lost funding of up to $22,000 a year until children turned six, then $6,000 annually to age 18.
"We don't want those parents to face any more stress," said Eby. "We've been listening and government is responding."
The premier said the government will work with families and care groups to ensure all children get the care they need.
"The best way for us to move forward for kids in the province is to ensure that those families that have services that are working for them are not stressed and are not anxious about what the future looks like," Eby said.
B.C.'s opposition parties said the government caused much grief for families with a plan it should never have implemented.
"We applaud the premier and minister for finally listening to parents and experts, and making the decision to not take the supports away from children and families," said Green Party Leader Sonia Furstenau in a statement. "This is a long-overdue reversal of a decision that should never have been made in the first place."
BC Liberal Leader Kevin Falcon called the retracted plan a "backwards and harmful plan to claw back individualized funding for children with autism."
Photo: Contributed
Today's bug of the week loves cold weather. In fact, it needs cold weather.
While most insects have disappeared for the winter, the ice crawler thrives in frigid conditions.
And the insect oddity calls B.C. home.
A post on the Mount Revelstoke and Glacier National Parks Facebook page gives some insight into the unique critter.
"The ice crawler is a real Canadian icon. First discovered in Banff National Park in 1914, ice crawlers live in the cold on top of mountains, at the edge of glaciers or in cool caves," the post states.
"In order to survive, the temperature of their surroundings should be not too hot, not too cold but just right. Just the warmth of your hand for an extended period could injure them. They may be seen crawling on snow or rocks and under tree bark looking for smaller bugs to eat."
The ice crawler is even on the logo for the Entomological Society of Canada.
Wikipedia says grylloblattidae, also known as ice bugs, are a type of wingless insect that are less than three cm long and have a head resembling a cockroach.
"They cannot tolerate warmth - most species will die at 10 C - and many species have small distribution ranges."
It can get too cold for the bug, so when the temperature drops below their optimal range they survive by living under snowpack near the soil.
And when things warm up, "they move in response to the seasons so as to maintain an optimal temperature in their foraging habitat."
The Purdue University website says the bugs can be found Japan, Siberia, the northwest United States and Western Canada.
"There are 26 species known worldwide. As glaciers and ice fields recede due to the effects of climate change many grylloblattid habitats are threatened. Grylloblattodea stands as the least known and the most threatened insect order. Conservation efforts are further complicated by an almost complete lack of information on grylloblattid life history, biology, and behaviour."
Photo: Earthquakes Canada
An earthquake occurred off the coast of Vancouver Island on Friday evening.
The 4.8-magnitude quake hit Vancouver Island at 7:50 p.m., at a depth of about 32 kilometres, according to Earthquakes Canada. The location for the quake is 34 km WNW of Tofino.
The quake was lightly felt throughout the island and there are no reports of damage at this time.
As of Friday night, 78 people reported feeling the earthquake to Earthquakes Canada.
Photo: Ted Clarke/Prince George Citizen
Prince George Share Hope Refugee Sponsorship Committee volunteers, from left, Dick Mynen and Eva Gillis get together with Ukrainian refugees Oleksii Miroshnyk and Vasili Derunts Friday at St. George's Ukrainian Catholic Church.
One in four Ukrainians have been displaced from their homes in the nine months since their country was invaded by Russia and just before the conflict began Vasili Derunts and his wife Iryna found refuge in the home of Iryna's brother in Spain.
"We were very lucky, we left the week before the war started," said Vasili, 35. "My parents are still in Ukraine and they told me every day they have a lot of trouble with electricity and they have blackouts all the time. Sometimes for 20 hours they don't have electricity in their town."
After several weeks in Spain they considered going back home to Vinnysia, in central Ukraine, but their parents told them not to. It was too dangerous. Russians have targeted electrical infrastructure and Ukrainian citizens are being asked to leave countries if they can, to lessen the burden on the electrical system and avoid the hardship of power disruptions during the cold winter months.
The Derunts had a friend living in Canada in a place they'd never heard of and that connection is what brought them to Prince George on May 24, three months after the war started, where they now live with a host family.
"When we came here a lot of Canadian people tried to help us to be more successful and make it easier for our life here and I think it's a good place," said Vasili. "We had a chance to go to Edmonton, a much bigger city, and when we came back here we understand, Prince George is a much more beautiful city and it has much more beautiful nature around. We are very happy we came to this city."
Before the war, Vasili was working as part of the management team for a pharmaceutical company and his wife was a medical doctor working as a pediatric ear, nose and throat specialist. He found work in Prince George as labourer on a commercial construction site and two weeks ago Iryna was hired by Northern Health as a project co-ordinator. She also volunteers as a tutor at UNBC with the Northern Medical Program.
"Right now we're trying to figure out his she can be a doctor in Canada," said Vasilli, who came to St. George's Ukrainian Catholic Church Friday afternoon to speak at a gathering arranged by Prince George Share Hope Refugee Committee.
Many of the 124 Ukrainian refugees who have come to Prince George this year have university degrees. Some are engineers, three are lawyers, but they can't work at their professions until they are certified by the Canadian organizations that govern their professions.
"There are some impediments, (but) the biggest challenge facing our guests from Ukraine is childcare," said Prince George For Ukraine volunteer Charles Scott. "They've got folks who will help them with money for childcare but they can't find a spot. Of course that's not just Ukrainian parents having that (problem), Canadian parents of young children would put up their hands and say, 'I feel your pain.'"
On March 2nd, the Share Hope non-profit volunteer organization turned its refugee focus to displaced Ukrainian families and individuals to help them get settled in the city. They arrange for flights, find billet homes for the people, find them jobs, and get them set up with donated clothing, household items, furniture, toys and school supplies. They also offer them financial support, provide language training and help get their medical care and school registration sorted out.
"Lots of people wanted to help but they didn't know how," said Scott.
Share Hope has teamed up with the Prince George Yalenka Ukrainian Society, Immigrant and Multicultural Services Society, Prince George Chamber of Commerce, Royal Canadian Legion and the Prince George Community Foundation to organize fundraisers that, combined with the generosity of private donors, have given the group the ability to provide financial help. An anonymous man donated 68 laptop computers that had been updated by a technician. Another donor learned a little girl's scooter had been stolen from her school in Prince George and met her and her family at Canadian Tire to buy her a replacement scooter and also sent her home with Barbie power wheels car.
Don and Mary Antoshko turned their house in the Hart into a clearing house of donated goods where they stored heaps of clothing, bedding, household furniture and toys people dropped off in their driveway. The owner of KMS Tools downtown store on First Avenue has given permission for Share Hope to use part of a warehouse at 909 First Ave., which is now being used to store the furniture and household goods. All the clothes, bedding and towels that are dropped off are photographed and tagged for display on the Telegram app which allows individuals to select items they need, and they either pick them up themselves or they are delivered.
"We have some very generous people in Prince George," said Mary Antoshko.
The City of Prince George has donated passes for its public swimming pools and passes to ride public transit. The Family Y of Northern BC gave passes to its gym and a donor provided tickets for the Spirit of the North Festival of Trees have given out free passes. Cobs Bakery is giving baked goods to the Ukrainians. Telus donated $10,000 to pay for SIM cards and cellular phone service.
The Prince George For Ukraine group is already into the spirit of Christmas and wants to give each family an artificial Christmas tree on Saturday, Dec. 10 from 10 a.m.-2 p.m. They do need more donations of trees and decorations to have enough for all the families.
In eight months Share Hope had raised $313,000 and distributed $150,000 of that total to the 124 Ukrainians uprooted by the conflict. Thousands more dollars more have been sent by Prince George people overseas to the Canadian Red Cross relief effort in Ukraine.
Prince George is now home to 43 Ukrainian refugee families, which includes 64 children under the age of 19 and 44 kids 12-and-under. More are on the way. The group expects 15 more Ukrainians will land in Prince George this month and 27 more are expected before Christmas.
Prince George residents have opened their homes as billet families to give Ukrainians a place to live until they can find more permanent homes. The Mennonite Cultural Centre has also stepped to provide apartments at reduced rates for Ukrainians.
"They're arriving and they don't have the money to rent anything right away so until they find jobs they're staying with families," said Share Hope housing co-ordinator Eva Gillis. "The hardest thing is to find home for people with large families. I'm looking for a home for a family coming next week and they have with five children."
The afternoon gathering preceded a service at the church for Holodomor Memorial Day, a famine caused by the Soviet Union and its collectivist farming policies which led to mass starvation that killed millions of Ukrainians in 1932-33.
Photo: .
One lawyer has been suspended for six months and ordered to pay costs of $24,084.86 while the other will face a disciplinary hearing in the near future.
Two B.C. family law attorneys have recently faced regulatory hearing panels for committing professional misconduct toward female clients.
In one case, lawyer Marc Andre Scheirer was found on Dec. 13, 2021 to have committed professional misconduct after inviting a female client over to his house to discuss her family law matter, only to change from his business suit into shorts and an unbuttoned shirt, pour himself a martini and sit next to her on the couch with his arm around her back. The client stood up and left.
"With respect to the dishonourable conduct, the respondent (Scheirer) submitted that he was between offices, that this was the only time he had met a client at his home, and that he had the flu and a fractured rib, the pain of which was alleviated by placing his arm on the back of the couch," stated a Law Society of BC hearing panel in a Nov. 15 disciplinary ruling.
Scheirer said he's been treated for alcohol dependency and while he stated he was remorseful, circumstantial evidence led the panel to not accept he had "acknowledged his misconduct in a meaningful or sufficient way."
The panel also found Scheirer failed to "provide the quality of service required of a competent lawyer," between April 2018 and January 2019.
Scheirer took "no meaningful steps to advance her case. Amongst his failures to provide appropriate service, the respondent did not keep the complainant informed, did not respond to her requests for information, did not respond to her telephone calls, never explained to her that he was unable to proceed with her legal claim as she wished, and did not maintain an appropriate file," wrote the law society panel.
Scheirer has now been suspended for six months and ordered to pay costs of $24,084.86.
Sexual activity in courthouse condemned by panel
Now facing discipline, in a separate and unrelated citation, is lawyer William James Heflin.
On Nov. 7, a Law Society of BC hearing panel found Heflin's admitted actions, while he was engaged in a solicitor-client relationship, "were unwelcome sexual conduct and resulted in adverse consequences" for his female client, who was suffering from stress and anxiety at the time.
Heflin was found to have sexually harassed the client who had retained him in 2017 for a child and spousal support case.
The misconduct surrounds a meeting the two had inside the Victoria courthouse, where some sexual activity — kissing and touching — took place. However, it was argued by Heflin that the activity took place moments after the professional relationship was technically terminated by a Notice of Intention to Act in Person.
After the client filed a complaint with the society, the panel ruled that the client did not expressly consent to the sexual activity with Heflin. As well, there had still been discussion between the two about acting for the client in the future. Furthermore, the activity took place in a courthouse.
"The respondent (Heflin) admitted to expressing an interest in having a sexual relationship with X (the client) while he was still her counsel, he then asked her to sign a Notice of Intention to Act in Person without fully explaining its implications, he then filed the Notice of Intention to Act in Person and mere moments later, he kissed X, while still in the courthouse. Further, X still owed the respondent payment for legal fees," noted the panel, which disagreed with Heflin that there was no power imbalance.
Heflin is to face a disciplinary hearing in the near future.
Photo: Chung Chow.
City Cannabis Co. was forced to close some locations in August because the BCGEU strike left it without inventory.
British Columbians shelled out more money on legal cannabis in September than any previous month, Statistics Canada said this week.
The $59,424,000 spent in September was almost 20.8 per cent more than was spent in the same month in 2021. Sales were also up slightly more than half of one per cent, compared with August, which had surprisingly strong cannabis sales.
Much speculation was made in August that the two-week British Columbia General Employees Union (BCGEU) strike that ended Aug. 30 had caused the flow of legal cannabis to slow to a trickle and that consumers might return to buying products from the black market.
Statistics Canada data, however, show that this did not happen. British Columbians spent what had been an all-time monthly record of $59,089,000 on legal cannabis in August, the nation's number cruncher said.
Consumers may have tried to stock up on cannabis products in mid-August by buying whatever legal retailers had on shelves. Many cannabis retailers told BIV in late August that their shelves were nearly bare. The Association of Canadian Cannabis Retailers estimated that about 50 legal cannabis stores were forced to close because they lacked inventory.
B.C. liquor stores suffered widespread product outages in August, but stayed open. British Columbians spent nearly $502.8 million in beer, wine and spirits stores in August, which was 2.2 per cent more than they did in August 2021.
Alcohol sales in those stores then fell month-over-month in September, to nearly $476.2 million – perhaps indicating that some drinkers stocked up in case there was a prolonged BCGEU strike. That September spending, however, was up 7.4 per cent from nearly 443.2 million in the same month in 2021.
Canada-wide, cannabis sales crept up slightly in September, compared with August, to $389,869,000. Those sales remain below the record $392,867,000 spent on cannabis nationwide in July.
Photo: Merritt RCMP.
B.C. RCMP have confirmed a vehicle stolen out of Coquitlam captured following a police chase on Highway 5 between Merritt and Hope is not connected to the Tri-Cities "crime spree" from Nov. 22, 2022.
Three suspects were arrested on Highway 5 between Merritt and Hope Thursday (Nov. 24) after RCMP received a report they allegedly stole a truck and were believed to be armed.
Police ultimately determined the black Dodge Ram 2500 was stolen out of Coquitlam.
However, Mounties quashed any theories or suggestions the vehicle was linked to Tuesday's (Nov. 22) crime spree through the Tri-Cities, which included a robbery at a Port Coquitlam dealership.
"We are aware of the online speculation on the identities of these suspects," said Sgt. Josh Roda in a news release.
"Although we are in the preliminary stages of the this investigation, there is no indication that these suspects are related to any recent high-profile events in the lower mainland or Merritt."
The Tri-Cities incidents saw an exchange of gunfire in public in the middle of rush hour, a police pursuit along Lougheed and a foot chase on Highway 1 near the King Edward Street overpass that led to an arrest of one of the suspects.
Another carjacked a vehicle and fled eastbound until they were caught in Surrey. Both suspects in custody are known to police, according to Coquitlam RCMP Insp. Darren Carr.
The two remaining suspects are still at large, as of this publication (Nov. 25), and descriptions are still not known as police said they made an effort to conceal their identities such as wearing masks.
Insp. Carr added there's potential that "more than one vehicle" was involved in the offence, and it's important that the case has accurate information.
Merritt RCMP's release, however, didn't provide details about the circumstances around the stolen vehicle, which also had a stolen licence plate from Langley.
Uniform Gang Enforcement officers (UGET), as well as the Combined Forces Special Enforcement Unit of BC (CFSEU), took the Coquihalla Highway suspects into custody after catching them around 6 p.m. on Thursday.
When officers first attempted to pull them over, the driver took off and drove down a side road, but got stuck in the Coldwater River, and the three occupants ran from the scene.
Witnesses reported that one of the suspects appeared to be carrying a firearm, which prompted a large RCMP response, including from the Emergency Response Team (ERT).
A woman suspect was located and arrested soon after fleeing from the truck, but two other men remained at large.
"Out of an abundance of caution, the highway was closed for several hours while we searched the area for these suspects," said Sgt. Roda.
"Without knowing their identities or their intentions, and reports indicating they were armed, we felt it was best to keep all members of the public from the scene."
More than a dozen construction workers at a nearby Trans Mountain pipeline worksite were evacuated, and the entire Coquihalla Highway was closed to motorists.
Following several hours of searching, officers located the remaining two suspects, were "arrested without incident" and transported to the Merritt RCMP detachment.
Spokesperson Sgt. Chris Manseau said he did not know if any firearms were found when the suspects were arrested and it's not clear if any charges have been laid at this time.
Anyone with more information or video of the Highway 5 incident between 11:20 a.m. and 2 p.m. near the Juliet Bridge - roughly 50 km north of Hope - is encouraged to call Merritt RCMP at 250-378-4262 and quote file-number 2022-5569.
Anyone with more information or video of the Tri-Cities crime spree is asked to call Coquitlam RCMP at 604-945-1550 and quote file-number 2022-30931.
- with files from Nicholas Johansen, Castanet
Photo: RCMP
Michael Mawley's current whereabouts are unknown, and he is a person of interest in a B.C. suspicious death.
Police in British Columbia are seeking a man after human remains were found in his home following a suspicious fire in the community of Kingsgate.
On Saturday, Nov. 19, a suspicious fire took place at Michael Mawley's residence in Kingsgate, a small border community in the southeast corner of the province.
Investigation into the fire revealed human remains in the home. Police are now asking residents to report any suspicious activity in that area to RCMP immediately.
Police are also requesting any dash cam or video footage from that area on November 19, 2022 between 5:30 p.m. – 8:30 p.m. MST.
Mawley's whereabouts are currently unknown, and police want to speak to him immediately, as he is considered a person of interest in a suspicious death. He has ties to B.C., Alberta and Idaho, U.S.A.
He is described as a Caucasian male with brown hair, brown eyes, standing 5'10" and weighing 150 pounds.
"If Michael hears, or sees this call for information, we ask him to contact the police of jurisdiction," said Insp. Brent Novakoski of the BC RCMP Major Crime Section – Southeast District.
Photo: Photo courtesy Rachael Armstrong.
A Kamloops mother and her son have waited months for an important heart surgery in Vancouver, BC.
A B.C. mother says her family's life has been uprooted while waiting for an important surgery in Vancouver for her young son.
Jackson Armstrong, who turns nine years old on Saturday (Nov. 26), was born with a congenital heart defect and has a pacemaker. He's had 10 surgeries already, starting with his first when he just three months old.
Jackson's mother, Rachael Armstrong, said her son's medical team informed her that he would require major surgery due to a severe obstruction in his aorta. While they had been watching the obstruction closely for a few years, the doctors explained that it had become a severe issue and required a prosthetic valve.
Armstrong operates a store in Kamloops and has to make significant arrangements with her business and family each time she makes the journey to BC Children's Hospital in the Lower Mainland. She was originally told that the medical team was looking to do the surgery in July so she began to plan her life according to that timeline.
When July passed and she hadn't heard from the hospital, the concerned mother reached out for clarification on the date of the surgery.
"My cardiologist promised me, 'You know, this is a very severe obstruction that Jackson has. He does need to have surgery very soon and I promise that it won't be anytime past September," she told Vancouver Is Awesome.
In August, Armstrong began making a new schedule with her staff at work, booking time off Jackson's daycare, and making arrangements with Ronald MacDonald House in Vancouver for accommodation while she was away. However, she was informed toward the end of the month that her son's surgery had been bumped back again to October.
Armstrong says that she went into preparation mode for an October surgery, only this time she had new hires in her employ.
"I had lost a couple of staff over the summer," explained Armstrong, describing frustration from departing employees who struggled to cope with her "going back and forth" about whether she would be there or not, or could honour time off requests.
"I had to hire new people at my job, train them all and get them all ready for me to be gone in October," she said.
Mother and son head back to Vancouver for planned surgery at BC Children's hospital
Along with her mother who had also taken time off work, Armstrong went down to the Lower Mainland in October to visit the pre-operation clinic with Jackson. After spending eight hours in the clinic to ensure that her son was stable for surgery, she got a call saying it was cancelled.
There was a lack of space in the Intensive Care Unit (ICU) and Jackson would require at least a couple of days there following his surgery, according to the hospital staff.
The family was instructed to come back in three and a half weeks, at the beginning of November, for the surgery.
"I was headed to the hospital on [Nov. 7] to go meet the surgeon and I get a call when I'm an hour away from the hospital and it's the booking lady. She's like 'I'm sorry, we have really bad news,'" she recalled.
After hearing the surgery was cancelled again, Armstrong asked to speak with the surgeon about arranging a date while they were still in the Lower Mainland. She was told that a date could become available if they were nearby and so she stayed in Abbotsford for an extended period of time "hoping that they would be able to squeeze us in."
The hospital eventually told her that they couldn't fit Jackson in and his surgery was re-booked for Dec. 15. But Armstrong worries that it could be pushed back again.
While he's currently stable, Amstrong fears his condition could become an emergency if it isn't handled soon.
"There are many other families who have experienced or are in the same situation as us right now. Our story is common among several others as well, all facing the same struggles as us," she added.
As the backlog of surgeries increases, Armstong worries that "somebody's child might die."
"I just really worry that at some point somebody might slip through the cracks, and you know, that could be somebody's life," the mom said.
"So it is quite scary...really."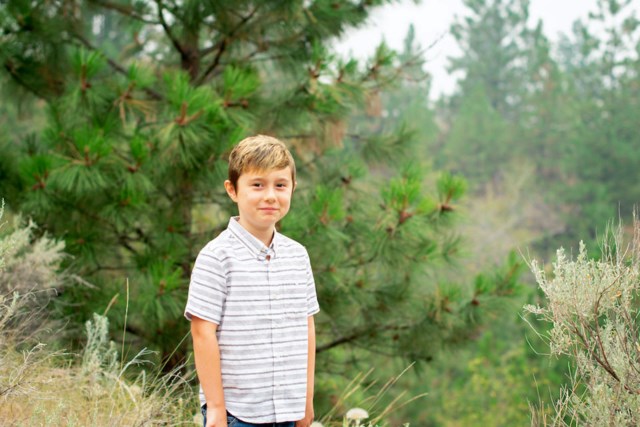 The BC Children's Hospital in Vancouver says it's triaging less serious patients from its emergency department to a nearby area due to a surge of people with respiratory illnesses.
Christy Hay, the hospital's executive director of clinical operations, says the department is mostly seeing viral illnesses including COVID-19 and an increasing number of influenza and respiratory syncytial virus cases, or RSV.
More BC News