Hansel and Gretel: Witch Hunters 3D
Release date: January 25, 2013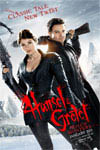 Fifteen years after they were nearly killed by a witch with a gingerbread house, Hansel and Gretel have become lethal bounty hunters who are devoted to hunting and eliminating all witches who make their hideouts in dark woods.
As the notorious Blood Moon approaches, the innocent children of a familiar town on the edge of a forest face a nightmare. Hansel & Gretel meet up with an evil beyond any witch they've ever tracked down and killed—and it may hold the secret to their frightening past.
Additional details
Genre: Action
Runtime: 88 min
Director: Tommy Wirkola
Studio: Paramount Pictures
Producers: Will Ferrell, Adam McKay, Kevin Messick, Beau Flynn
Screenplay: Dante Harper, Tommy Wirkola
Cast: Jeremy Renner,Gemma Arterton,Famke Janssen,Peter Stormare
A hit you can count on
Kim Foreman-Rhindress - Oct 25, 2016 / 8:36 am
In this ground-breaking film, a man with autism not only leads a successful life as an accountant, but...