The Polar Express
Release date: November 10, 2004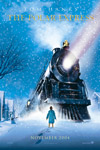 A young boy lies awake in his room one snowy Christmas Eve, excited and alert. Breathing silently. Hardly moving. Waiting. He's listening for a sound he's afraid he might never hear -- the ringing bells of Santa's sleigh. The time is five minutes to midnight. Suddenly, the boy is startled by a thunderous roar. Clearing the mist from his window he sees the most amazing sight -- a gleaming black train rumbles to a stop right in front of his house, the steam from its powerful engine hissing through the night sky and the softly falling snowflakes. The boy rushes outside, clad only in his pajamas and slippers, and is met by the train's conductor who seems to be waiting just for him. "Well, are you coming?" the conductor asks. "Where?" "Why, to the North Pole, of course. This is the Polar Express!"
Based on the beloved children's book by Chris Van Allsburg.
Additional details
Genre: Family
Runtime: 92 min
Director: Robert Zemeckis
Studio: Warner Bros. Pictures
Producers: Steve Starkey, Robert Zemeckis, Gary Goetzman, Bill Teitler
Screenplay: Robert Zemeckis, William Broyles Jr.
Cast: Tom Hanks,Michael Jeter,Peter Scolari,Nona Gaye,Eddie Deezen,Charles Fleischer,Daryl Sabara,Josh Hutcherson
Moana is not a princess
Kim Foreman-Rhindress - Dec 10, 2016 / 12:20 pm
Based on neither fairy tale nor legend, Moana is only the second lead character of her kind in the entire...