The Impossible
Release date: January 11, 2013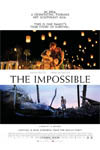 Maria (Naomi Watts), Henry (Ewan McGregor) and their three sons start their winter family vacation in Thailand, looking forward to exploring the tropical paradise. On December 26, everything changes when a tsunami hits and changes their lives forever.
Additional details
Genre: Drama
Runtime: 114 min
Director: Juan Antonio Bayona
Studio: Entertainment One
Producers: Álvaro Augustín, Enrique López Lavigne, Belén Atienza, Ghislan Barrois
Screenplay: Sergio G. Sánchez
Cast: Naomi Watts,Ewan McGregor,Tom Holland,Geraldine Chaplin
The Mediocre Seven
Kim Foreman-Rhindress - Oct 1, 2016 / 8:35 am
What happens when you take seven movie stars, put them on horses and give them an unlimited number of...