Dark Skies
Release date: February 22, 2013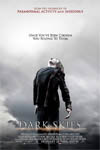 The peaceful lives of a young suburban couple (Keri Russell, Josh Hamilton) turn into an unimaginable nightmare when they find themselves the victims of a deadly alien species that terrorizes them in frightening ways. Soon they start preying on their children as well.
Unable to seek the help or support of their skeptical friends and neighbors, the couple is forced to find a way to save stop the terrifying, deadly force by themselves.
Additional details
Genre: Thriller
Runtime: 112 min
Director: Scott Stewart
Studio: Alliance Films
Producer: Jason Blum
Screenplay: Scott Stewart
Cast: Keri Russell,Josh Hamilton,Dakota Goyo,J.K. Simmons
Logan tells great story
Kim Foreman-Rhindress - Mar 26, 2017 / 10:08 am
There is tremendous restraint and maturity in this current X-Men franchise release: in the acting, the...