Snitch
Release date: February 22, 2013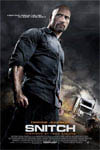 When his teenage son is imprisoned after being set up for dealing drugs, a furious father (Dwayne Johnson) stops at nothing to clear his son's name.
Making a deal with the United States Attorney, he becomes an undercover agent for the DEA in order to infiltrate a drug cartel and gain valuable information.
Additional details
Genre: Action
Runtime: 112 min
Director: Ric Roman Waugh
Studio: Alliance Films
Producers: Nigel Sinclair, Dwayne Johnson, Guy East
Screenplay: Ric Roman Waugh, Justin Haythe
Cast: Dwayne Johnson,Susan Sarandon,Benjamin Bratt,Jon Bernthal
A hit you can count on
Kim Foreman-Rhindress - Oct 26, 2016 / 4:20 am
In this ground-breaking film, a man with autism not only leads a successful life as an accountant, but...