A Royal Affair
Release date: February 1, 2013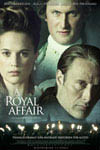 In the 18th century, young Queen Caroline Mathilda (Alicia Vikkander) is married to mentally ill King Christian VII of Denmark (Mikkel Følsgaard), but falls in love with her physician Struensee (Mads Mikkelsen).
The two begin a torrid love affair, which ignites a revolution that changes the nation forever.
Based on the novel "Prinsesse af blodet" by Bodil Steensen-Leth.
Additional details
Genre: Drama
Runtime: 137 min
Director: Nikolaj Arcel
Studio: Mongrel Media
Producers: Meta Louise Foldager, Sisse Graum Jørgensen, Louise Vesth
Screenplay: Rasmus Heisterberg, Nikolaj Arcel
Cast: Mads Mikkelsen,Alicia Vikander,Mikkel Følsgaard,Trine Dyrholm
The Circle spins its wheels
Kim Foreman-Rhindress - Sep 24, 2017 / 7:45 pm
Touted as a thriller, the film centres around a fictitious company known as The Circle, a "Facebook...