Side Effects
Release date: February 8, 2013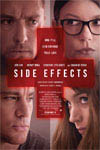 Plagued by emotional and mental troubles, Emily (Rooney Mara) faces uncontrollable anxiety regarding her husband, Martin's (Channing Tatum) upcoming release from prison. Turning to her psychiatrist (Jude Law) for help, she is prescribed a mysterious new drug which is intended to treat anxiety and seems to work wonders...at first.
Unfortunately, the pills she takes begin causing serious, unexpected side effects that cause trouble for those around her, especially when a murder is committed.
Additional details
Genre: Thriller
Runtime: 106 min
Director: Steven Soderbergh
Studio: Entertainment One
Producers: Scott Z. Burns, Lorenzo di Bonaventura, Gregory Jacobs
Screenplay: Scott Z. Burns
Cast: Jude Law,Rooney Mara,Catherine Zeta-Jones,Channing Tatum,Vinessa Shaw,Ann Dowd
The Circle spins its wheels
Kim Foreman-Rhindress - Sep 20, 2017 / 9:57 pm
Touted as a thriller, the film centres around a fictitious company known as The Circle, a "Facebook...