Warm Bodies
Release date: February 1, 2013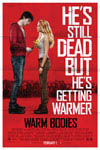 Able to absorb memories from the brains of his victims, teenage zombie R (Nicholas Hoult) finds himself overcome with affection for the girlfriend of one of his victims, Julie (Teresa Palmer), whom he rescues from imminent death at the hands of his cohorts.
An unlikely romance results, but Captain Grigio (John Malkovich), the leader of the human group and Julie's father, refuses to accept R as anything but a monster, leaving R and Julie to set into motion a chain of events that will transform him, his fellow dead and maybe even the whole lifeless world.
Additional details
Genre: Comedy
Runtime: 97 min
Director: Jonathan Levine
Studio: Entertainment One
Producers: Bruna Papandrea, David Hoberman, Todd Lieberman
Screenplay: Jonathan Levine
Cast: Nicholas Hoult,Teresa Palmer,Rob Corddry,Dave Franco,Analeigh Tipton,Cory Hardrict,John Malkovich
Why Him? is moronic
Kim Foreman-Rhindress - Feb 19, 2017 / 3:51 am
By the time we glimpse the dead-moose sculpture immersed in its own urine that graces the home of tech...