Silent Hill: Revelation
Release date: October 26, 2012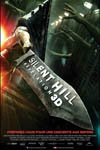 Heather Mason (Adelaide Clemens) and her father, Christopher Da Silva (Sean Bean) have been on the run for years. On the eve of her 18th birthday, Christopher disappears.
Heather discovers her life has all been a lie and travels to an alternative dimension in Silent Hill, where a cult ruled by Claudia Wolf (Carrie-Anne Moss) and Leonard Wolf (Malcolm McDowell) holds power. She must try and escape from the demonic world or be trapped there forever.
Canadian Connection: Filmed in Toronto and Cambridge, Ontario.
Additional details
Genre: Horror
Runtime: 94 min
Director: Michael J. Bassett
Studio: Alliance Films
Producers: Samuel Hadida, Don Carmody
Screenplay: Michael J. Bassett
Cast: Adelaide Clemens,Kit Harington,Deborah Kara Unger,Martin Donovan,Malcolm McDowell,Carrie-Anne Moss,Sean Bean,Radha Mitchell
The Circle spins its wheels
Kim Foreman-Rhindress - Oct 19, 2017 / 8:15 pm
Touted as a thriller, the film centres around a fictitious company known as The Circle, a "Facebook...