Parker
Release date: January 25, 2013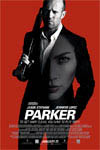 Parker (Jason Statham) is a professional thief who lives by a personal code of ethics: Don't steal from people who can't afford it and don't hurt people who don't deserve it. But on his latest heist, his crew double crosses him, steals his stash, and leaves him for dead.
Determined to make sure they regret it, Parker tracks them to Palm Beach, playground of the rich and famous, where the crew is planning their biggest heist ever. Donning the disguise of a rich Texan, Parker takes on an unlikely partner, Leslie (Jennifer Lopez), a savvy insider who's short on cash, but big on looks, smarts and ambition. Together, they devise a plan to hijack the score, take everyone down and get away clean.
Additional details
Genre: Thriller
Runtime: 118 min
Director: Taylor Hackford
Studio: Entertainment One
Producers: Les Alexander, Jonathan Mitchell, Steven Chasman, Taylor Hackford, Sidney Kimmel, Matthew Rowland
Screenplay: John J. McLaughlin
Cast: Jason Statham,Jennifer Lopez,Michael Chiklis,Nick Nolte,Clifton Collins, Jr.,Micah Hauptman,Wendell Pierce,Emma Booth,Patti LuPone
Why Him? is moronic
Kim Foreman-Rhindress - Feb 23, 2017 / 5:56 am
By the time we glimpse the dead-moose sculpture immersed in its own urine that graces the home of tech...