Mama
Release date: January 18, 2013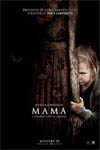 Five years ago, sisters Victoria and Lilly vanished from their suburban neighborhood without a trace. Since then, their Uncle Lucas (Nikolaj Coster-Waldau) and his girlfriend, Annabel (Jessica Chastain), have been madly searching for them. But when, incredibly, the kids are found alive in a decrepit cabin, the couple wonders if the girls are the only guests they have welcomed into their home.
As Annabel tries to introduce the children to a normal life, she grows convinced of an evil presence in their house. Are the sisters experiencing traumatic stress, or is a ghost coming to visit them? How did the broken girls survive those years all alone? As she answers these disturbing questions, the new mother will find that the whispers she hears at bedtime are coming from the lips of a deadly presence.
Canadian Connection: Filmed in Toronto and Hamilton. Several cast members are Canadian.
Additional details
Genre: Thriller
Runtime: 100 min
Director: Andy Muschietti
Studio: Entertainment One
Producers: Barbara Muschietti, J. Miles Dale
Screenplay: Neil Cross, Andy Muschietti, Barbara Muschietti
Cast: Jessica Chastain,Nikolaj Coster-Waldau,Megan Charpentier,Isabelle Nelisse
A hit you can count on
Kim Foreman-Rhindress - Oct 22, 2016 / 6:29 am
In this ground-breaking film, a man with autism not only leads a successful life as an accountant, but...