The Last Stand
Release date: January 18, 2013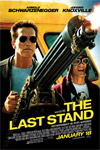 After resigning from his post with the Los Angeles Police Department, Sheriff Owens (Arnold Schwarzenegger) chooses to settle down in the quiet, almost crime free border town of Sommerton Junction.
Unfortunately for Owens, Gabriel Cortez, the most notorious and wanted drug lord in the hemisphere, has escaped from jail and is making a beeline for his little town. Owens is forced to rejoin his team in order to capture the escapee before he crosses the border and is lost forever.
Additional details
Genre: Action
Runtime: 107 min
Director: Jee-woon Kim
Studio: Entertainment One
Producer: Lorenzo di Bonaventura
Screenplay: Jeffrey Nachmanoff
Cast: Arnold Schwarzenegger,Rodrigo Santoro,Forest Whitaker,Jaimie Alexander,Johnny Knoxville,Zach Gilford,Luis Guzmán
Why Him? is moronic
Kim Foreman-Rhindress - Feb 19, 2017 / 3:54 am
By the time we glimpse the dead-moose sculpture immersed in its own urine that graces the home of tech...