Broken City
Release date: January 18, 2013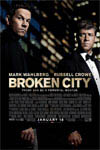 Ex-cop turned private investigator Billy Taggart (Mark Wahlberg) is hired by the Mayor of New York City, Nicholas Hostetler (Russell Crowe), to investigate his wife, Cathleen (Catherine Zeta-Jones), telling Billy he believes she's being unfaithful. He wants photos of the man she's seeing.
Taggart takes the job and discovers Paul Andrews (Kyle Chandler), the campaign manager of the mayor's political opponent, is secretly meeting Cathleen. Billy provides Hostetler with the photos as requested, but when Andrews is murdered, Billy realizes he's gotten himself entangled in something much bigger and much more dangerous than he thought.
Additional details
Genre: Thriller
Runtime: 109 min
Director: Allen Hughes
Studio: Entertainment One
Producers: Randall Emmett, Mark Wahlberg, Stephen Levinson, Arnon Milchan, Teddy Schwarzman, Allen Hughes, Remington Chase
Screenplay: Brian Tucker
Cast: Mark Wahlberg,Russell Crowe,Catherine Zeta-Jones,Jeffrey Wright,Barry Pepper,Kyle Chandler,Natalie Martinez
Movie bogged down
Kim Foreman-Rhindress - Jul 27, 2016 / 12:14 pm
When a four-time Oscar nominated director does a Civil War drama starring one of today's hottest...