Hitchcock
Release date: November 23, 2012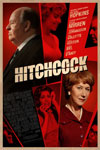 Hitchcock tells the story of the relationship between "Master of Suspense" director Alfred Hitchcock (Anthony Hopkins) and his wife, Alma Reville (Helen Mirren), during the making of his seminal film, Psycho.
The 1960 film Psycho was adapted from a book written by Robert Bloch and Hitchcock reportedly bought the rights anonymously from the author for $9,000 US and then bought as many copies of the novel as he could so that he could keep the ending a secret. Hitchcock ended up shooting it in black and white because he thought it would be too gory in colour. The film has since gone on to become one of the director's most recognized titles, even spawning a remake in 1998.
While this film focuses on the making of Psycho, at the heart of the story is the relationship between Hitchcock and his wife and how she helps guide him through the development of the project.
Based on Stephen Rebello's non-fiction book Alfred Hitchcock and the Making of Psycho.
Additional details
Genre: Drama
Runtime: 98 min
Director: Sacha Gervasi
Studio: Fox Searchlight Pictures
Producers: Alan Barnette, Ivan Reitman, Joe Medjuck, Tom Pollock, Tom Thayer
Screenplay: John J. McLaughlin, Stephen Rebello
Cast: Anthony Hopkins,Helen Mirren,Scarlett Johansson,Toni Collette,Danny Huston,Jessica Biel,James D'Arcy
The Circle spins its wheels
Kim Foreman-Rhindress - Oct 19, 2017 / 12:23 am
Touted as a thriller, the film centres around a fictitious company known as The Circle, a "Facebook...