Stand Up Guys
Release date: February 1, 2013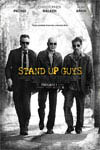 Too honorable to rat out his accomplices, lifelong criminal Val (Al Pacino) is released from a 28-year jail sentence and reunites with his old partners in crime, Doc (Christopher Walken) and Hirsch (Alan Arkin). However, a vengeful mob boss who blames his son's death on Val has contracted one of Val's old buddies to kill him within 24 hours of his release from jail.
The three criminals settle some old scores during one final, wild night on the town, before one of them has to perform his final assignment—kill his friend.
Additional details
Genre: Comedy
Runtime: 95 min
Director: Fisher Stevens
Studio: Entertainment One
Producers: Sidney Kimmel, Gary Lucchesi, Tom Rosenberg, Jim Tauber
Screenplay: Noah Haidle
Cast: Al Pacino,Christopher Walken,Alan Arkin,Julianna Margulies
A hit you can count on
Kim Foreman-Rhindress - Oct 23, 2016 / 10:13 pm
In this ground-breaking film, a man with autism not only leads a successful life as an accountant, but...