Texas Chainsaw 3D
Release date: January 4, 2013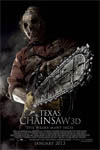 Texas Chainsaw continues where the original 1974 film The Texas Chain Saw Massacre ended. The Sawyer family's farmhouse is surrounded and burned down by the townspeople after the gruesome murders committed by Jeb Sawyer, otherwise known as Leatherface. The whole family is presumed to have been killed in the fire with the exception of one survivor—a baby girl, Heather, who is sent to live with an adoptive family.
Twenty years later, Heather (Alexandra Daddario) learns she's adopted when a lawyer informs her that her grandmother has left behind an inheritance in her name. Heather, along with some of her friends, travels back to Texas to investigate her new inheritance. Little does she know that she'll also be coming face to face with her long lost cousin, Leatherface.
Additional details
Genre: Horror
Runtime: 92 min
Director: John Luessenhop
Studio: VVS Films
Producer: Carl Mazzocone
Screenplay: Adam Marcus, Debra Sullivan, Kirsten Elms
Cast: Alexandra Daddario,Dan Yeager,Tremaine 'Trey Songz' Neverson,Scott Eastwood,Tania Raymonde,Shaun Sipos,Keram Malicki-Sanchez,James MacDonald,Thom Barry,Paul Rae,Richard Riehle,Bill Moseley,Gunnar Hansen
The Circle spins its wheels
Kim Foreman-Rhindress - Oct 18, 2017 / 6:05 am
Touted as a thriller, the film centres around a fictitious company known as The Circle, a "Facebook...