The Guilt Trip
Release date: December 19, 2012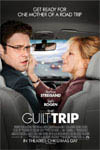 Andy Brewster (Seth Rogen) is an inventor who lives in Los Angeles. He's come up with an amazing organic cleaner but can't get anyone interested in manufacturing it.
Andy plans a business trip to promote the product and decides to take his mother (Barbara Streisand) along for the ride. She's been alone since his father died, so he comes up with a great idea—during the trip he'll surprise her with a stop in San Francisco, where one of her ex-flames lives.
Additional details
Genre: Comedy
Runtime: 95 min
Director: Anne Fletcher
Studio: Paramount Pictures
Producers: Lorne Michaels, John Goldwyn, Evan Goldberg
Screenplay: Dan Fogelman
Cast: Barbra Streisand,Seth Rogen,Brett Cullen,Colin Hanks,Adam Scott,Miriam Margolyes,Kathy Najimy,Nora Dunn,Yvonne Strahovski
Review: Passengers
Kim Foreman-Rhindress - Jan 19, 2017 / 3:38 pm
Jim Preston (Chris Pratt, Guardians Of The Galaxy) is awakened from his hibernation pod aboard the space...