This Is 40
Release date: December 21, 2012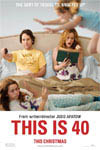 Pete (Paul Rudd) shares a house with three females: wife Debbie (Leslie Mann), and their two daughters, eight-year-old Charlotte (Iris Apatow) and 13-year-old Sadie (Maude Apatow). To get some alone time, he hides in the bathroom with his tablet, or indulges by eating chocolate cupcakes.
Pete, who runs a struggling record label, and Debbie must figure out how to improve their relationship, which has turned into a confusion of arguments, confusion, lies and blame as they both approach 40.
Additional details
Genre: Comedy
Runtime: 134 min
Director: Judd Apatow
Studio: Universal Pictures
Producers: Clayton Townsend, Judd Apatow, Barry Mendel
Screenplay: Judd Apatow
Cast: Paul Rudd,Leslie Mann,John Lithgow,Megan Fox,Maude Apatow,Iris Apatow,Chris O'Dowd,Jason Segel,Melissa McCarthy,Graham Parker,Albert Brooks
Kubo is cinematic artistry
Kim Foreman-Rhindress - Aug 26, 2016 / 4:55 am
"If you must blink, do it now!" young Kubo instructs an enchanted audience in the village....