The Hobbit: An Unexpected Journey
Release date: December 14, 2012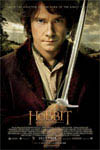 Bilbo Baggins (Martin Freeman) must go on a quest to reclaim the lost Dwarf Kingdom of Erebor, which was conquered by the dragon Smaug. Unexpectedly approached by the wizard Gandalf (Ian McKellen), Bilbo agrees to join a company of dwarves led by legendary warrior Thorin Oakenshield.
The journey takes them through treacherous lands swarming with goblins and orcs, deadly wargs and giant spiders, shapeshifters and sorcerers and ultimately leads Baggins to finds a magical gold ring tied to the fate of all Middle-earth.
Based on The Hobbit by J.R.R. Tolkien.
Additional details
Genre: Fantasy
Runtime: 169 min
Director: Peter Jackson
Studio: Warner Bros. Pictures
Producers: Fran Walsh, Peter Jackson, Carolynne Cunningham
Screenplay: Fran Walsh, Philippa Boyens, Peter Jackson, Guillermo del Toro
Cast: Ian McKellen,Martin Freeman,Richard Armitage,Cate Blanchett,Ian Holm,Christopher Lee,Hugo Weaving,Elijah Wood,Andy Serkis,James Nesbitt,Ken Stott,Sylvester McCoy,Barry Humphries,Aidan Turner,Dean O'Gorman,Graham McTavish,Adam Brown,Peter Hambleton,John Callen,Mark Hadlow,Jed Brophy,William Kircher,Stephen Hunter,Lee Pace,Benedict Cumberbatch,Manu Bennett,Conan Stevens
Kubo is cinematic artistry
Kim Foreman-Rhindress - Aug 27, 2016 / 10:12 pm
"If you must blink, do it now!" young Kubo instructs an enchanted audience in the village....