Parental Guidance
Release date: December 25, 2012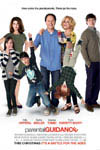 Old school grandfather Artie (Billy Crystal), who is accustomed to calling the shots, meets his match when he and his eager-to-please wife Diane (Bette Midler) agree to babysit their three grandkids when their type-A helicopter parents (Marisa Tomei, Tom Everett Scott) go away for work.
But when 21st century problems collide with Artie and Diane's old school methods of tough rules, lots of love and old-fashioned games, it's learning to bend—and not holding your ground—that binds a family together.
Additional details
Genre: Comedy
Runtime: 104 min
Director: Andy Fickman
Studio: 20th Century Fox
Producers: Dylan Clark, Peter Chernin, Billy Crystal
Screenplay: Lisa Addario, Joe Syracuse
Cast: Billy Crystal,Bette Midler,Marisa Tomei,Tom Everett Scott
A hit you can count on
Kim Foreman-Rhindress - Oct 24, 2016 / 11:45 pm
In this ground-breaking film, a man with autism not only leads a successful life as an accountant, but...