The Twilight Saga: Breaking Dawn - Part 2
Release date: November 16, 2012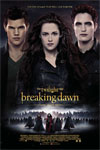 Bella (Kristen Stewart) has given birth to a baby girl she names Renesmee, after her mother Renée, and Edward's (Robert Pattinson) adopted mother, Esme. Jacob (Taylor Lautner) bonds with the child and helps the new parents keep the girl safe from his former wolf pack.
When the Volturi hear about the child, they assume the Cullens have broken vampire laws and have created a newborn by turning a human child into a vampire child. Alice has a vision showing her that the Volturi are coming to kill them all, and no explanation will be good enough for them. The Cullens summon their vampire friends from around the world to get to know Renesmee so they can prove she's a human/vampire hybrid.
When Alice and Jasper disappear, the Cullens fear the worst and try to prepare themselves for an all-out war.
Additional details
Genre: Thriller
Runtime: 115 min
Director: Bill Condon
Studio: Entertainment One
Producers: Karen Rosenfelt, Stephenie Meyer, Wyck Godfrey
Screenplay: Melissa Rosenberg
Cast: Kristen Stewart,Robert Pattinson,Taylor Lautner,Billy Burke,Peter Facinelli,Elizabeth Reaser,Kellan Lutz,Nikki Reed,Jackson Rathbone,Ashley Greene,Michael Sheen,Dakota Fanning,Mackenzie Foy,Christopher Heyerdahl,Daniel Cudmore,Charlie Bewley
The Circle spins its wheels
Kim Foreman-Rhindress - Oct 23, 2017 / 12:54 am
Touted as a thriller, the film centres around a fictitious company known as The Circle, a "Facebook...