Seven Psychopaths
Release date: October 12, 2012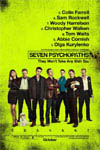 Marty's (Colin Farrell) deadline on his latest screenplay has passed and as he struggles to find the inspiration to complete it, his girlfriend Kaya (Abbie Cornish) has reached the end of her patience. She's tired of his drinking, his laziness, and the fact that he spends his time with his friends instead of with her.
His best friends Billy (Sam Rockwell) and Hans (Christopher Walken) come to his rescue with the best of intentions, but when Billy and Hans steal a gangster's beloved Shih Tzu for ransom, Marty finds himself regretting his involvement with them. The gangster, Charlie Costello (Woody Harrelson), is devoted to his dog and vows to kill whoever stole Bonny.
Additional details
Genre: Comedy
Runtime: 109 min
Director: Martin McDonagh
Studio: Alliance Films
Producers: Peter Czernin, Graham Broadbent
Screenplay: Martin McDonagh
Cast: Colin Farrell,Sam Rockwell,Christopher Walken,Woody Harrelson,Tom Waits,Olga Kurylenko,Abbie Cornish,Gabourey Sidibe
Devious genius
Kim Foreman-Rhindress - Jun 25, 2016 / 5:17 am
Based on her novella, Lady Susan, the film follows the exploits of anti-heroine widow Lady Susan Vernon,...