Wreck-It Ralph
Release date: November 2, 2012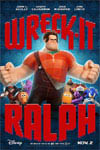 Wreck-It Ralph (John C. Reilly) longs to be as beloved as his game's perfect Good Guy, Fix-It Felix (Jack McBrayer). Problem is, nobody loves a Bad Guy. But they do love heroes... so when a modern, first-person shooter game arrives featuring tough-as-nails Sergeant Calhoun (Jane Lynch), Ralph sees it as his ticket to heroism and happiness.
He sneaks into the game with a simple plan—win a medal—but soon wrecks everything, and accidently unleashes a deadly enemy that threatens every game in the arcade. Ralph's only hope? Vanellope von Schweetz (Sarah Silverman), a young troublemaking "glitch" from a candy-coated cart racing game, might just be the one to teach Ralph what it means to be a Good Guy. But will he realize he is good enough to become a hero before it's "Game Over" for the entire arcade?
Additional details
Genre: Family
Runtime: 108 min
Director: Rich Moore
Studio: Walt Disney Pictures
Producer: Clark Spencer
Screenplay: Phil Johnston, Jennifer Lee
Cast: John C. Reilly,Sarah Silverman,Jack McBrayer,Jane Lynch,Alan Tudyk,Mindy Kaling,Joe Lo Truglio,Ed O'Neill,Dennis Haysbert,Adam Carolla,Rachael Harris,Edie McClurg,Horatio Sanz,Stefanie Scott
The Circle spins its wheels
Kim Foreman-Rhindress - Oct 23, 2017 / 3:10 am
Touted as a thriller, the film centres around a fictitious company known as The Circle, a "Facebook...