The Man With the Iron Fists
Release date: November 2, 2012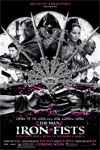 In 19th-century China in Jungle Village, the town's blacksmith (RZA) is forced by radical tribal factions to create tools of destruction. When the war between the clans boils over, the stranger channels an ancient energy to transform himself into a human weapon.
As he fights alongside iconic heroes and against heartless villains, he must unite his adopted people and harness this power to become their savior by destroying the clan traitor who wants to destroy them all.
Additional details
Genre: Action
Runtime: 96 min
Director: RZA
Studio: Universal Pictures
Producers: Marc Abraham, Eric Newman, Eli Roth
Screenplay: The RZA, Eli Roth
Cast: Russell Crowe,RZA ,Lucy Liu,Rick Yune,Jamie Chung,Dave Bautista,Byron Mann,Daniel Wu,Pam Grier
Movie bogged down
Kim Foreman-Rhindress - Jul 28, 2016 / 11:15 am
When a four-time Oscar nominated director does a Civil War drama starring one of today's hottest...