Flight
Release date: November 2, 2012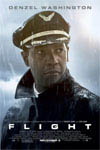 Captain Whittaker (Denzel Washington), a seasoned airline pilot, miraculously crash lands his plane after a mid-air catastrophe, saving nearly every one of the 102 passengers on board.
After the crash, he's hailed as a hero, but as the investigation grows and the blood test he gave the night of the accident shows he had alcohol in his system, more questions than answers arise as to who or what was at fault and what really happened on that plane?
Additional details
Genre: Drama
Runtime: 138 min
Director: Robert Zemeckis
Studio: Paramount Pictures
Producers: Walter F. Parkes, Robert Zemeckis, Laurie MacDonald, Jack Rapke, Steve Starkey
Screenplay: John Gatins
Cast: Denzel Washington,Don Cheadle,Kelly Reilly,John Goodman,Bruce Greenwood,Melissa Leo,Brian Geraghty,Tamara Tunie,Nadine Velazquez,James Badge Dale
A hit you can count on
Kim Foreman-Rhindress - Oct 27, 2016 / 12:00 am
In this ground-breaking film, a man with autism not only leads a successful life as an accountant, but...