The Master
Release date: September 21, 2012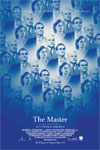 Set in America in the years following World War II, a charismatic intellectual by the name of Lancaster Dodd (Philip Seymour Hoffman), who becomes known as "The Master," launches a faith-based organization in order to give meaning to his life. One night, veteran Freddie Quell (Joaquin Phoenix), still struggling with the stress from fighting in the war, jumps aboard Dodd's docked ship and stows away as it sets sail.
At first, the two men seem to be complete opposites but it isn't long before an unexpected friendship is born, with Lancaster even appointing the soldier as his right-hand man. But as the faith's loyal following begins growing, Freddie finds himself questioning the belief system—and the mentor—he once embraced.
Additional details
Genre: Drama
Runtime: 137 min
Director: Paul Thomas Anderson
Studio: Entertainment One
Producers: Joanne Sellar, Megan Ellison, Paul Thomas Anderson, Daniel Lupi
Screenplay: Paul Thomas Anderson
Cast: Joaquin Phoenix,Philip Seymour Hoffman,Amy Adams
A hit you can count on
Kim Foreman-Rhindress - Oct 24, 2016 / 2:57 pm
In this ground-breaking film, a man with autism not only leads a successful life as an accountant, but...