Chasing Mavericks
Release date: October 26, 2012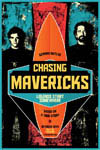 A bio-pic based on the life of American surfing icon Jay Moriarity (Jonny Weston). Moriarity sets out to ride the dangerous waves along the Northern California break known as the Mavericks.
He is guided by his mentor (Gerard Butler) in his journey and the two men develop a unique and kindred bond, which ultimately transforms both their lives.
Additional details
Genre: Drama
Runtime: 116 min
Director: Curtis Hanson
Studio: 20th Century Fox
Producers: Curtis Hanson, Jim Meenaghan, Brandon Hooper
Screenplay: Brandon Hooper, Kario Salem
Cast: Gerard Butler,Elisabeth Shue,Jonny Weston,Scott Eastwood,Taylor Handley,Leven Rambin,Abigail Spencer
Why Him? is moronic
Kim Foreman-Rhindress - Feb 22, 2017 / 6:33 pm
By the time we glimpse the dead-moose sculpture immersed in its own urine that graces the home of tech...