Alex Cross
Release date: October 19, 2012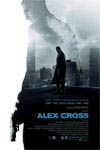 Homicide detective/psychologist Alex Cross (Tyler Perry) from the worldwide best-selling novels by James Patterson, meets his match in a cruel, sadistic serial killer (Matthew Fox) who is turned on by torturing and slowly killing women. In his spare time, he takes part in cage fighting.
The two face off in a life-and-death game of cat and mouse, but when the killer begins to target those he loves, Cross is pushed to the edge of his moral and psychological limits in this taut and exciting action thriller.
Additional details
Genre: Thriller
Runtime: 101 min
Director: Rob Cohen
Studio: Entertainment One
Producers: Paul Hanson, Randall Emmett, Bill Block, James Patterson, Steve Bowen, Leopoldo Gout
Screenplay: Marc Moss, Kerry Williamson
Cast: Tyler Perry,Matthew Fox,Edward Burns,Rachel Nichols,Cicely Tyson,Carmen Ejogo,Giancarlo Esposito,John C. McGinley,Stephanie Jacobsen,Jean Reno
Paranoid about privacy
Kim Foreman-Rhindress - Sep 24, 2016 / 7:03 pm
Whether you believe Snowden to be a hero or a traitor, this film is guaranteed make you more paranoid...