Argo
Release date: October 12, 2012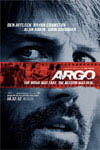 At the height of the Iranian revolution in 1979, Islamist militants storm the U.S. Embassy in Tehran, taking 52 Americans hostage. Six manage to get away and hide in the home of the Canadian ambassador (Victor Garber), but the solution is temporary because they know—especially with the door-to-door searches—as soon as the militants figure out where they are, they'll be killed.
CIA "exfiltration" specialist Tony Mendez (Ben Affleck) comes up with a risky scheme to get them safely out of the country. His plan is to pose as a film producer scouting locations in Iran for an upcoming sci-fi production called Argo. The American hostages, in disguises, will then accompany him out of the country as his film crew. In order to pull it off, Mendez enlists the help of veteran Hollywood producer Lester Siegel (Alan Arkin) and make-up artist John Chambers (John Goodman).
Based on the true story of the rescue operation by Canadian ambassador Ken Taylor after the Canadian Parliament passed special legislation allowing Canadian passports to be issued to the Americans to help them escape.
Additional details
Genre: Thriller
Runtime: 120 min
Director: Ben Affleck
Studio: Warner Bros. Pictures
Producers: Grant Heslov, Ben Affleck, George Clooney
Screenplay: Chris Terrio
Cast: Ben Affleck,Bryan Cranston,Alan Arkin,John Goodman,Victor Garber,Tate Donovan,Clea DuVall,Scoot McNairy,Rory Cochrane,Christopher Denham,Kerry Bishé,Kyle Chandler,Chris Messina,Titus Welliver
The Circle spins its wheels
Kim Foreman-Rhindress - Sep 20, 2017 / 7:54 am
Touted as a thriller, the film centres around a fictitious company known as The Circle, a "Facebook...