Pitch Perfect
Release date: September 28, 2012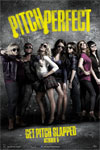 Beca (Anna Kendrick), freshman at Barden University, has never been one to follow the pack, always marching to the beat of her own rebellious drum. Struggling to fit in with any one group, she winds up joining The Bellas, an all-girls singing group in her school. The only thing any of these girls have in common is how good they sound when they sing together.
Beca takes it upon herself to revamp the group's sound, giving them the edge they need to take on their rival boys group in a head-to-head campus competition.
Based on the book Pitch Perfect: The Quest for Collegiate A Cappella Glory written by Mickey Rapkin.
Additional details
Genre: Comedy
Runtime: 105 min
Director: Jason Moore
Studio: Universal Pictures
Producers: Paul Brooks, Max Handelman, Elizabeth Banks
Screenplay: Kay Cannon
Cast: Anna Kendrick,Brittany Snow,Rebel Wilson,Christopher Mintz-Plasse,Anna Camp,Adam Devine,Alexis Knapp,Skylar Astin,Jacob Wysocki,Elizabeth Banks
Logan tells great story
Kim Foreman-Rhindress - Mar 30, 2017 / 3:45 am
There is tremendous restraint and maturity in this current X-Men franchise release: in the acting, the...