Frankenweenie
Release date: October 5, 2012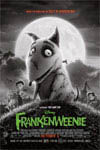 If there's one thing young Victor Frankenstein loves more than anything, it's his dog Sparky. After his beloved friend unexpectedly dies, Victor turns to science to bring his best friend back to life—it turns out Sparky returns but he's not exactly the same as he was before.
Victor does everything in his power to try and hide his home-sewn creation, but when Sparky gets out, he wreaks havoc on the town. Victor's fellow students, teachers and the entire town all learn that getting a new "leash on life" can be monstrous. Victor must now do anything he can to bring Sparky home safe and sound before he loses his companion all over again.
Additional details
Genre: Comedy
Runtime: 87 min
Director: Tim Burton
Studio: Walt Disney Pictures
Producers: Tim Burton, Allison Abbate
Screenplay: John August
Cast: Catherine O'Hara,Martin Short,Martin Landau,Charlie Tahan,Atticus Shaffer,Robert Capron,Conchata Ferrell,Winona Ryder
Kubo is cinematic artistry
Kim Foreman-Rhindress - Aug 26, 2016 / 10:28 am
"If you must blink, do it now!" young Kubo instructs an enchanted audience in the village....