Gangster Squad
Release date: January 11, 2013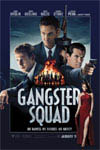 Set in Los Angeles in the 1940s, Brooklyn-born mob king Mickey Cohen (Sean Penn) runs the show under the protection of paid-off police officers and politicians.
Intimidation is key in Cohen's world, but a secret LAPD team, led by John O'Mara (Josh Brolin) and Jerry Wooters (Ryan Gosling) are ready to tear Cohen's operation apart.
Based on the book by Paul Lieberman.
Additional details
Genre: Drama
Runtime: 113 min
Director: Ruben Fleischer
Studio: Warner Bros. Pictures
Producers: Kevin McCormick, Dan Lin, Michael Tadross
Screenplay: Will Beall
Cast: Josh Brolin,Ryan Gosling,Sean Penn,Nick Nolte,Emma Stone,Anthony Mackie,Giovanni Ribisi,Michael Peña,Robert Patrick,Mireille Enos
Review: Passengers
Kim Foreman-Rhindress - Jan 16, 2017 / 2:49 am
Jim Preston (Chris Pratt, Guardians Of The Galaxy) is awakened from his hibernation pod aboard the space...