Hope Springs
Release date: August 8, 2012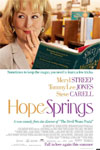 After 30 years of marriage, Kay Soames (Meryl Streep) decides her marriage needs to be spruced up. Although Kay and her husband Arnold (Tommy Lee Jones) are dedicated to each other, they've lost the spark in their relationship and sleep in separate rooms.
Kay hears about a famous relationship guru—Dr. Bernie Feld (Steve Carell)—and signs them up for one week of intense marriage therapy in the small town of Great Hope Springs where Dr. Feld is located. Arnold is skeptical and Kay has a hard time convincing him to go.
Eventually, the couple leave for the coast, only to face their real challenges: letting go of the past, revitalizing their marriage, and finding the spark that made them fall in love in the first place.
Additional details
Genre: Comedy
Runtime: 100 min
Director: David Frankel
Studio: Columbia Pictures
Producers: Todd Black, Guymon Casady
Screenplay: Vanessa Taylor
Cast: Meryl Streep,Tommy Lee Jones,Steve Carell,Jean Smart,Elisabeth Shue
The Circle spins its wheels
Kim Foreman-Rhindress - Oct 21, 2017 / 7:50 pm
Touted as a thriller, the film centres around a fictitious company known as The Circle, a "Facebook...